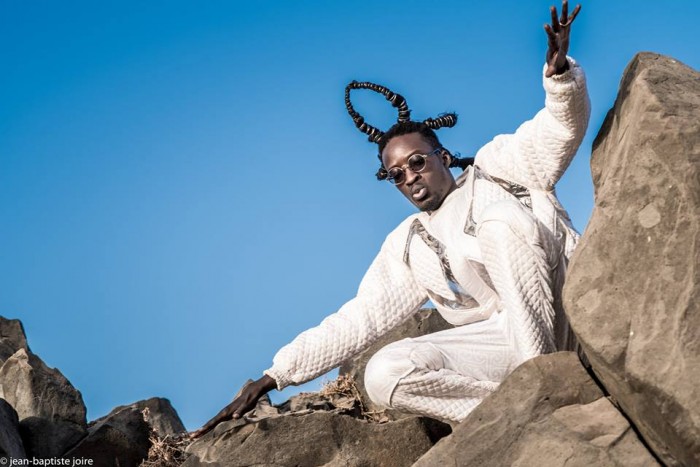 Photo by Jean-Baptiste Joire
Released in January this year, Alien Cartoon by Senegalese producer Ibaaku was initially created as the soundtrack to a fashion show of the same name by Senegalese fashion designer Selly Raby Kane. The show depicted an African city overrun by aliens and Ibaaku's new afrofuturistic sound would provide the perfect dizzying ambiance to the fantasy alien attack. Its success led to the emergence of a new kind of music in Senegal, a wave set to rival variations of electronic music all over the world. We sat down with the creator multidisciplinary artist Stephen "Ibaaku" Bassene after an ethereal performance at the What Design Can Do conference in Amsterdam on 1 July.
"The collaboration with Selly is the tipping point for my career because it opened so many doors and it created something new," explains Bassene. "It brought something new to the table in Senegal because there is not a huge… there is no electronic music in Senegal, there is no avant-garde music so it brings a lot of things that I had in my mind so many years ago and I'm living it right now."
Bassene released the album independently on Soundcloud. He explains that while he drew inspiration from Kane's designs, his music is largely influenced by the sounds in the bustling streets of Dakar.
"...like I'm living in a really noisy area in Dakar. At first, it was really hard for me but then I realised when I listened to the tracks I made at home that it really inspired me - that noise - so I always try to find the harmony through the noise," he says.
Like other artists in Africa, Bassene has faced many obstacles in his career. In trying to gain recognition, he found that local artists struggled to be regarded with the same enthusiasm that international artists are met with. "In Senegal, there is that thing that people don't really give you a chance if you're a new artist," he laments. "People in Senegal don't really appreciate the talent that we have around us. They're more into well-known artists."
When asked how a new artist could overcome this problem, he explains that creatives should change the way they're perceived. "Today, you see young artists running their own business. Economically, they're really bringing something to the country. Artists who are ambassadors for their country. There is a lot to build, we have to build it by ourselves. Artists can bring a lot to the country, our family and to the world."
As for art, he believes it's still for the people: "You can't do art without saying something to the people, without bringing something they can relate to. Even if you don't write lyrics, if you're doing instrumental music like me, there is something within it. Art can bring social change."
Watch the Talk with Issa Diabaté