Located on the High Line, a contemporary urban park built on a former New York central railway line, Swiss artist Pamela Rosenkranz's bright-pink 'Old Tree' sculpture raises questions about what is truly 'artificial' and 'natural' in our world.
Selected in 2020 from over 80 proposals for its 'optimistic energy', Rosenkranz's 'Old Tree' stands at just under eight metres and is constructed of manmade materials. It was installed this month, and will remain in the public area until autumn (usually in September in New York) of 2024.
Standing starkly among green foliage and grey cityscapes, 'Old Tree' is simultaneously a metaphor for the ancient wisdom of the tree of life that represents human evolution, and an exploration of the future of human evolution and our continuous move towards synthetic materials. By substituting the organic compounds of a tree with artificial fluorescent materials in a colour that is a far stretch from greens and browns, Rosenkranz references human actions that influence the natural order of the world. She chose the bright pink and red colours to resemble the branching internal systems of organs, blood vessels and tissue in the human body, inviting viewers to consider the connection between human and plant life.
The 43-year-old Swiss multimedia artist regularly creates sculptures, paintings, videos and installations that centre synthetic materials in a recreation of nature, in a reflection of humans and their relationship with the natural world. '"Old Tree" comes alive on the High Line amid the park's foliage and the surrounding architecture,' she says. 'I look forward to seeing how visitors further activate the sculpture.'
High Line Art, which organises public art programmes and installations for display in the public park, selected Rosenkranz's vivid sculpture to be the third High Line Plinth commission, following Sam Durant's 'Untitled' and Simone Leigh's 'Brick House'. Opened in June 2019, the Plinth, which is located where a large open space offers sweeping city views, is the first space on the High Line, and one of the only sites in New York City, dedicated solely to a rotating series of contemporary art commissions.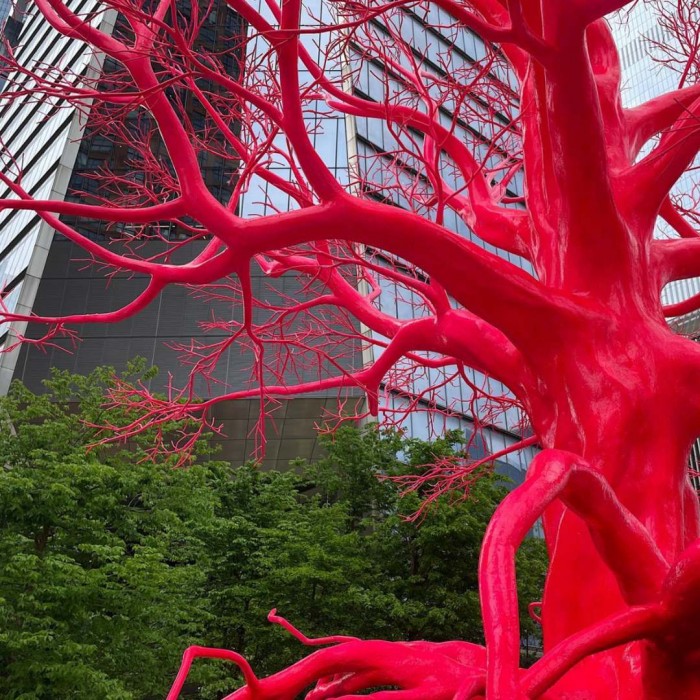 Read more
Photographs: High Line Art, Pamela Rosenkranz, Timothy Schenck.