OPEN is an urban, landscape, architectural, and interior design studio known for innovative work which balances natural and manmade structures. First founded by Li Hu and Huang Wenjing in New York City, OPEN'S Beijing office was established in 2008. The studio is responsible for the recent, remarkable Chapel of Sound. This is an open-air concert hall in North Beijing, located in a valley alongside the remnants of the Great Wall of China.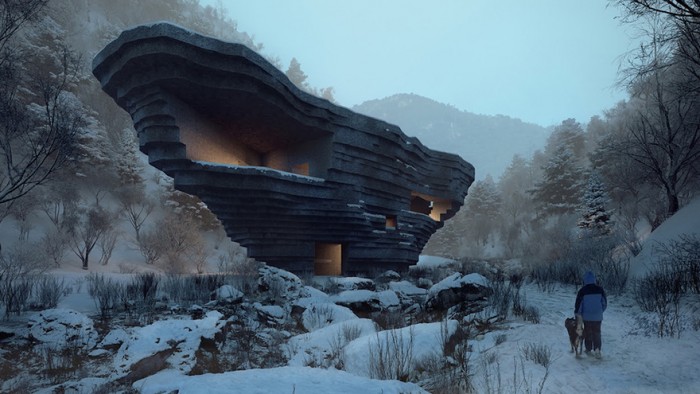 Chapel of Sound was built for semi-outdoor usage. It rests on the floor of the valley with the intention of appearing as though it had fallen there organically years ago. Shaped like an inverted cone, its layers draw inspiration from the sedimentary rock formations of the mountains that surround it. The structure is made entirely from concrete mixed with crushed local rocks to give it an authentically rustic look.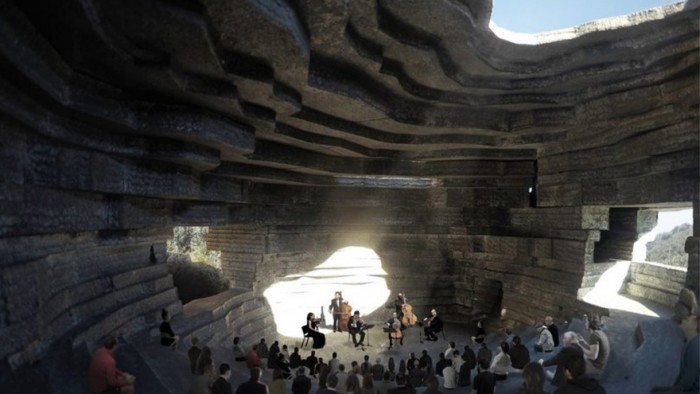 The space comprises a semi-outdoor amphitheatre, an outdoor stage, viewing platforms, and supporting zones. The hall was shaped specifically with music performances in mind due to its optimised acoustics. OPEN also hopes it can be a place for community gatherings.
The noticeable opening at the top of the structure allows the sunlight to flow through. The walls bear many varied cut-out shapes that allow audiences inside to witness the stunning views surrounding the structure and be enticed by the sounds of nature.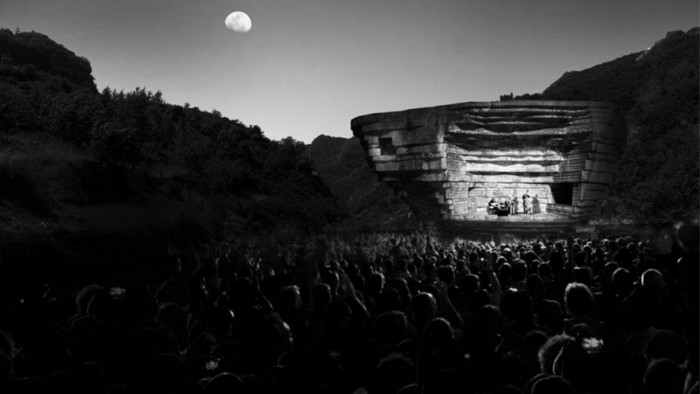 "When the sun shines, sunbeams dance across the rough surfaces of the cave, filling it with light as well as sound; when it rains, water too creates a meditative performance of its own as it falls through the hall's central opening, splashing onto the floor before flowing out through floor channels. When there is no scheduled concert - no choir or instruments playing - the hall still remains a destination - one at which to quietly listen to the sound of birds singing, insects chirping, gentle breezes rustling through nearby trees, or raindrops on the floor. Inside this mysterious space, nature orchestrates an ever-changing symphony. It is a chapel of sound," writes OPEN.
There is a winding staircase leading to the plateau above the chapel. Here there are panoramic views of the valley and the nearby Great Wall. While the cave-like space may appear rough, OPEN has created a space where visitors are "offered quiet comfort in both natural and musical sound."
Credits: OPEN Architecture
Read more:
Architecture's New Wonder Material
Kéré Architecture's Startup Lions Campus is set to inspire future achievers
5 quirky buildings that show architecture with a twist