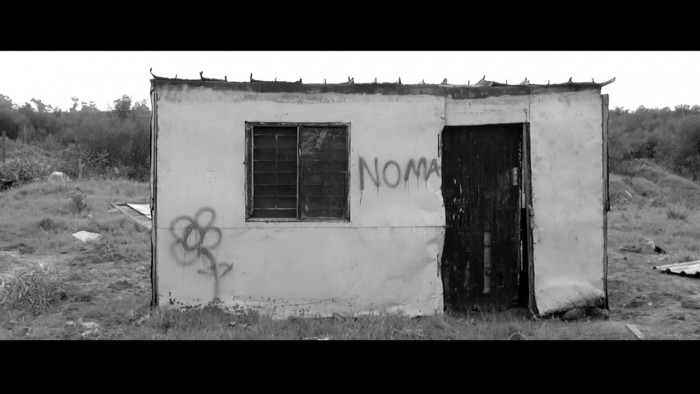 Noma by Pablo
Directed by Pablo Pinedo Bóveda, Noma follows the life of a young black woman in South Africa. Like many South Africans, Nomaliphathwe Gwele faces the daily reality of eviction. The documentary follows her journey as she tries to find a permanent home for her family. She moves to the Marikana settlement in Philippi East, Cape Town. Here, she must stand in solidarity with the community who are fighting eviction.
Like the rest of the country, there is a housing crisis in the Western Cape. The City of Cape Town has been unable to provide adequate housing and sanitation to the inhabitants of over 400 informal settlement pockets around the city. In 2014, these issues were brought to the fore with the Marikana evictions. Plastered across the front pages of newspapers were the demolished homes of protesting residents who were not authorised to set up homes on private land.
Centred within the battle are people like Gwele. A young single mother of two boys, Gwele depends on a precarious job to survive. Bóveda skillfully uses a central story to highlight the greater narrative of inequality at play in South Africa.
By filming the documentary in black and white, Bóveda draws stark comparisons between modern day and Apartheid-era footage. Scenes of clashes between police and residents of Marikana become reminiscent of the oppressive regime.
When Gwele faces her second eviction, this time with live ammunition, the documentary draws parallels with the settlement's namesake, the town of Marikana in the North West. The town was the site of South Africa's bloodiest protest in the new democracy after 34 protesting miners were shot dead by police.
The film won the Amnesty International human rights Awards at the Durban International film festival. Noma will be showing at the Bioscope Independent cinema in Johannesburg from 20 till 24 September 2016.