Fritz Hansen has a long legacy of design innovation. Founded in 1872, the Danish company began as a manufacturer and as time went on, moved into design, growing into what is now a revered furniture brand.
"We are proud to have worked with visionary architects and designers since the beginning of the company," says Christian Andresen, Head of Design at Fritz Hansen. This list of luminaries includes names like Piet Hein, Hans J Wegner and Arne Jacobsen, designer of the now iconic Swan and Egg chairs.
More currently, the brand has partnered with designers known for their avant-garde approach. Spanish designer and #DI Speaker Jaime Hayon and Japanese studio nendo (which in Japanese means modelling clay) have both partnered with Fritz Hansen. These collaborations always remain true to the legendary Danish commitment to craftsmanship and quality.
"This year we're trying to look a bit more forward," says Andresen. With new colours and fabrications resulting in a more contemporary look, the brand is also looking to sustainability in its ranges.
Its updated NO2 recycled chair embodies all of the design leadership and innovation the brand has always stood for, but with a 21st-century focus on eco-friendly principles. The strong stackable, all-purpose chair is made from plastic household waste that is processed and upcycled in central Europe. The chair, designed by nendo, is based on the simple fold of a piece of paper. According to nendo's founder Oki Sato, the chair is "a fusion between the calm and simplicity of Japanese design represented in the single folded line in the back of the shell, and the soft welcoming forms that are identifiable as Fritz Hansen designs."
Andresen concurs: "We wanted to do a versatile, plastic stacking chair in recycled materials. Collaborating with studio nendo meant the design would be simple and elegant, the perfect blend of Scandinavian and Japanese aesthetics."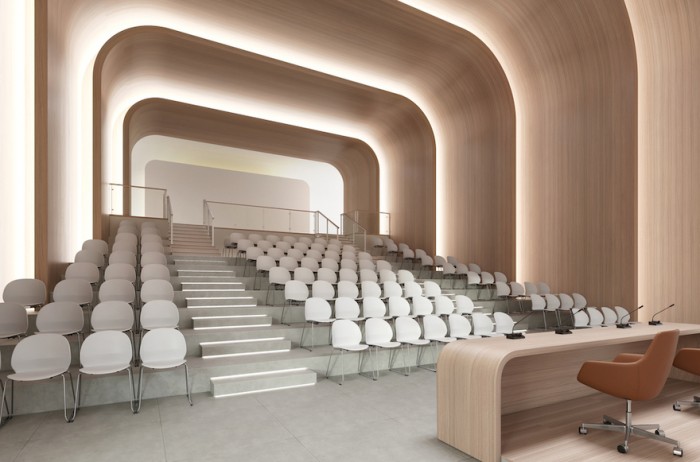 Compact, lightweight and multipurpose, the chair works in canteens, homes and lecture halls. With swivel-base versions, and bar and counter heights, it's a versatile and ethical seating option that also happens to be a beautiful design.
"For us it felt like an intuitive step to use recycled materials. We are always striving to produce sustainable designs and, when working on a product that is going to be produced in high numbers, this need becomes even greater. The fact that the material is constructed from everyday recycled plastic creates an extra connection between the user and the chair," says Sato.
Here's more:
Visit nendo.jp and fritzhansen.com.
Settle into this comfort zone.
Nendo's twig chair.
Credits: supplied