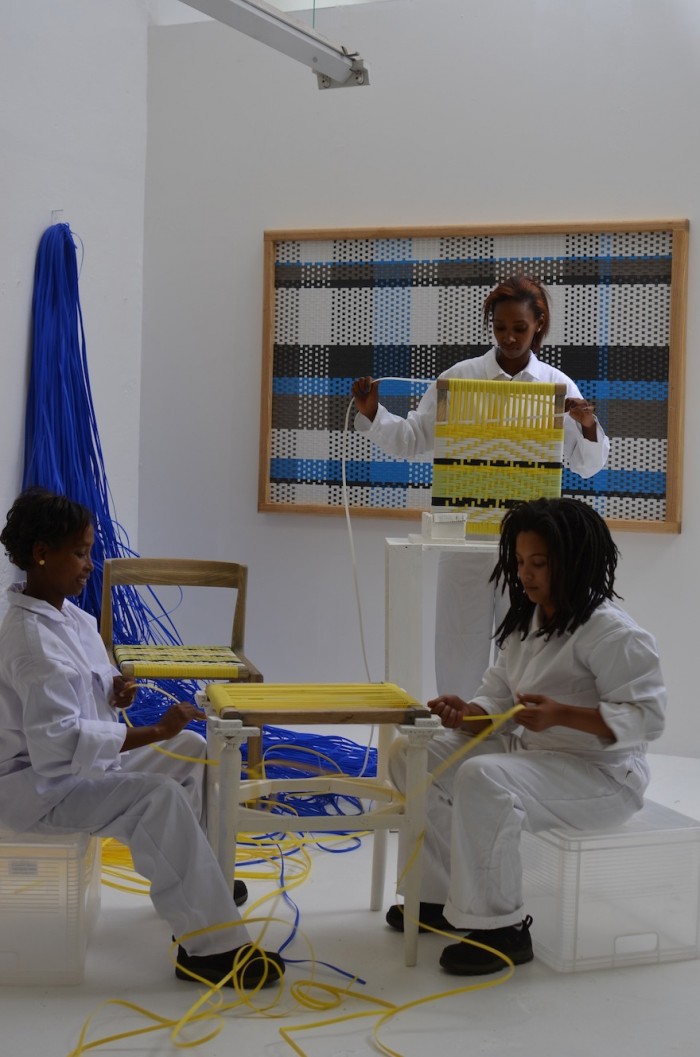 Nando's spices up local design.
What could be the PERi-PERi hottest news to come out of Design Indaba 2015? Nando's founder Robbie Brozin today announced big plans for a slow-starting but large-scale collaboration between the homegrown South African international success story and South African design.
Nando's, famous worldwide for its flame-grilled PERi-PERi chicken and chips, undertook an extraordinary revamp of its Johannesburg corporate campus, Central Kitchen, in 2014. On the suggestion of South African creative Tracy Lee Lynch, Nando's committed to channeling the allocated functional design budget for this huge revamp to support the South African design economy, and undertook a massive creative collaboration that involved more than fifty South African designers. In the process, Nando's fell head over heels in love with South African design's authentic, forward-thinking and sophisticated aesthetic and, with the immense success of Central Kitchen, has spent the last few months cooking up an even bigger collaboration.
In the year ahead Nando's has plans to open approximately 100 restaurants across the globe, and more after that. There is budget allocated for the interior requirements of these restaurants and Nando's big announcement is its intention to channel a significant chunk of that budget towards South African design.
"There's an incredible opportunity here for Nando's to bring a 'Heartfelt Celebration of South African Design' to our restaurants and we'd love to be a conduit for a meaningful journey that harnesses the unique power of South African creativity," says Brozin. "We intend to begin this collaboration with South African design slowly and responsibly as we discover what's possible and sustainable. Nando's is incredibly excited about this collaborative opportunity!"
Nando's Robby Enthoven has stepped up to the role of patron of Nando's Heartfelt Celebration of South African Design, and says, "An ongoing collaboration between Nando's and South African design is hugely important on a number of levels. Firstly, it can provide a very powerful stimulus to the South African design and that speaks Nando's home language. Secondly, South African design is giving Nando's a very interesting edge globally. Our customers and staff love that, as well as the support we're giving to young South African creative talent."
Brozin officially announced Tracy Lee Lynch as the curator of and spokesperson for Nando's Heartfelt Celebration of South African Design. Lynch's next task is to curate the first Nando's ZA Design Collection, with the intention of giving Nando's Heartfelt Celebration of South African Design a kickstart – providing design pieces that can be used in Nando's restaurants internationally. "The first Nando's ZA Design Collection will be a small balanced collection of 20 pieces of functional design made by 12 South African designers. Each piece in the collection is an existing design, but through curation and collaboration we'd like to develop a bespoke Nando's twist that makes each selected piece unique and special for Nando's patrons. Over time we hope to grow the Nando's ZA Design Collection to include the work of more exceptional South African designer makers."
This week Nando's also launched its Nando's Hot Young Designer 2015 competition. The search is on for a pendant light fitting designed for Nando's by a hot young South African creative.
If you're at Design Indaba Expo 2015, don't miss the beautiful Nando's stand.
Watch the Trailer with Robbie Brozin