antenna is a platform for young, international design talent, initiated by Design Indaba and Dutch Design Week.
Distinguished by their ideas that respond to some of the world's most pressing issues, the conference provides a platform for emerging graduates who are creating designs with the potential to change the world for the better.
Beyond this opportunity for emerging design talent, it also provides the unique opportunity for design friends and industry players to experience first-hand the innovations across an array of disciplines and mediums. All on one stage!
Since its inception in 2017, antenna has seen innovations in healthcare, architecture and housing, food design and even a sustainable way of dying, amongst many other mind blowing concepts. The work presented inspires a fresh optimism for the often uncertain future we're facing.
This year we've curated a roster of 20 graduates from around the globe who will present their projects at the third edition of antenna, a global scan of the new trajectory in design.
Sumo Diaper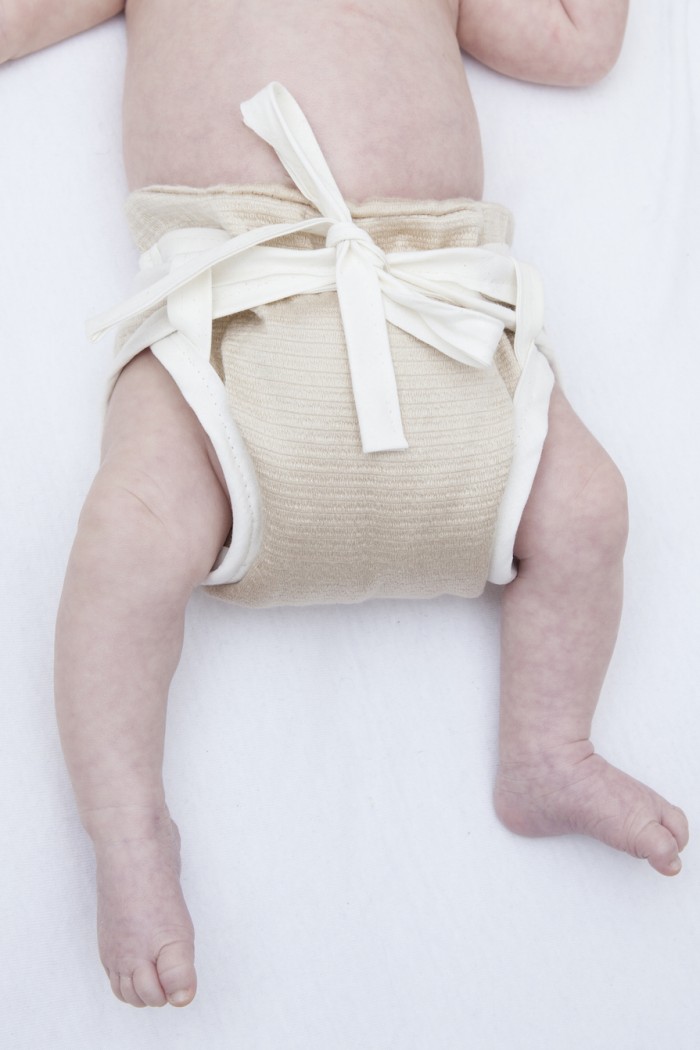 The sumo diaper is a reusable cloth diaper designed by École cantonale d'art de Lausanne university student, Luisa Kahlfeldt, which is a sustainable diaper alternative for babies. It is created from 100 per cent SeaCell and was created in collaboration with the renowned German Institute of Textile and Fibre Research (DITF).
The SeaCell fabric is made from seaweed and gives the sumo diaper non-allergenic features and is very soft, which is great for comfort. It also has skin-caring properties which see an active exchange of material between the fibre and skin.
Voicing Borders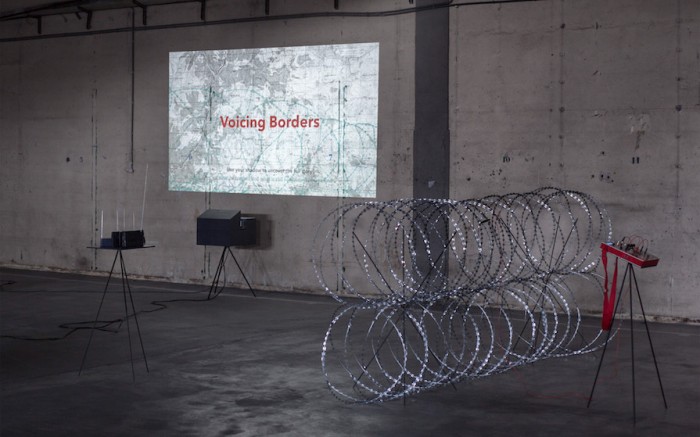 Voicing Borders is a project by Irakli Sabekia that investigates the eastern boundary of Europe where a razor-wire fence stretches across Georgia, marking the territory occupied by the Russian invasion of 2008. Hidden behind this barrier, in an attempt to rewrite history, whole villages were burned down and the remains completely removed, leaving no trace of the local population.
In an interactive installation Voicing Borders, viewers can unveil locations and structure of the disappeared villages by casting shadows on the projection. While in the second part of the project, the very weapon of occupation becomes a tool for voicing an objection to it. A specially designed radio transmitter connects to the razor wire fence and uses it as an antenna.
Transmitting through it a short message in Morse code. It states the names of the disappeared villages and their geographic coordinates. The message is audible through several radio receivers placed in the installation
Inclusive design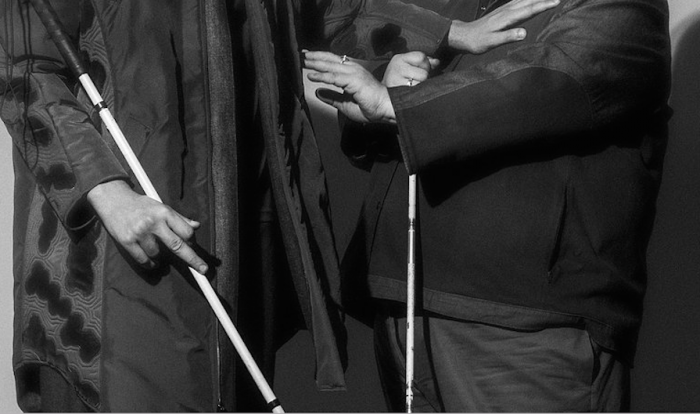 Camila Chiriboga is a Parsons University graduate who works at the intersection of fashion, health and technology. Her project, veº is a tool that provides a simpler way for people who are blind and visually impaired to understand what they are wearing.
Veº will allow the visually impaired to choose their clothes empower peoples' unique abilities allowing them to become more independent, and to inspire others towards a more inclusive designs.
"My dream would be for my garments to boost people's self-confidence and to encourage the fashion industry to design for and highlight in the media a greater diversity of abilities and bodies to reflect more respect for people, and to show that they are valued more highly," she explains.
Marble Maze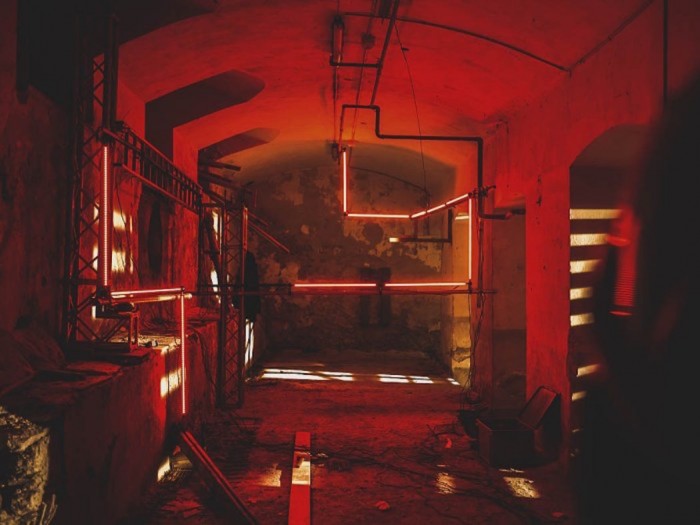 Michael Wagner is a Bartlett School of Architecture graduate who focuses on interactive architecture. His project, Marble Maze, is a short film that showcases experimental stage lighting by using differing media typologies.
In this, he uses the marble run which is a simple action of a ball rolling from top to bottom of a designed structure; a performance that has to happen in one piece as otherwise it would not work. The marble would simply get stuck or lost if its rails were not connected to each other.
With Marble Maze, Wagner wants to create a more immersive experience when it comes to stage and performance.
Exploring Hearing aids & super normal design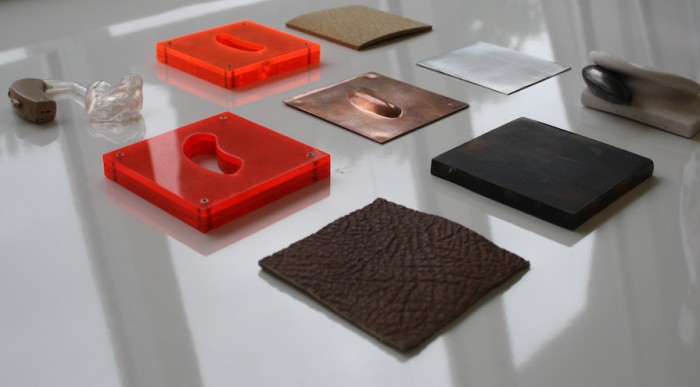 Katie Brown is a graduate of the Duncan of Jordanstone College of Art & Design. Her research project looks at the future of hearing aids, and her aim is to challenge the stigma that surrounds the use of a hearing aid. More importantly, she takes a look at how it can be redesigned in a more user-friendly manner.
In her research, Brown looks at how the design of hearing aids can better represent the identity of the wearer, and what role design plays in challenging the stigma associated with hearing aids and hearing loss.
"The research aims to understand the different social and cultural relationships that exist, and their link to hearing aids. It will involve the experiences and perspectives of wearers, non-wearers, healthcare professionals and manufacturers of hearing aids," explains Brown.
A foldable structure made from biodegradable cardboard fibres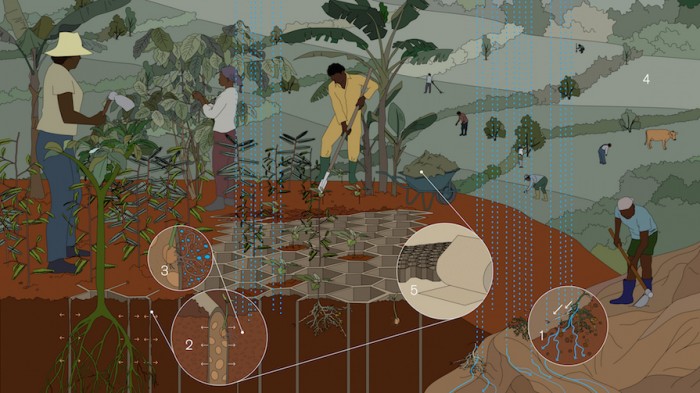 Design Academy Eindhoven student, Thom Bindels, looks at how he can problem-solve using his own designs. His project, Ecosystem Kickstarter, looks at ways to improve communities and natural ecosystems by restoring landscapes in a sustainable way.
In this project, Bindels uses a foldable structure made from biodegradable cardboard fibres, applied to a slope, and filled with local soil to function as a terracing structure. Inside the product are both pioneer seeds and nutrients added during the production process.
The rooting systems have time to develop due to the short-term protection of the biodegradable structure in the vulnerable phase of vegetation development.
"When there is a sufficient rooting system, the cardboard decomposes and adds carbon to the soil. The anti-erosion function will be taken over by the new vegetation, improving water infiltration and soil structure to help the ecosystem get over the ecological threshold," explains Bindels.
Conspiratorial Mythologies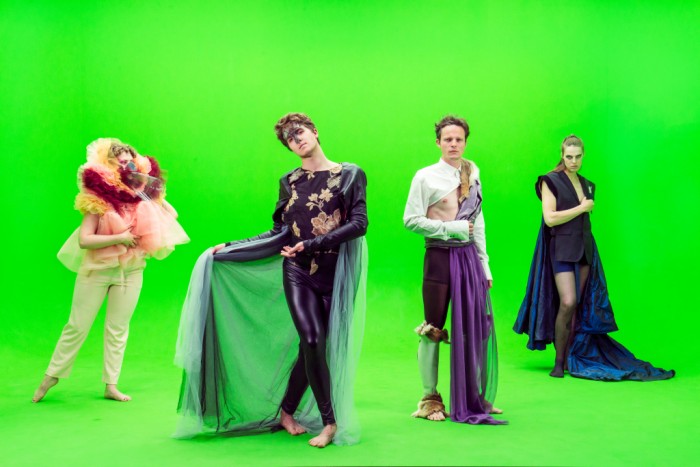 University of the underground graduate, Malena Arcucci is a performance maker that looks for clues to piece together history but with the use of theatre techniques. Arcucci uses her background in costume making and sculpture, to explore these new forms of storytelling.
In her work, Arcucci focuses on using the theatricality of societal and political structures and their influence on social and cultural landscape. Her project, Conspiratorial Mythologies explores the role of conspiracy theories as substitutes to religious and ancient Greek myths.
It looks at the collective fears to understand the complex power dynamics and structures surrounding our societies.
A material whose shape can be reprogrammed with heat
Karlijin Sibbel is a Dutch Product Designer and graduate from the Innovation Design Engineering masters programme of the Royal College of Art and Imperial College London. Her project, RE:FLEX, features a material whose shape can be reprogrammed using heat.
Re:Flex was created by Sibbel and her team Pierre Azalbert (electrical engineering & energy storage) and Benton Ching, (political philosophy & interaction design). Re:Flex is described as a low-cost with three main functions: reversible fixation, thermal actuation and unlimited fitting.
Sibbel and her team has used Re:Flex to create a self-assembling stool which used re:flex as joints that function as thermal actuators. They also used it for reusable arm cast. In 2019, Re:flex was selected as one of the finalists in the tech category for the Mayor of London's entrepreneurship competition.
The Ndebele superhero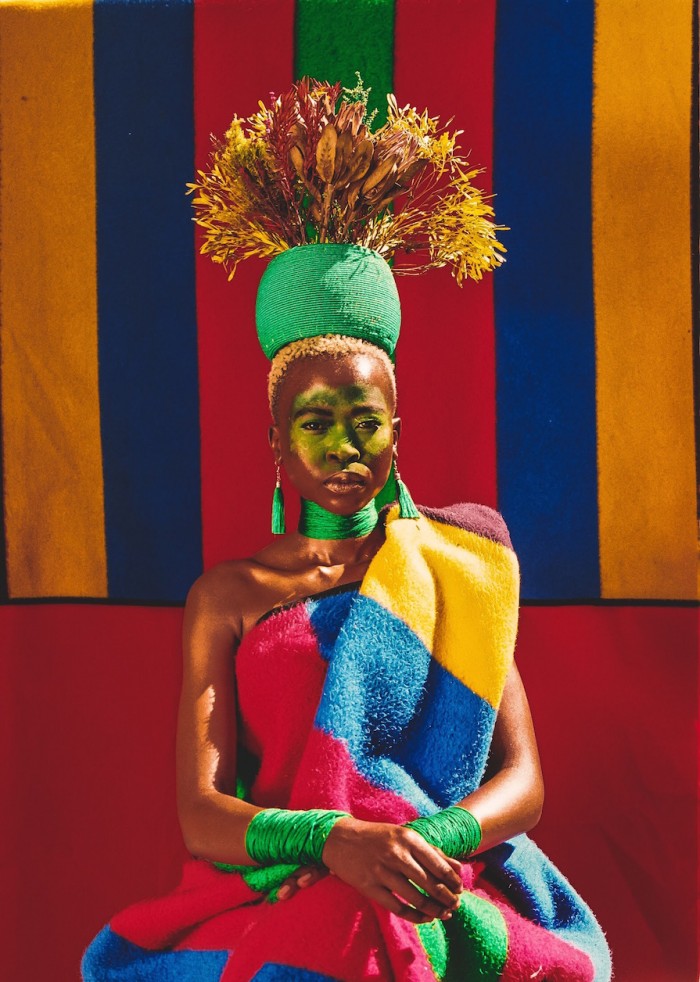 Ndebele Superhero is a project by Stellenbosch University and the university of the underground graduate, Zana Masombuka. The project is a photo series by Masombuka the creative director that aims to preserve traditional stories from the Ndebele tribe, and sparks conversations about how it has been incorporated into the modern world.
"The work created is about capturing the essence of these two worlds coming together, as culture and the arts are often at the centre of reforming societies within civilizations. In addition to this, Ndebele Superhero, as a platform also draws a lot of inspiration from the modern world and how the world of culture and tradition is somewhat parallel to that," explains Masombuka.
In her work she focuses on critical thinking, as well as the importance of globalisation and how it continues to impact Africa. She also looks at taking control of the African narrative and the way the stories are written about the continent and its people.
The P Bank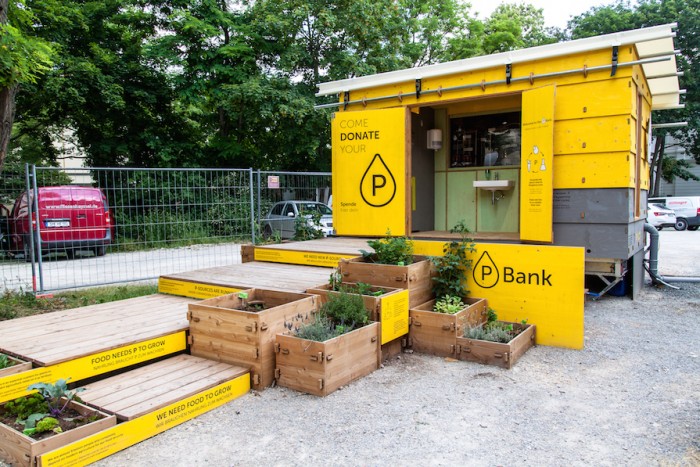 P Bank is a project by team members, Sylvia Debit and Anniek Vetter, who are both graduates of Bauhaus University, Weimar. At the centre of their project is the chemical element, phosphorus, which is currently endangered due to high consumption levels.
This information inspired the duo to create P bank, a public toilet facility which aims to challenge the phosphorus cycle. With this, they are able to use the urine to grow plants as this has become a substitute for fertilizer.
The facility allows visitors to make a P donation. While donating, one learns about the upcoming phosphorus scarcity and as a result, be part of the solution."With each visit, you spend about 300 ml of urine. This contains about 200 mg Phosphor. That's enough to grow 4 carrots."
In 2016 and 2017 the P bank team was selected for the Neudeli incubator programme and was sponsored by the B100 Bauhaus anniversary fund. This year it received funding from the German Federal Environmental Foundation (DBU).
Artificially and materially intelligent architecture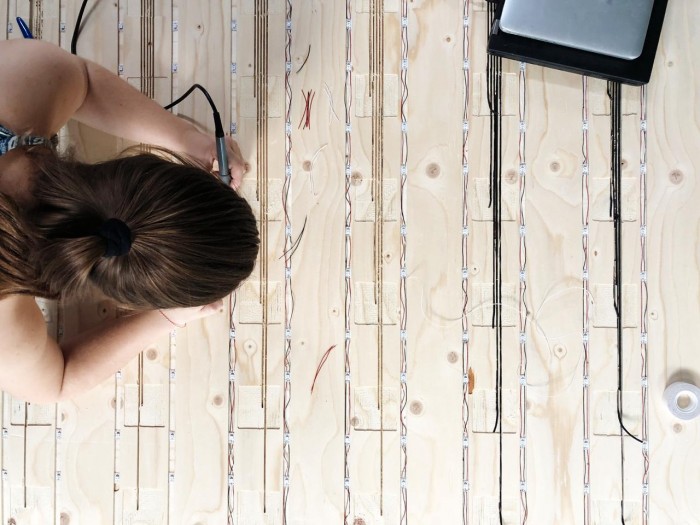 Synapse is a designed system by University of Institute for Advanced Architecture of Catalonia, Nikol Kirova that focuses on artificially and materially intelligent architecture. Kirova created a system that can sense analyse data by generating intelligence information and creating a dialogue between public spaces and its users.
Synapse can provide accurate, anonymous and large-scale spatio-temporal information. It has the potential to reveal dynamic occupancy maps, trend prediction, and real-time urban interaction pedestrian information.
At the centre of her project is graphene material which is one of the most promising nanomaterials, and a great conductor of electricity. Kirova wants to use the material as an urban scale proposition for monitoring data of urban flows in cities.
"The full potential of the project will be realised when paired with other existing urban information (land use or mobility data) transforming the urban environment into a fully responsive one," says Kirova.
A wearable art piece that explores the connection between aroma and our brains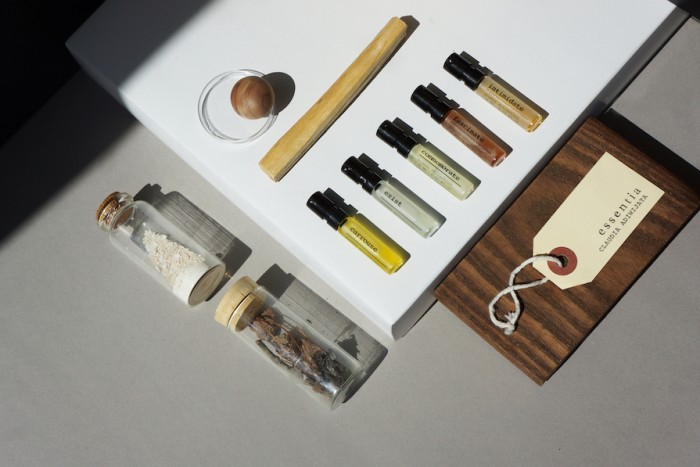 Interdisciplinary designer, Claudia Adiwijaya, designs products around social change and effective storytelling. Her project, Essentia, is a wearable art piece that explores the connection between aroma and our brains.
Essentia aims to identify the potential effect aromas from everyday objects have on us, and how smell can offer more enriching possibilities for the human experience.
"Essentia strives to address the underlying and layered value of the human sense of smell. It encourages the public to trust their primitive "mute instinct" to navigate and improve their well-being -while exploring the power of aromas and memory," says Adiwijaya.
When no one believes you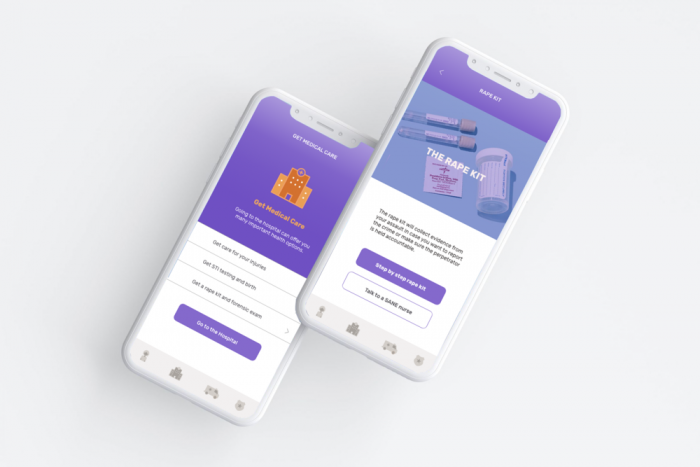 Antya Waegemann is a graduate from the School of Visual Arts in New York City who recognises that sexual assault is a pressing global issue, specifically in the USA where she is based. According to Rainn (Criminal Justice Statistics), in the USA every 92 seconds, someone is sexually assaulted, and only 30% of sexual assault victims report the crime.
These statistics led Waegemman to create a redesigned rape kit, called When No One Believes you. The kit is a response to sexual assault and it contains six different design interventions for use by victims, nurses and police. This includes an emergency sexual assault resource app, a product that detects DNA during the exam, and a rape kit tracking system.
The product aims to increase report rates, improve the experience of having to use a rape kit, and increase rape kit testing. It also aims to reduce stigma and shame around sexual assault, and to increase accountability. Waegemman wants this project to be an example of how design can shape accessibility in governmental and bureaucratic systems.
Affordable and clean energy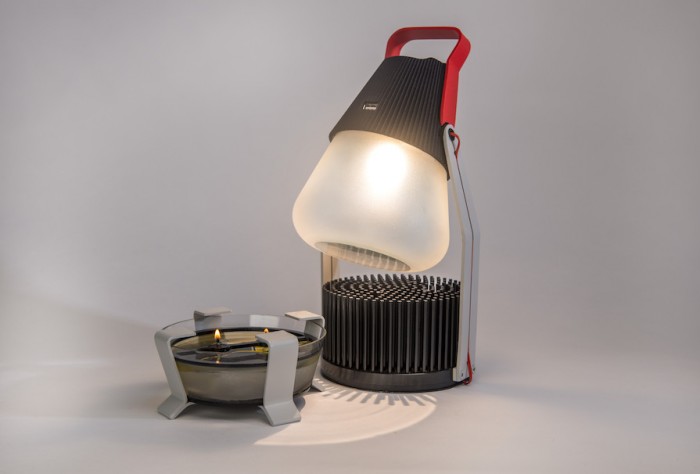 IGNIS by student, Tobias Trübenbacher, from the Berlin University of the Arts, is a power generator that offers electric power and light in a sustainable and self-sufficient way. It is intended for outdoor use in remote villages in dire need of electricity after natural disasters or a crisis of some sort.
The 22-year-old created IGNIS by using Peltier elements to transform heat into electricity and to enable it to store light and power in order to provide it whenever needed. IGNIS can either be placed on a hot stove or produce heat by burning ordinary household liquids such spirits, used frying fat, or any oil.
In 2019, Trübenbacher was one of the 20 winners in Beyond Bauhaus, an international competition for designers and design students.
Creating writing materials out of biosolids
Pratt University graduate Garrett Benisch discovered that New York City processes 1.3 billion gallons of sewage every day. This sewage is treated using micro-organisms which in turn convert the waste into biosolids.
While the city used these biosolids to enrich the soils of the city, now 2.8 million pounds of this make their way straight to a landfill every day. Benisch recognised that these biosolids could be used in a useful and sustainable manner. He thus created Sum Waste, a pen whose barrel and ink are both made from treated biosolids.
Benisch worked together with the New York Department of Environmental Protection and an independent polyhydroxyalkanoate, or PHA producer, to create this product. The young designer believes that this project can create a relationship between New York's waste management and the citizens of the city.
Removing the heteronormativity from SEX-ED
Jack Newbury's Department For Inclusive Education seeks to create inclusivity and equality in sexual education with his Inclusive Sexual Education Kit. The Central Saint Matins student's project was born after the British Department of Education introduced Relationships and Sex Education [RSE] for secondary pupils.
However, this program failed to include sexual education relating to members of the LGBTQI+ community.
By omitting this information, Newbury believes the department is doing an incredible disservice to its students. Newbury's Inclusive Sexual Education Kit includes materials, tools and information to help educate kids about sexual pleasure, practices, consent, gender, identity and body image.
According to Newbury being inclusive and educating students about all avenues regarding sexuality can only serve to benefit them, and this approach tackles the heteronormativity that surrounds sexual education.
Viking-Inspired Seaweed Thatching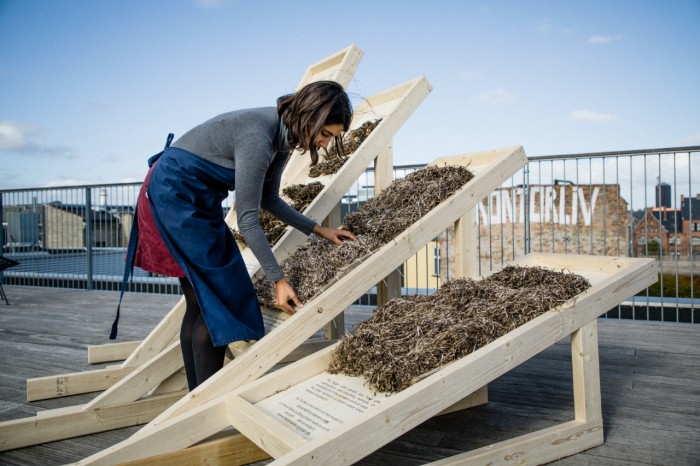 For generations the island people of Læsø, just off the coast of the Danish mainland, made use of eelgrass, a type of seagrass found in Scandinavia and the British Isles, to create massive thatched roofs. This added a unique element to the island's vernacular architecture.
Inspired by these thatching methods, Copenhagen School of Design and Technology (KEA) student Kathryn Larsen set out to create pre-fabricated thatch panels made from eelgrass for her project titled Seaweed Thatch Reimagined. These panels can be installed as a facade or roofing material that is slightly more minimalist and modern than the old Scandinavian thatching methods.
The eelgrass material, while rare, is a useful and sustainable building material. It is rot-resistant, fireproof, carbon-negative, waterproof and is also an insulating material. Larsen believes that there are ways to harvest and use this material without damaging the surrounding marine life.
Incorporating algae into our everyday lives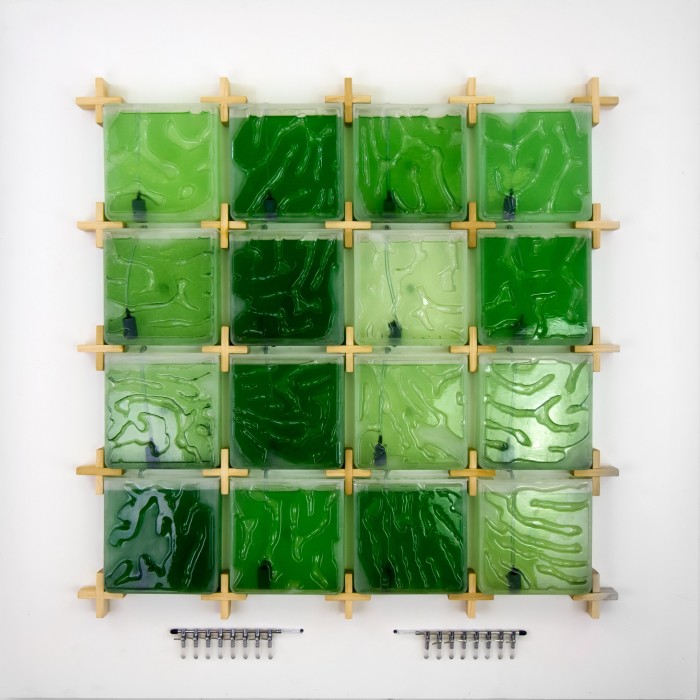 In 1974, the UN World Food Conference recognised that algae may be 'the most ideal food for mankind', as it contains more than 65 different nutrients and minerals. However, not only does it serve as a sustainable food source for humans and marine life alike but it is also plays a role in the balance of oxygen and carbon dioxide in our atmosphere.
Algae is said to produce nearly 70% of our oxygen and serves as an incredible CO2 absorber at the same time. Rhode Island School of Design student Hyunseok An recognised the significant possibilities contained within algae, and created The Coral, an indoor micro-algae farm.
The farm helps people incorporate the benefits of algae into our everyday lives. The microalgae farm is made up of a wall-mounted bioreactor that's divided into 4x4 cells containing 2 grams of algae each, the recommended daily intake of the organism. The farm allows individuals to grow and eat algae every day as the cells contain a biweekly cycle that requires replenishing after harvesting.
A unique journey to the East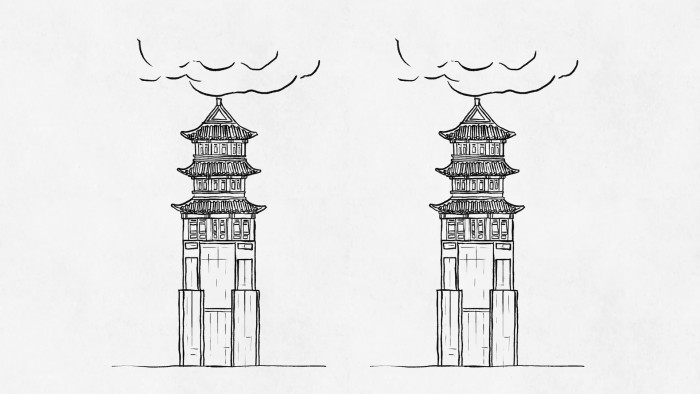 China has fascinated explorers, researchers and cultural enthusiasts for eons. Its rich and diverse culture, immaculate architecture and complicated history are just some of the reasons why the world remains fascinated with this Asian nation.
University of Applied Sciences FH Joanneum Graz student, Christian Leban, spent six months living and experiencing many elements of China. As part of his master's thesis, Leban wants to take you on a journey to the east, through the lens of an animated short film.
Titled 'Views of China', the project is made up of 11 hand-drawn, animated loops that explore the fascinating country by using unique concepts - from the most beautiful elements to be found there, to areas of conflict in the country.
Unfit to live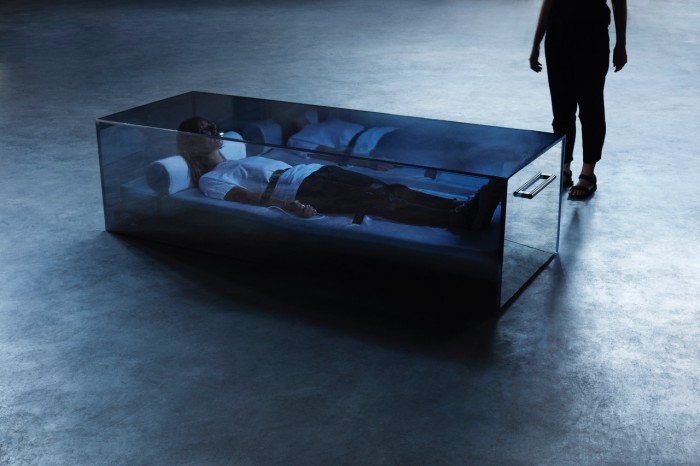 Dimitry Suzana is an Eindhoven based French designer who focuses on fighting against generic solutions, by rethinking small scale issues and creating conceptual projects. His latest work, "Unfit To Live" an immersive experience paying tribute to Virgine Fontaine, who suffered from ALS disease, peripheral degeneration of the nervous system.
While the current debate around the end-of-life choice focuses on the ethics of its legislation, we need to question our legitimacy in formulating an opinion. Looking at the problem through our normative scope is failing to understand that suicides, assisted or not, are always the consequence of tragic situations. None of us would choose death over life if pain and exhaustion didn't make it unbearable.
As a society, what solutions can we offer to ones that are rightfully feeling unfit to live?
Locked in a one-way mirror box, the participants experience the restrictive living condition of ALS disease, in a broad attempt to shed light on the ones who choose death as a unique relief.
Read more:
Turning refugee bunkers into privacy pods using minimalist design
Inclusive, human-centred furniture for the disabled
What will food look like in the future, especially for the elderly