Luxury cosmetics brand Lancôme has developed a tool specifically designed for people with disabilities, to make the process of applying lipstick more manageable.
About fifty million people globally live with limited fine-motor skills, a fact that spurred the L'Oréal-owned beauty brand to develop a handheld smart makeup applicator to enable users with limited hand and arm mobility to steadily apply lipstick on their own.
A team of engineers and designers from the L'Oréal group drew on technology created by research organisation Verily to stabilise eating utensils for individuals with disabilities. The makeup-application device, called Hapta, attaches to the user's hand and holds a lipstick in a stable position with a flexible arm that can be adjusted to different angles. Key to its success is its self-levelling technology - with a range of real-time sensors for a full range of motion and steady application, the device reacts 'intuitively', levelling as the user's arm moves.
The device is equipped with a magnetic attachment that enables 360 degrees of rotation and 180 degrees of flexion, while a 'clicking' feature enables the user to lock in a position for future use. Hapta's built-in battery powers the device for up to one hour of continuous use on one charge.
Everyone should have equal access to beauty, says Françoise Lehmann, Lancôme Global Brand President. Describing Hapta as 'going one step further to making beauty more accessible to use', she says, 'Beauty tech has enabled us to fulfil this mission in an even more powerful way, revolutionising the way we develop beauty products and services and enabling greater personalisation.'
Lancôme hopes to further develop the device for use with other beauty products, such as mascara.
To find out more information about Hapta and sign up for updates, visit https://inda.ba/3H1vBvY.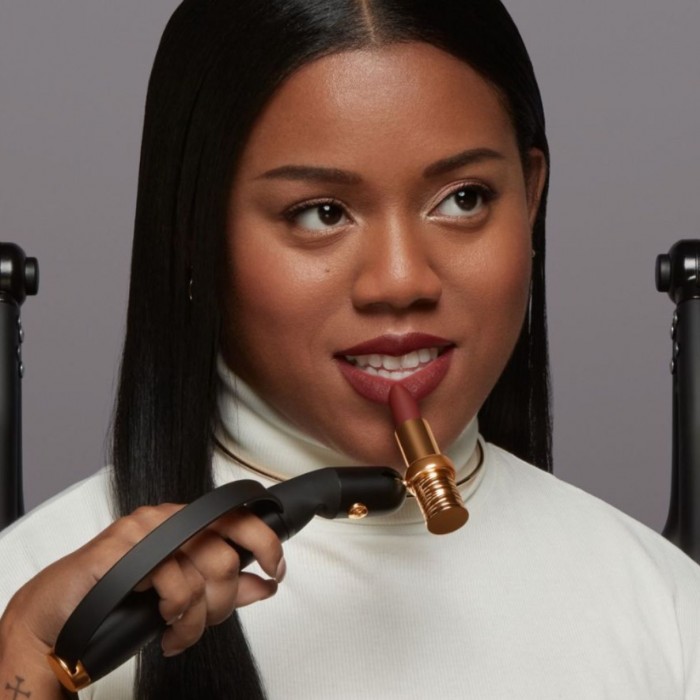 Read more
Camila Chiriboga on fashion that brings dignity to differently-abled people
These designers are merging tech and product design for more inclusive products
Interactive robot helps disabled children develop
Photographs: Lancôme.