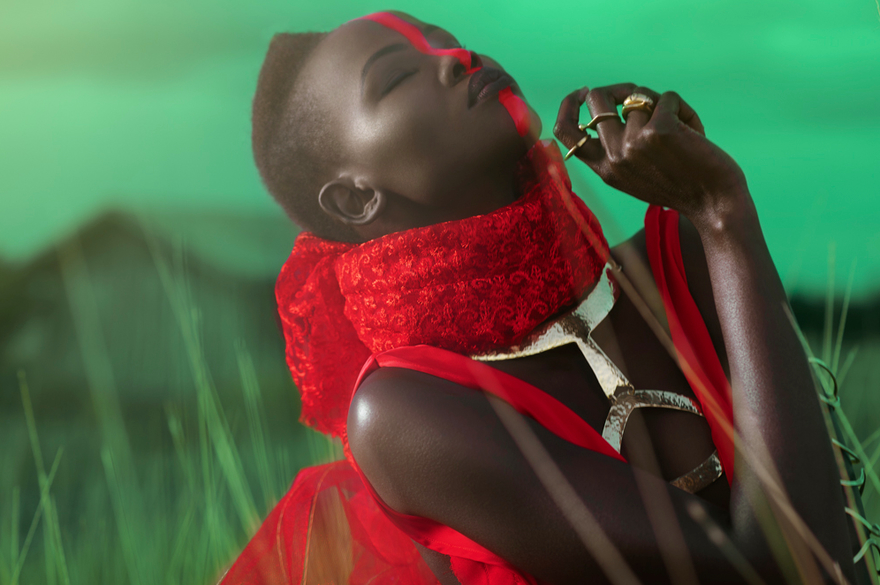 Yvonne Lyra Aoko Were is the young photographer, videographer and lifestyle blogger behind Kenyan lifestyle website, The Lyra Aoko Edit. In RED, she makes use of the bold colour in a distinctive visual exploration of the vulnerabilities that accompany womanhood.
Through the constant presence of the colour and the inclusion of powerful prose from women like Riot Grrl icon Kathleen Hanna and poet Dominique Christina, RED provides a striking look at the complexities and global commonalities found in the experience of womanhood – from menstruation and anger to gender and love.
Her interest in photography did not stem from childhood, she says. "As a matter of fact I had always preferred to be in front of the camera rather than behind it, but all that changed during my third year in university as a journalism student. I developed a keen interest in photography, and the experience not only made me able to express myself in a more creative way but it also helped me in my interaction with a variety of people from different backgrounds."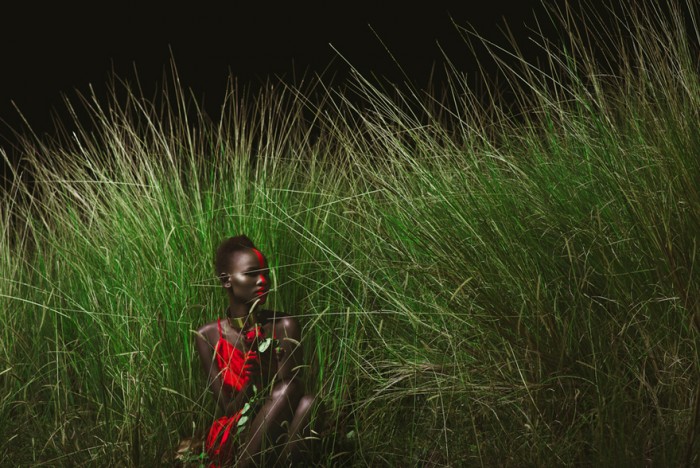 The self-taught photographer says what she loves most is capturing beauty, emotions and people. She says for her photography is most powerful because one can steal a priceless moment in time with a camera and keep it with them forever.
She said that the RED project came about after the colour kept catching her eye more than usual over a period of time.
"Red is a very bold colour. The colour of energy, passion and action and it has so many positive and negative meanings associated with it. Off the top of my head, it signifies danger, love, anger, warning, beauty on luscious lips, death. It is the most intriguing colour of all and I chose to explore it through a set of visuals that I could relate to as a woman."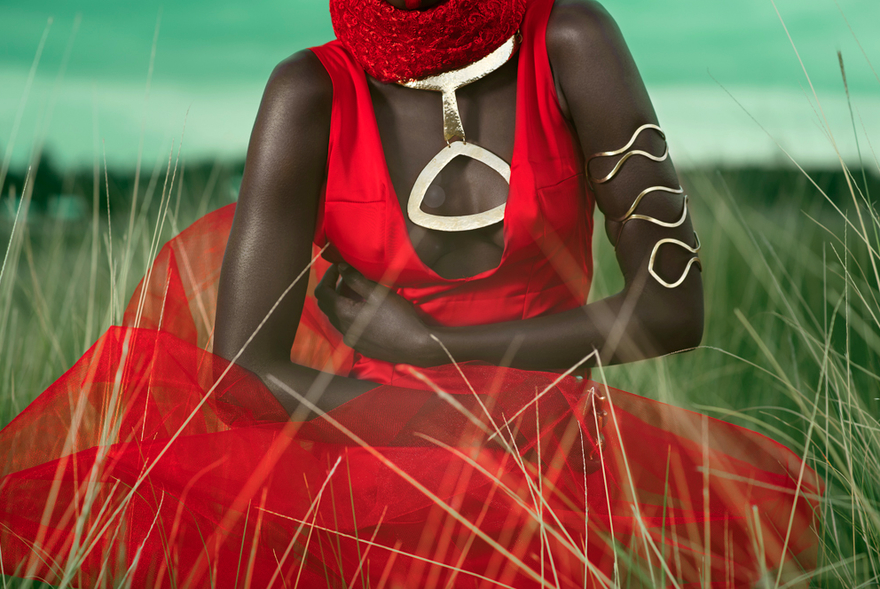 Womanhood forms a large part of the series. She explains: "Women have inspired my photography since I first picked up my camera. Women are beautiful beyond measure and the strongest species on this planet. We birth nations, raise generations through thick and thin, and we do it with such grace it's wonderful to capture. Red has more personal associations than any other colour. The colour red is complex and so are women and it was exciting exploring the colour through the many ways it features in a woman's life."
The series incorporates words from women like Kathleen Hanna, Dominique Christina and Nikki Ursula on the subject of womanhood. Oako says this was because after she created the first set of images she started reading up on what other women had said about the topic.
"My work as a photographer is to create stunning images that raise questions and make you think more about the subject matter. My approach in this particular instance was more of a textual and visual marriage. It was not only about the images but more about raising awareness on the various vulnerabilities women face as signified by the colour red. I chose to feature words by the women mentioned because it felt as though they had taken the words right out of my mouth as I did my research. I could not have said it better myself."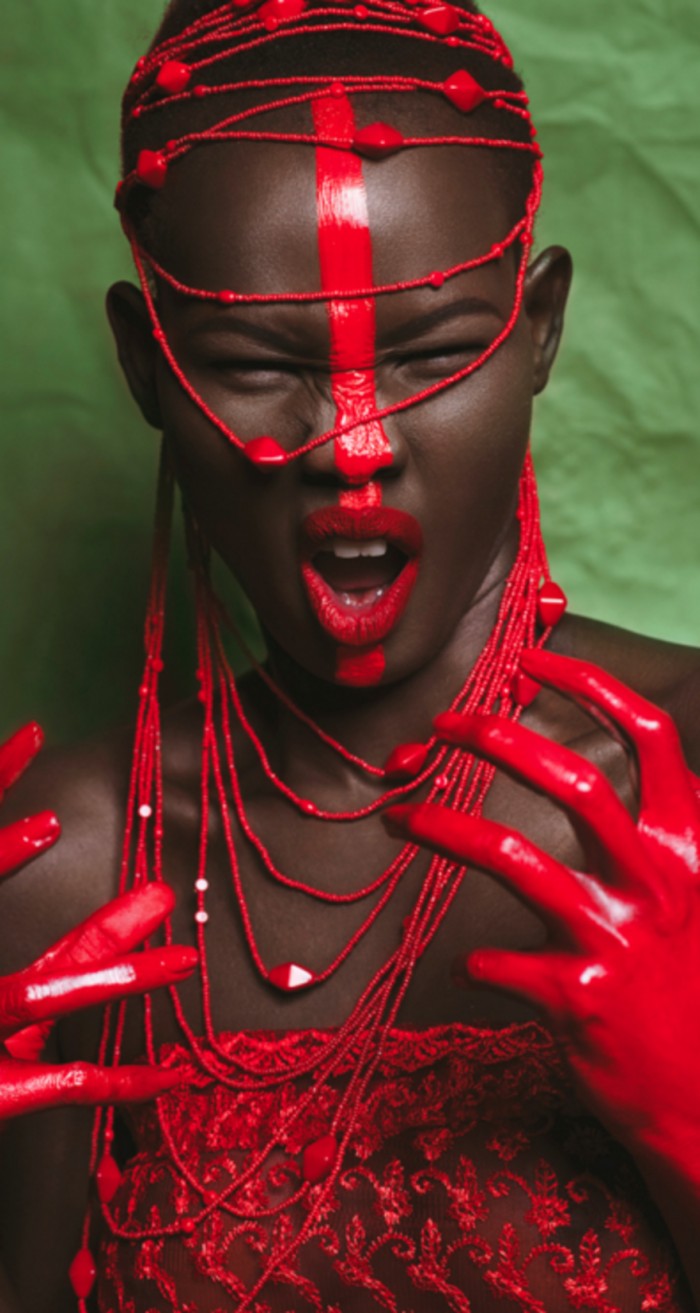 To bring the project to life Aoko collaborated with creatives including fashion designer and stylist Jamie Kimani.
"Jamie went all out for this project by creating a one of a kind haute couture silk dress which photographed so beautifully in all the images we shot."
The model she collaborated with on the project is Shanelle Siase who Aoko says is one of the most beautiful women she has ever seen. "Her innocent yet deeply fierce face was all the inspiration I needed to select her for this project. She is a supermodel who has walked major runways across Africa and her effortless grace and charm were perfect for portraying the underlying messages for the project."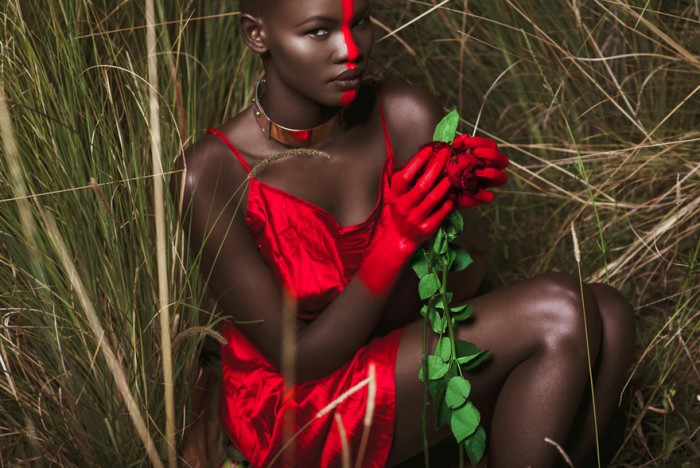 For Aoko photography has allowed her to share her unique story as an African woman as well as to capture real images that would be lost in the clutter of everyday life.
"I have been able to make special moments permanent and it has also given me a new perspective on life and everything around me in such a beautiful way. Photography is a powerful means of communication and it has allowed me to share my unique narrative as an artist living, working and building creative Africa, something I cherish and will never forsake."
She adds: "My life's mission is to showcase all the beauty and the wonders that our continent holds and my plan is to capture it all over the next few years."
More on representation in photography:
How this young photographer is creating a career while helping to correct mis-representation
These surreal portraits explore ideas of culture, family, tradition, and gender
Joshua Kissi on disrupting and diversifying stock photography