With over 60-million refugees in the world at this moment, humans are truly in crisis. While a number of aid organisations help provide food, water and basic shelter to ensure these people survive these 'camps', little emphasis is placed on the children's happiness and well-being. And, over the long-term, mental health expressed in the ability to play is absolutely imperative to their survival.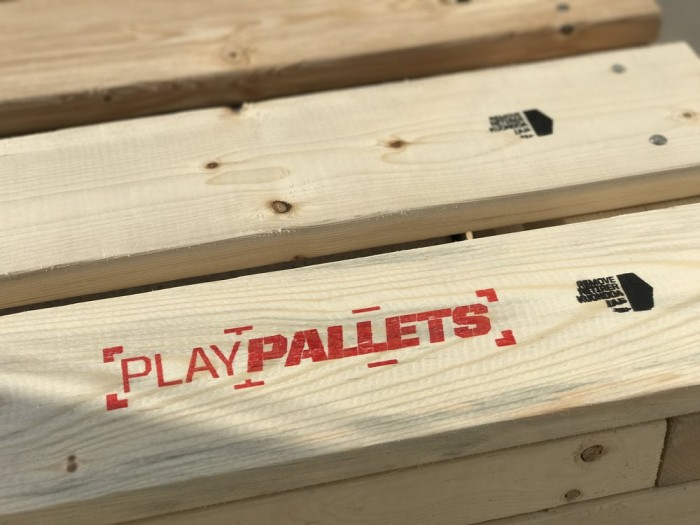 Enter PlayPallets International – the world's first, completely self-contained sports equipment shipping pallet. This revolutionary, patent-pending design with its easy breakdown and build features offer sturdy platforms without the addition of clunky parts that can compromise its transportation ability. In fact, PlayPallets are engineered to the exacting size (48"x40") and specification of standard shipping pallets including heat-treated SYP and two-way forklift slots. It can also handle the same weight as the traditional pallets.
The producers selected wood as the manufacturing material because of its environmentally-friendly properties and can be easily repaired or replaced, if required when it arrives at its destination – unlike speciality moulded plastic or metal.
How it works:
Each part of the PlayPallet has a specific, functional role. To illustrate its purpose, the Basketball Model A pallet is used:
- The five-play sheets that feature at the top and bottom of the pallet serve as the pre-painted backboards – marked for easy installation of the hoop.
- The pallet's interior support skeleton is made of 1"x4" planks that help to stabilise the basketball pole and backboard.
- Once removed, the patent-pending ChannelCompartment™ is accessible and the accessories are securely packed for logistics. In the case of the Basketball Model A, this would include rims, nets, basketballs, air pumps, additional hardware, instructions for assembly and rules.
- Lastly, the pallet frame is made using thick beams that translate to two sturdy poles for the hoops.
To date, there four different PlayPallets models have been conceptualised; three of which are currently in development. The Basketball Model A can be transformed into two complete basketball hoops, including all the accessories such as rims, balls, and extra building supplies. In development, the Skate Box Model B, Cricket Model C and Soccer Model D are expected to come with all the hardware needed to support play.
Learn how PlayPallets are made: