In celebration of the release of one of the most-anticipated films in recent history, Airbnb has opened Barbie's Malibu DreamHouse for overnight guests – but with a twist: the oceanfront pink palace has been newly renovated with Ken's taste in mind.
The life-sized replica of the Barbie Malibu House in California was just one of the movie's marketing team's efforts to bring 'Barbie Land' to the real world. The house, which was designed by Nigerian-American interior designer Victoria Adesanmi, is a vision of 'plastic fantastic', with fake pink stone walls, a slide that ends in a mock glistening pool (not to be confused with the real infinity pool that boasts 'Ken' inflatables) and a full-size plastic horse.
In its official press statement, Airbnb noted that while Barbie is 'everything', Ken has always been 'just Ken' – until now. 'Ken has revamped part of Barbie's Malibu DreamHouse with everything he loves (rollerblading, anyone?). And though guests can clearly see his, ahem, Kenergy, Barbie's signature pink remains ever-present throughout the life-size, toy-inspired home, as she's done her own redecorating since the last time the Malibu DreamHouse was available for guests.'
The three-storey vibrant pink house features two bedrooms and two bathrooms decorated in a uniquely 'Ken' way that pays homage to Barbie's often-sidelined boyfriend's journey in the movie to discover his own identity. Featured are gingham prints, leather cushions, horse-themed paraphernalia and animal-skin rugs. You'll also find a disco dance floor and roller rink, a DJ deck, an outdoor living area, Ken's own private gym, a theatre, a games room and a toy barbeque complete with plastic food.
Despite Ken's influence on the decoration, Barbie's powerful presence is still very much in evidence: her clothing, including the iconic high-heeled pink shoes with fluffy feather decorations, are stored in a closet of the bright pink house.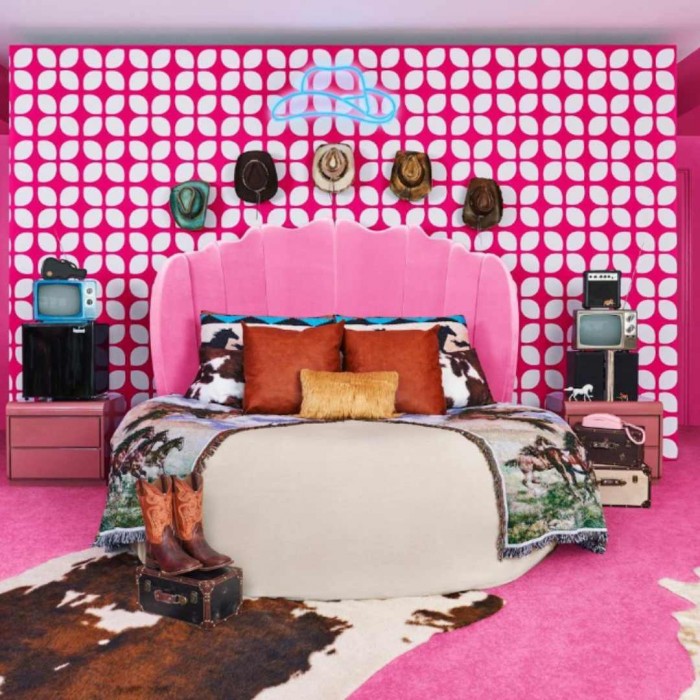 Read more
Photographs: Airbnb.