On 28 March 2023, the Inside Out Centre for the Arts exhibition and education space opened its doors to visitors for the first time. The centre, which has been years in the making, acts as both an art exhibition space, presenting shows that explore issues related to the African continent, and a centre that facilitates a programme of educational talks, panel discussions, masterclasses and presentations.
Roger Ballen is an American artist and photographer who lives in Johannesburg, where he's spent most of his life shooting thought-provoking stills and scenes. He founded the Roger Ballen Foundation in 2008 in dedication to the advancement of photography education in South Africa. In 2018 it was decided that the foundation (which had since been renamed the Inside Out Trust Foundation) needed a physical space, and this was built in 2020. Over the following three years, with substantial delays caused by Covid, the JVR Architects-designed building was transformed into a multifunctional structure that incorporates an office/administrative area, a printing area, an artists' archive and exhibition spaces for a range of artistic practices.
'In the years to come, the Inside Out Centre will feature themes related to Africa with global application,' said Ballen about the centre. 'There is a wealth of highly respected international and local artists working in photography, installation, sculpture, drawing, painting and film whose work centres on African themes. Over time, we will develop inspiring programmes and present thought-provoking exhibitions.'
The inaugural Inside Out Centre for the Arts exhibition, End of the Game, is an exploration of the hunting of wildlife in South Africa. The exhibition seeks to document the historical importance and background of the 'golden age' of African hunting expeditions undertaken by colonialists and influential Western personalities such as Winston Churchill, Theodore Roosevelt, King Edward VIII and Ernest Hemingway from the mid-1800s onwards, utilising documentary photographs, artefacts, film clips, Ballen's photographs and installations. In his signature Ballenesque style, the artist explores the profound psychological connection between humanity and the natural environment.
Together with the Johannesburg Holocaust and Genocide Museum and the Joburg Contemporary Art Foundation, the Inside Out Centre for the Arts forms a trio of cultural centres in the central suburb of Forest Town.
Visit https://inda.ba/3NoRrya for more information about the centre.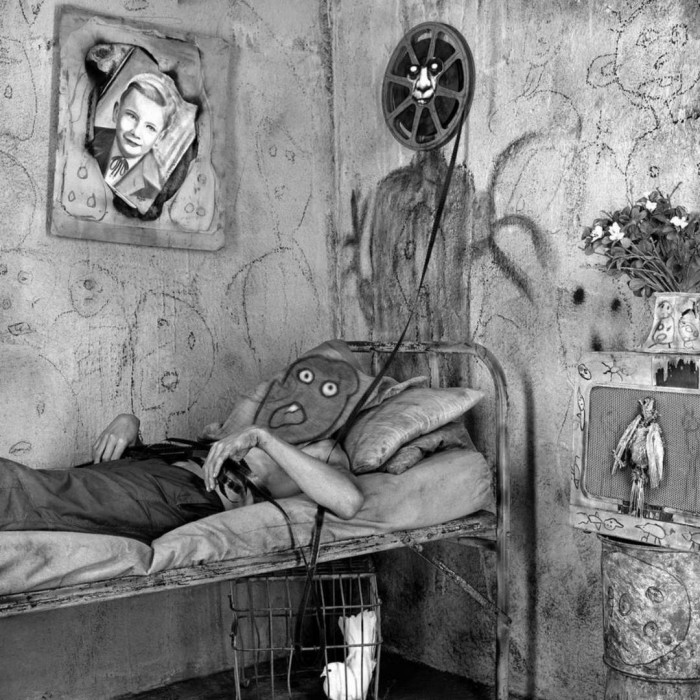 Read more
Artists donate works for Africa's first major contemporary art museum
Photographs: Roger Ballen, Inside Out Centre for the Arts.