Celebrations were plentiful in the Copenhagen Opera last night as the winners of the INDEX: Award 2011 were announced.
Designs from 27 countries were considered in the Danish capital for what is arguably the world's biggest and most prestigious design award. The event was attended by HRH The Crown Prince and HRH The Crown Princess of Denmark, together with 1 200 invited guests from 48 countries.
Looking at more than aesthetic appeal, the INDEX: Awards consider those design that vastly improve the lives of people all over the world. Almost 1 000 nominations from 78 countries were received for consideration for this award in the categories Body, Home, Work, Play and Community. The five winners share prize money of more than $800 000.
A key factor in considering the winning designs is how they serve as a solution for some of the world's major challenges like climate change, pollution, natural disasters, loneliness, elderly care, poverty and over-consumption.
And the winners are…
In the Body category Yves Béhar walked away with the award for his See Better to Learn Better (VErBieno) project that saw the rollout of free eyeglasses for Mexican schoolchildren. Read our story about this project here, or watch Béhar's speaker presentation.
Elemental Monterrey, the brainchild of architect Alejandro Aravena, won the Home category as a revolutionary new model for social housing. Read more about Aravena's work here, or watch his speaker presentation at Design Indaba here.
From India, Kiran Bir Sethi's Design for Change initiative took the prize in the Work category. Bir Sethi founded a design-based school system designed to give children and opportunity to express their own ideas for a better world. Read our article about Design for Change, or watch Bir Sethi's speaker presentation at Design Indaba.
In the Community category Design Seoul from South Korea were honoured for their urban project. Design Seoul created the first-ever coherent design-based approach to improve life for citizens in a very large city. Read our story about Design Seoul here.
Swedish Hövding's invisible airbag for cyclists' heads earned them the INDEX: Award in the Play category. Read our story about their project here.
Watch the Talk with Alejandro Aravena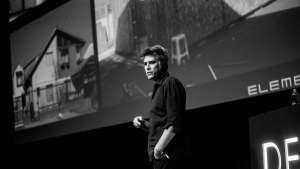 Talks
• Duration: 00:53:50
•
9 Jul 18