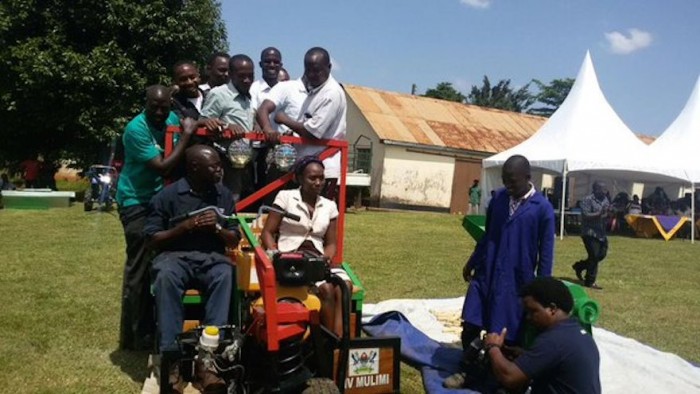 Uganda's Makerere University recently revealed a multi-purpose tractor prototype at its Agricultural Research Institute. The tractor called MV Mulimi has been engineered to perform several functions aside from the standard ploughing and transporting of crops. Head of the project Professor Noble Banadda was at the launch to explain the workings and capabilities of the hybrid farming machine.
Made from wood and steel, the three-wheeled vehicle is able to pump water for irrigation, thresh grain from crops and charge mobile phones (for the farmer who likes to stay connected). The professor explained how the tractor is designed to help farmers cultivate more crops with greater efficiency and at a faster rate.
"The tractor can pump water from depths of up to seven metres to a radius of 33 metres, it can thresh half a ton of maize in an eight-hour shift and its wheelbase allows it to carry up to two tons of produce," Banadda adds that the MV Mulimi's integrated three-disc plough is a huge time-saver for users. To recharge a mobile phone, the user simply plugs his mobile charger into the included power outlet port.
The tractor is targeted at Ugandan farm owners who are responsible for ten acres of land or less. There is concern over the cost of the machine but the Agricultural Research Institute team believe that with government funding and private sector support, the tractors will be readily available to trial.