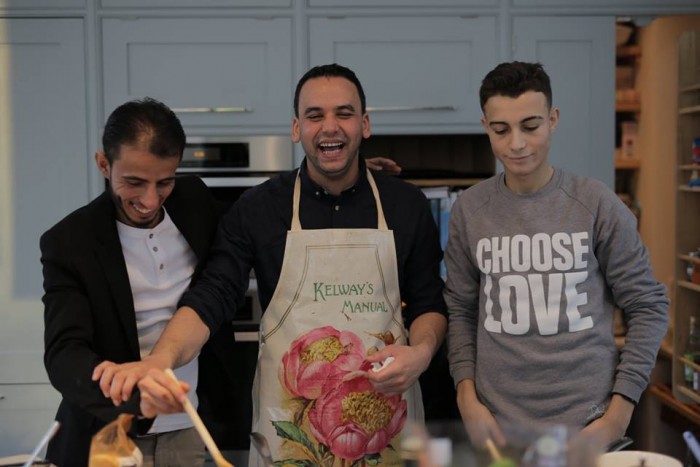 Meet the chefs – Fadil, Ali and Yusef – who are using the new mobile app TimePeace to share their skills and friendship
In almost every corner of the world, people are on the move – driven from their homes by unemployment, war, famine, civil unrest and poverty. The migrant crisis is one of the most pressing issues of our time.
Governments and citizens are divided on how best to deal with this mass of unsettled peoples. The UNHCR estimates that an average refugee spends 18 years outside of their home countries. Although temporary solutions are vital in a state of emergency, this kind of statistic also indicates how important it is to think long-term too. In order to help people across the world form better connections with each other and build more accepting and open communities, designers and creative thinkers who are working to give these people a face. And a bit of personality.
Refugee Republic is an interactive multimedia documentary about everyday life in Domiz camp, which houses Syrian refugees in Northern Iraq. But rather than a self-contained film, it exists as an interactive website with a detailed, hand-drawn map of the camp, audio recordings, film, photography, sound and text that come together to bring the everyday existence of the camp's inhabitants to life.
TimePeace, currently crowdfunding ahead of their launch date later in 2017, is a mobile app that facilitates greater social integration between asylum seekers and refugees and the local citizens. The app enables users to share skills and activities with each other and for every hour given, the user gains a credit for an hour to use. For example, a local who is able to teach guitar could use a credit gained to spend an hour learning how to cook traditional Afghan food. With geo-location software, audio files for less literate users, and multiple languages, the app's creators are sure that it will be a strong tool for building bridges.
The new cookbook, Eat Offbeat, is the first of its kind – written by refugees who sharing their recipes and tell stories from their homes. It features 80 recipes and stories representing at least 20 chefs hailing from 15 different countries.
As well as experiences and tastes from around the world, there are also platforms that seek to find displaced people somewhere local and homely to stay. The founders of Berlin-based organisation Refugees Welcome, Jonas Kakoschke and Mareike Geiling, believe that there is a better way to welcome refugees to European cities. Their site matches citizens who are willing to share their homes with displaced refugees, providing a more integrated and humanitarian reception to those forced to flee their own homes.
Refugees United (Refunite), launched by two Danish brothers in 2008, is a mobile phone application that enables people to search for lost loved ones online. Users can add personal details to their search information – like a family nickname, a scar or the name of a pet to help them search for people who have chosen to keep their full names private.
These platforms and projects are only a small fraction of the work the design community is putting in to helping refugees find comfort wherever they end up. Product designers, architects and fashion designers are also working on smart clothing, flatpack emergency housing and temporary shelters that can be made quickly and affordable to be distributed to those in need. We've covered several of these other initiatives.
Our Design Indaba Conference speakers in March 2017 also highlighted how important it is to acknowledge the refugee crisis by mentioning ways their work has sought to touch the lives of those affected or open the eyes of those who find it hard to empathise. Artist and designer Ekene Ijeoma created an interactive map that showed the movement of refugees around the world over the last 40 years, with information on what triggered their exoduses. Luis von Ahn, creator of the free language learning platform Duolingo, told the audience that the most common language learnt in Sweden is Swedish. Why? Because of the increase in refugees fleeing there from Syria and Afghanistan who start to learn Swedish to find work. Airbnb founder Joe Gebbia also shared his companies plans to encourage hosts to open their homes to refugees.