Affirming hope in the face of a pandemic demonstrates a super-human form of resilience. So, we've donned our cape – and face mask – and gone in search of hope heroes from around the world in order to share their creative, caring optimism with you…
Drawcard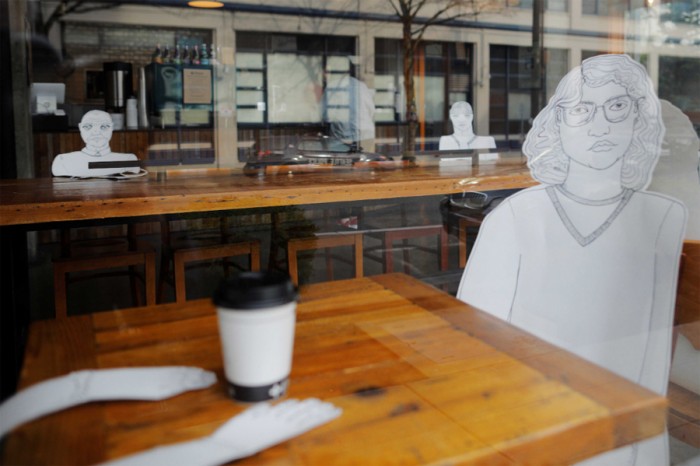 Paper cutouts of customers sit at Eltana Café in Seattle. Image: REUTERS/Brian Snyder.
Restaurants are sitting empty. Or are they? The Eltana Café in Seattle, USA has peopled its tables with paper cutouts of patrons to temporarily replace its erstwhile customers. A critique of a perverse state of affairs, a confident shout-out to the universe, an intriguing art project, a desperate plea, an act to raise a smile, or all of the above? You decide. But we're calling dibs on one of those soon-to-be-collectible illustrations!
Heart-make hotel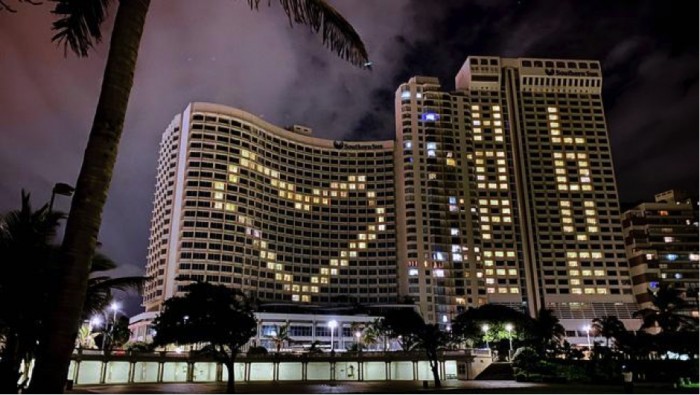 The Southern Sun Elangeni and Maharani Hotels. Image by Wayne Smith.
Despite crippling closures, hotels continue to keep the lights on – literally and figuratively – using their facades as expressive canvases. Two of Durban's most iconic accommodation destinations are wearing their hearts on their sleeves…
Dancing in the dark
Ashlee Montague dances in the deserted streets of New York. Image: REUTERS/Andrew Kelly.
We may not be able to go to the ballet, but the ballet can come to us. On point performer Ashlee Montague swopped her tutu for a gas mask and lit up Times Square by pirouetting in the strangely empty (for New York) streets. Her poignantly partner-less pas de deux is all the more touching when you consider hard-hit Manhattan.
Off the streets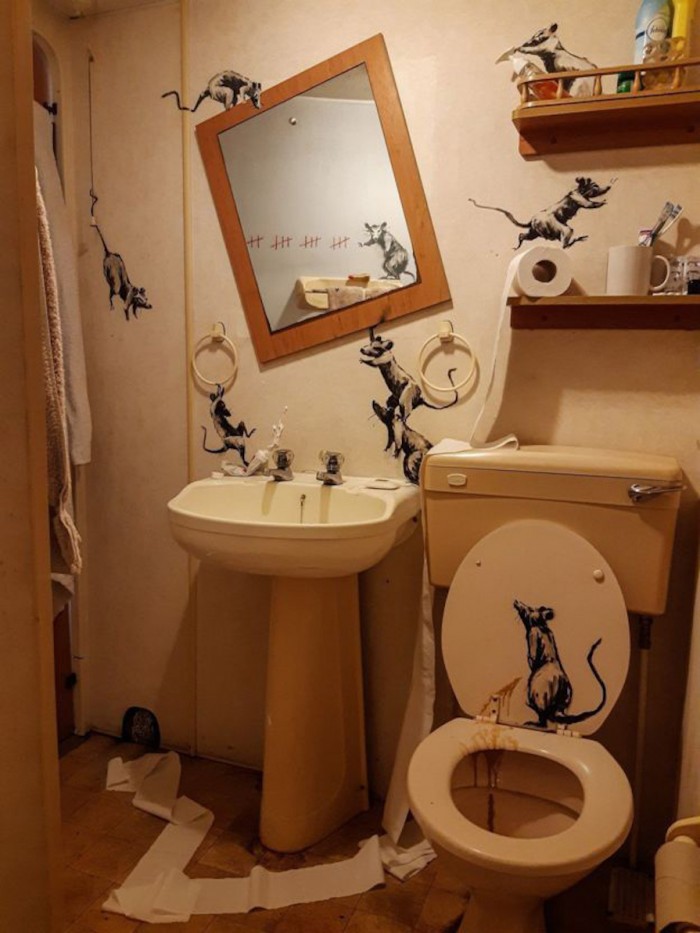 'My wife hates it when I work from home' - Banksy.
Instead of bouncing off the walls during lockdown, street artists are using their interior surfaces as creative outlets. Stencil art "royalty" Banksy proves he's king of his castle, keeping us grinning with images of a rat-infested home that reveal the artist's typically ironic, pointed brand of humour.
Guilty as charged
Emojis by Jessica Walsh.
Hands up if you're working remotely. Now hands up if you've attended a virtual meeting secretly wearing your slippers. Jessica Walsh of &Walsh has tellingly reimagined emojis to suit life in self-isolation. Her COVID-19 library of zeitgeist-ready emoticons can be downloaded here.
Days and confused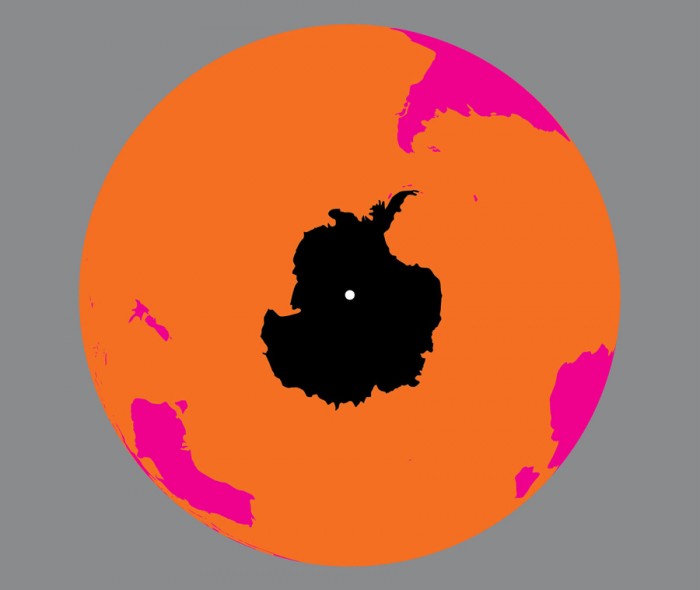 From an animation by Olafur Eliasson.
It's been Earth Day, Freedom Day and World Design Day all in the space of a week or so and it is near impossible for any of these significant days to be marked the way they used to be in the face of a lockdown. The pandemic has given us pause to reflect, and rethink.
Worth exploring, is renowned Danish artist and Design Indaba Speaker Olafur Eliasson's celebration of Earth Day, held annually on 22 April. His participatory, interactive animations, released on Instagram, turn the earth on its head – much like the Coronavirus has done…
Let's face it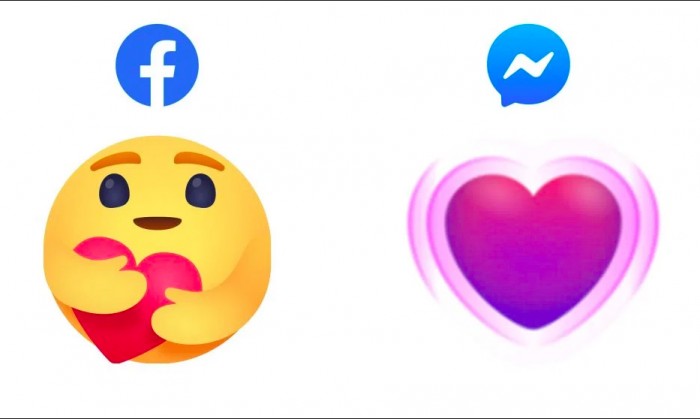 Facebook's new "Care" emojis.
Founded in 2004, Facebook rose to mass popularity by wondrously connecting people digitally across space and time. Now, to help Facebook remain relevant and help its fans connect more expressively with their loved ones in uncertain times, Zuckerberg's team is introducing a new "Care" reaction for Facebook and Messenger. There's also a new 50-person chat function called Rooms - no doubt for extremely large families (we're kidding, of course!). Workers are bound to welcome the room to manoeuvre.
You can't keep a good font down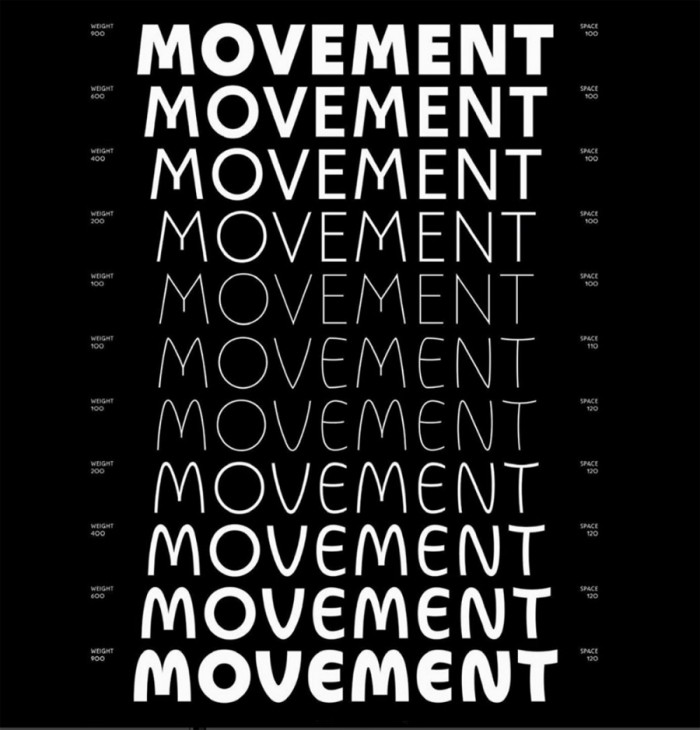 We're thrilled to share the news that Movement, the font that NM Type created in collaboration with Design Indaba and Andile Vellum, is a finalist in the 99th edition of the ADC Awards. Even better, is that we're giving it away for free. Join our very own variable font Movement.
SHIFTING INTO SURVIVAL GEAR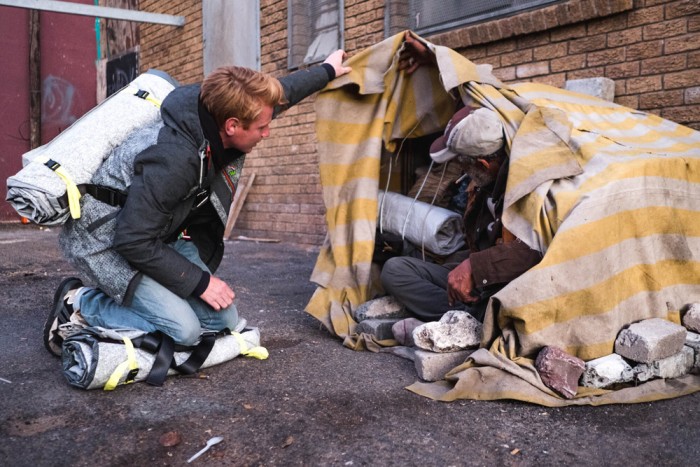 After seeding an initial 250 Shelterbags at #DI2020, we've been calling on our community to donate towards producing even more of the protective outerwear designed by Bas Timmer. All contributions are used to shelter the homeless in Cape Town.