London-based graphic designer and illustrator Jenni Sparks creates fun, hand-drawn maps while listening to heavy electronic music. Her maps are peculiar in that they better reflect the personality of an area than its geographical features. Her maps subvert ordinary tourist maps and makes information easily accessible and attractive. Sparks is currently working on a personal project on old arcade machines.
When did you first start drawing maps?
I first started drawing maps about three years ago when I was commissioned to draw my Hand Drawn Map of London. Before then I'd never even considered doing maps, but now I'm glad I took it on board!

What are the differences between your maps and cartography?
Sometimes I get cartographers email me and put my maps into the category of cartography. I feel like I didn't learn to be a cartographer and there's more technical expertise that goes into that profession, whereas I try to branch between that world and illustration. I use my "artistic licence" to make certain bits of my maps more prominent and I also add a lot of weird doodles onto them.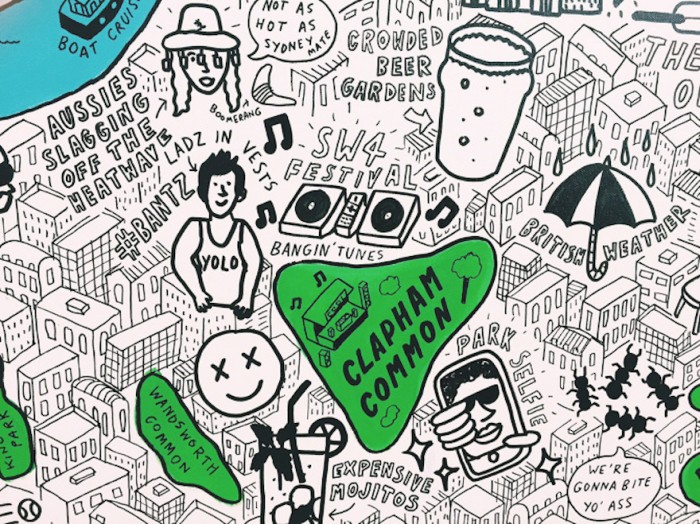 Do you ever add fictional or imagined elements to them?

If you look closely at the maps there tends to be some sort of fictional element to them. I'll draw beautiful muscular men in the gay districts, a weed leaf in San Francisco, etc. Obviously these things are representations of the social aspects of that area unlike the actual landmarks that are also included.

Are they always places you have been?

Mainly - pretty much all the maps I've drawn (apart from a couple) are places that I've been to. That's my favourite part, getting drunk with the locals and taking it all in! I love travelling.

Talk us through your process: hand-drawn or digital, where your ideas come from, whether you work quickly or slowly and meticulously?


It depends on the project and I tend to mix things up. With the large maps I use a Wacom tablet and Photoshop and hand draw everything into the computer, time constraints mean I would never be able to use pen and ink or paint. With my other commissions I usually draw things out on paper then scan them to colour them. I've also been re-discovering my love for painting and doing a lot of live art recently.
My ideas come randomly; there's no way of forcing them out! I have a note app on my phone and I make sure I jot them in there or on a sketchbook. I then roughly make the ideas into visuals to see if they work, and I go from there. I would say I'm a fast worker, for sure. I listen to fast-paced music. I used to work in my bedroom and play club music at full blast while I worked, but now I'm in a studio so it wouldn't be very considerate to do that.

How do you describe your aesthetic? How would you describe the way your maps and illustrations look to someone who hadn't seen your work yet?


I would say that my work is really detailed and a little obsessive and is drawn by a woman with a child's sense of humour. It's also pretty colourful and bold I guess.

What mood are you in when you design your best work? Are they cheerful pieces?

I design my best work when it's either raining outside or night time and there's no distractions going on. When I worked in my bedroom all my friends would come in to say hi and I'd get really angry at them, even now my friends know to stay away from me when I'm in the middle of a map! It takes a lot out of me. I would say even though I'm a total grump when I'm working hard it's only because I'm totally obsessed with the pieces so I guess that means they're a labour of love and therefore cheerful.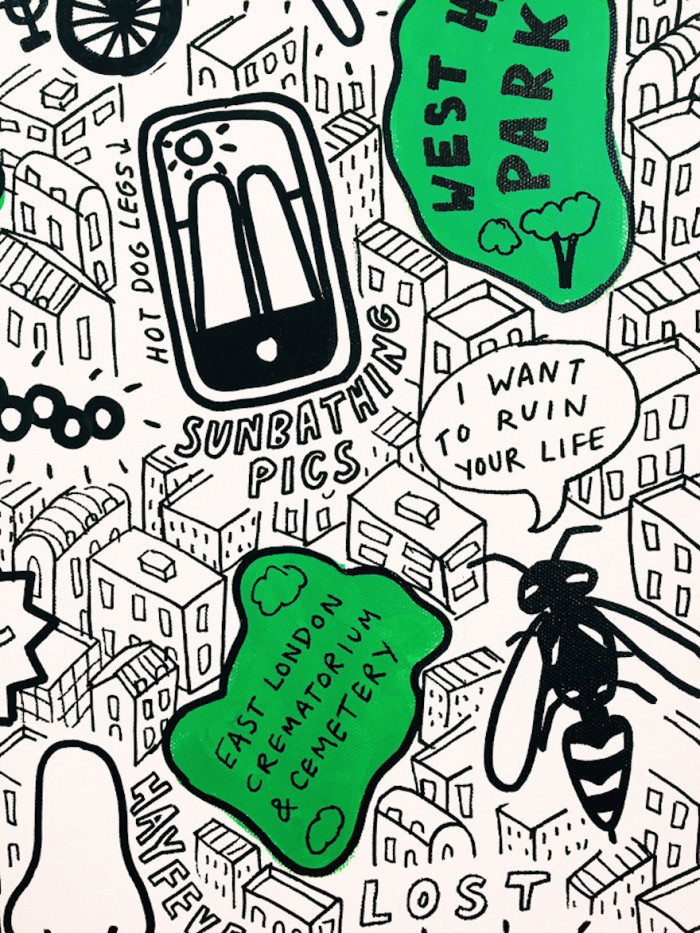 Have you been drawing all your life?


I can't remember a time when I wasn't drawing. I won a couple of competitions when I was a kid and I remember being accused of tracing a picture when I was 6 when I'd actually drawn it! I also was super inappropriate in any class that I found boring and would doodle insults (and body parts) on people's books.

What work are you most proud of?
Looking back, I think the Hand Drawn Map of... series is definitely something that I'm very proud of. It taught me a lot, I'd never worked that hard before. I think the London map that I made was the first piece that showed to me that I genuinely wanted to be an illustrator and that I would work my ass off to become one. It was also just as I'd made the big move to the big city and I explored London while working on the project so it holds a lot of good memories!

Other than that, when I'd just graduated I made a little illustration called "Things That Hipsters Like". I remember it was a bunch of stuff like bicycles and cameras and retro Gameboys, and it got picked up on Tumblr and went viral. It was just at the time that the whole hipster trend was starting, I was living on a caravan park and working in Starbucks to try to save enough money to move to London. I guess the reason I like it so much was because I'm super sentimental and it reminds me of the time before my career kicked off and I was just constantly fantasising about my future.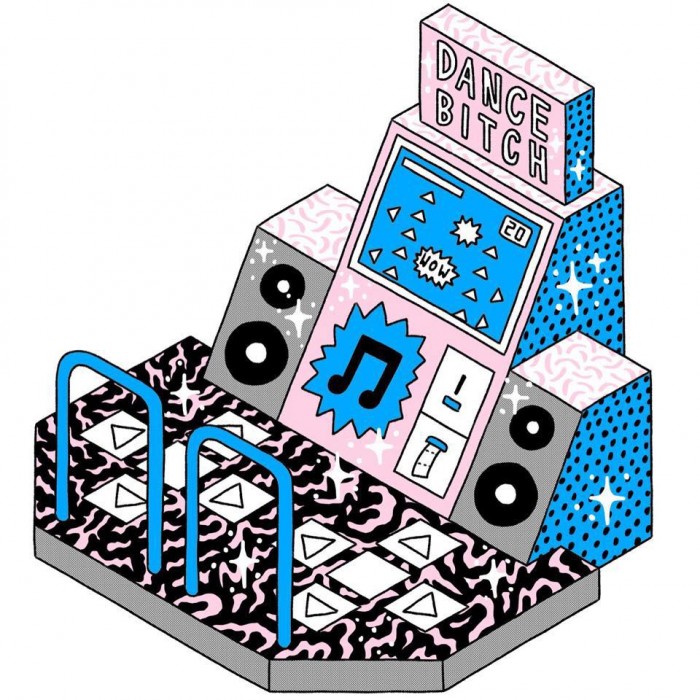 Who or what are your biggest creative influences?
I would say in terms of people: Mike Perry, Kate Moross, Natalie Dee, So Me (art director of Ed Banger Records) and Mr Bingo. In terms of other stuff, I really like the self-deprecating humour of Britain and stuff that is seen as "low brow", like rubbish TV and gossip magazines. My mum was born to a working class family and I'm also from a seaside holiday town full of tacky souvenirs and tourists. I spent my childhood taking all of this stuff in but also knowing I wanted to move to London and become an artist. The art world can be pretentious and I want to take things that wouldn't normally be considered "art" and have people really notice them.
What do you do when you're stuck and can't find a way to start?
I do what everyone else does: procrastinate until I absolutely have to start, then the pressure tends to make me unstuck. If any artist says otherwise they are lying!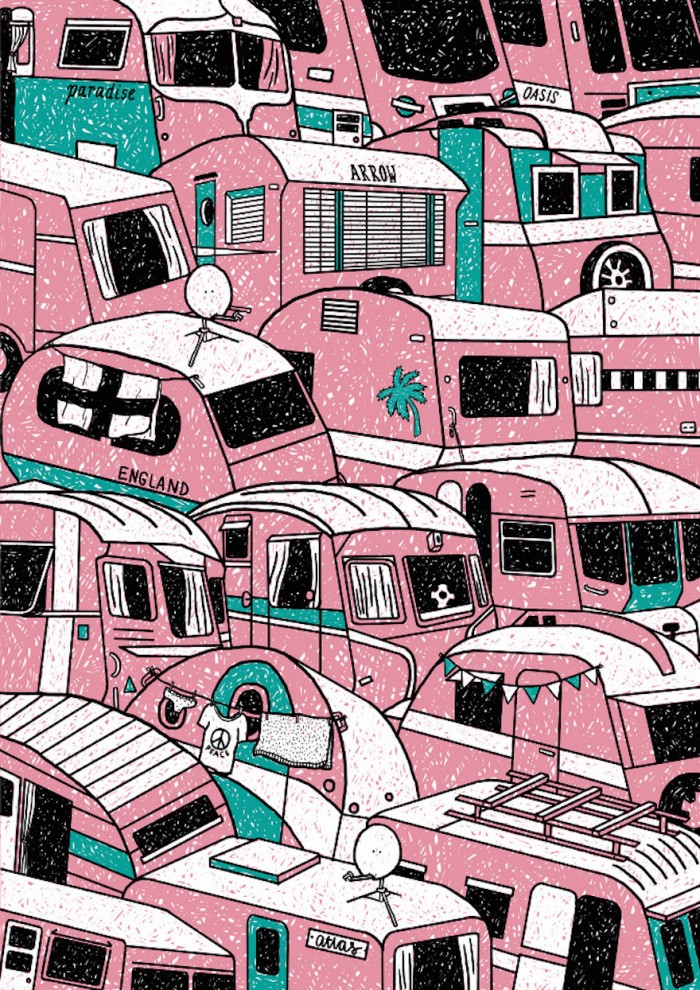 Has being an artist changed the way you look at the world?
I'm being philosophical here, but maybe the way I look at the world is the reason I'm an artist? It's an interesting question because I don't think it can really be answered, I'm definitely more observant and I analyse why things are done the way they are a lot more. I have so much thinking time sat drawing and listening to music I think it does impact how I interact with the world - I'm very non-judgemental and artists have a reputation for being liberal, I definitely fit into that stereotype.


Is your approach to graphic design work very different from your approach to an illustration?


I wouldn't really say so. When I was at university my tutor kept telling me that I should study graphic design instead of illustration but I didn't like the rigidness of it, so I think maybe I'm a mix of the two disciplines. I definitely think my illustration has a graphic quality to it, and I have a slightly nerdy brain that likes repetition and clean lines.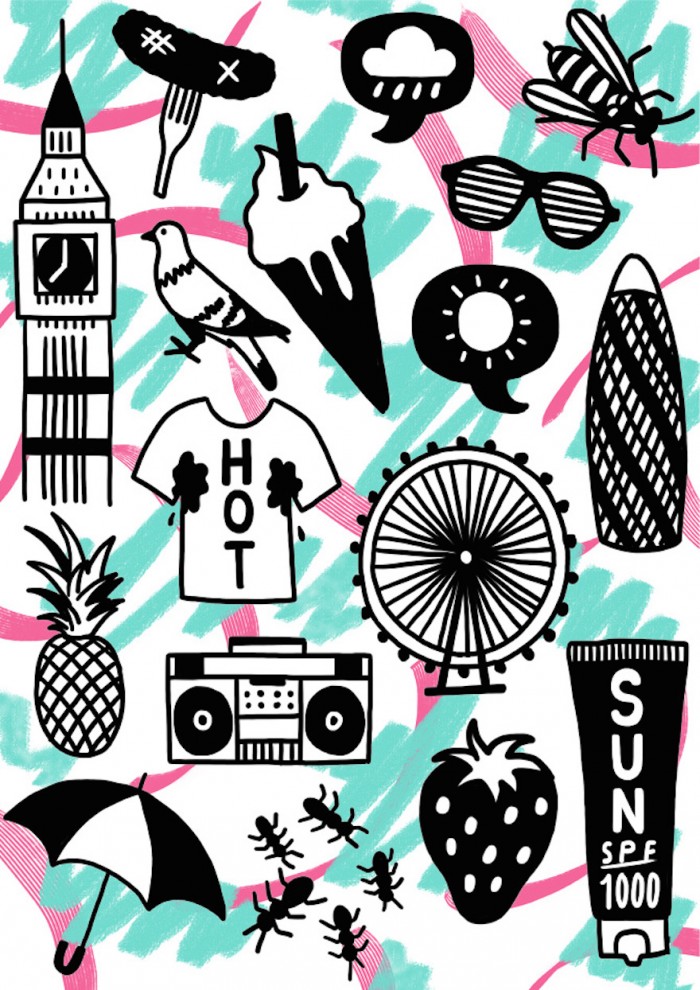 Whose work do you admire – any genre, any industry?


I really admire anybody who helps others, such as people who do charity work or social care, or nurses and teachers. I think a lot of these people are unsung heroes and put in a lot of hours because they care about helping other people. They don't tend to get paid very much and don't really get recognition. I think there's a lot of celebrities out there who are massively looked up to and so many people aspire to be rich and famous, and I wish it was the other way around and people looked at kind, genuine people as role models.