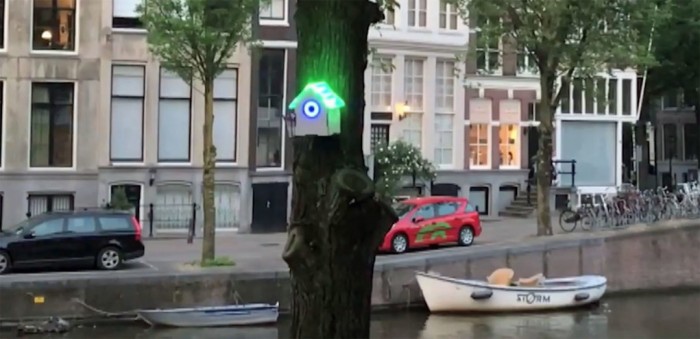 TreeWiFi
In Amsterdam, a startup company has raised public awareness about air pollution by offering free internet connection as an incentive. TreeWiFi is a birdhouse engineered to monitor the pollution index in various areas of a city and offer free Wi-Fi to locals when the air quality improves. While the concept creates awareness around air pollution, it also measures the city's air quality and provides a low-cost alternative to traditional monitoring stations.
The system is seemingly straightforward. Each birdhouse is equipped with sensors that receive air quality data and transmit it to a central server that makes an analysis of the findings. Levels of pollution in a specific urban environment are visibly displayed to the public via an LED indicator, which is built into the birdhouse.
When the air quality improves, the server opens the network so that free Wi-Fi is available to everyone in the surrounding area. To draw attention to issues concerning air pollution, TreeWiFi presents tips on how to improve air quality before giving people access to its network.
The company was established in March this year by founder and designer Joris Lam. Currently, the TreeWiFi team is seeking funders for the development of five prototype models, which they plan to test around Amsterdam. Should the prototypes be a success, Lam hopes to install 500 units around the city and start distributing to other cities in Europe.