Over the past 15 years, South African visual artist Faith XLVII has left her mark on the world. She's one of the artists who has managed to use her art - both on the street (by means of multistorey murals), in the studio, and by means of immersive experiences - to call attention to beauty, our emotional scars as a nation and to help bring attention to issues of the day.
Her latest project "Aurum", which was performed in South Africa for the first time during this year's Design Indaba Conference, is no different. Aurum was performed for the first time in Berlin for the opening of the Urban Nation museum with Manthe Ribane joining Faith XLVII and projection artist, Inka Kendzia.
Kendzia, who is also a VJ and motion designer says she loves playing with light and first collaborated with Faith XLVII in New York a few years ago.
"I projection-mapped and created content onto Faith's shrine at her exhibition at the Jonathan Levine gallery. While on the flight home, I wrote down visual concepts to express my pain and frustration felt regarding borders and belonging, migration, government control and the uprising against this," explains Kendzia.
These were themes that Faith XLVII not only found to be familiar but felt deeply and for which she hoped to see change. This is how Aurum was born.
"I had always wanted to work with the luminous Manthe Ribane. So reached out to her for a collaboration with all three of us involving these themes and working with the flag as a symbol. This manifested in an immersive performance piece in Berlin. We are so grateful to be able to bring this home to South Africa and have the powerful Purity join this evolving collaboration and give it her personal fantastic expression," says Faith XLVII.
For their Design Indaba performance Kendzia and Faith XLVII were joined by performer, Pure, to bring the piece to life for the Cape Town audience.
Faith XLVII explains that they wanted to make a work that had meaning, that allowed the team not only to be human and to exhale, but to also speak their minds. The multi-disciplinary immersive installation consists of videography, projection mapping and live dancing.
It tackles themes that range from immigration, borders, protest, government oppression and the strength of the human spirit to overcome these challenges. The symbolic use of the flag further explores notions of patriotism, nationalism, surrender, compliance, negotiation and ultimately, peace.
"After [the Berlin performance] I was determined to bring it to South Africa. Knowing that Design Indaba and the Artscape Theatre were a great fit for it, I approached Ravi [Naidoo, Design Indaba's founder], who has always been so supportive and encouraging to me in my career. And the rest is history," she says.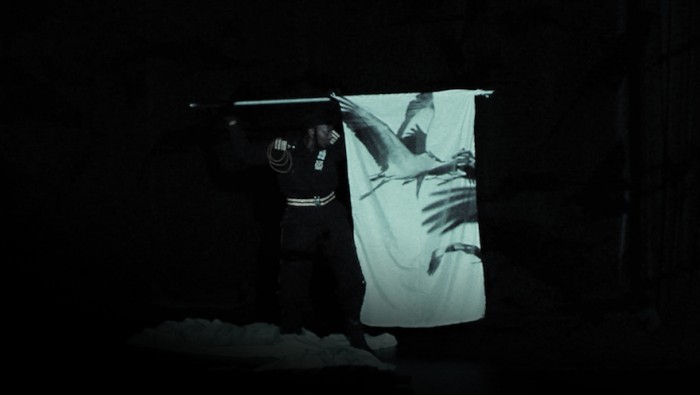 In the piece, Pure, with a white flag in hand, dances as visuals and accompanying music created by Kendzia and Faith XLVII are beamed onto a white background behind her on stage.
Durban-born Pure, whose journey in the creative space started 12 years ago as a member of punk bands and has grown steadily to this moment, says she has always admired the work of her collaborators.
"I've always been such a fan of Faith's works. We connected years ago while she was gathering footage for something she was working on, and I contributed somewhat spontaneously that night, and I never saw her again," explains Pure.
She adds: "Soon after that I met Inka, who opened a collaborative door in our friendship which has been so fulfilling. She and Faith have been friends for many years. And when they were discussing a potential collaborator for this project, Inka mentioned my name and the sisterhood came to light. I was honoured and very excited to be working with these two most incredibly talented women."
AURUM AT DESIGN INDABA, SOUTH AFRICA, 2019 from FAITH XLVII on Vimeo.
Kendzia, who has collaborated with Faith XLVII over the years, says bringing Aurum to the Design Indaba stage also brought a different element to the production.
"It was super to be able to work in a theatre and draw on all the aspects of the fabulous technical set up that this tradition and venue offer," adding that the theatre made the performance even bigger in scale.
For Faith XLVII, her evolution as an artist working across several mediums has been part of a long, slow process over the years.
"There was a slow evolution over time, and then also a definite shifting point, which correlated to shifts in my personal life and overall perspective. The branching out into new mediums and the collaborative explorations have been a mirror for me to learn about the actual creative process in more depth, and to be honest about what I really want to say with my work. Every medium and project has a different possible world, and within that one can find a new voice, new sounds and speak in tones one didn't realise one could articulate in," she says.
Now based in Los Angeles, Faith XLVII's iconic street art is forever etched onto the city of Cape Town. When you drive past District Six, you can catch a glimpse of her mural Harvest, which was done as part of the #AnotherLightUp project, in collaboration with Design Indaba, in order to raise money for street lighting in the township of Monwabisi Park.
You can see her mural of a black woman with a baby on her back in Zonnebloem that was inspired by an image taken by photographer, Alexia Webster. Located in a symbolic place in Cape Town, the part of town where marches to parliament normally start, and with the woman not just standing there but with her arms up, Faith XLVII says she wanted to use the mural to draw attention to people often made invisible by the city's socio-economic circumstances.
Circumstances that she still finds difficult about the city. Despite its imperfections, the artist still has a strong love for Cape Town.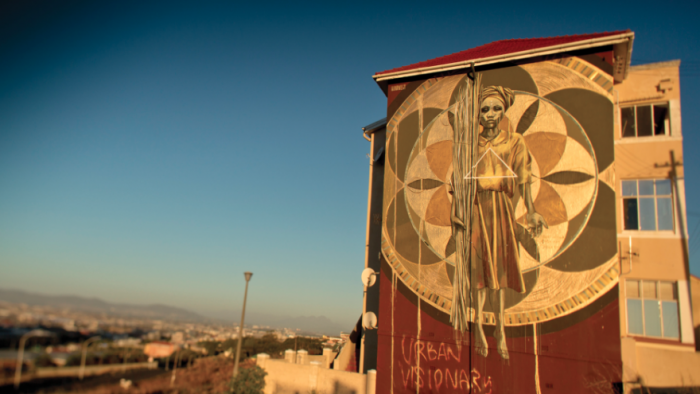 "I do have a strong love for the city, and for Johannesburg as well, so it will always be a place to which I am rooted. I think the movement of people is such a natural thing, and for some people, leaving 'home' is a necessary step in their evolution. I've always felt somewhat displaced, and I still feel displaced. I see the earth as my home. There is so much pain in so many places and it is so incredibly beautiful at the same time."
More on Design Indaba Conference 2019 speakers:
Adebayo Oke-Lawaal on fashion as a way to rethink masculinity in Africa
FaithXLVII on the power of collaborations
Watch the Talk with Faith XLVII