In the wake of #blackouttuesday we look to the everyday work needed to right the social wrongs – like systemic racism and injustice – that the #blacklivesmatter movement seeks to highlight and address. Sparked by this pivotal moment in time, we're exploring how our future moments can create betterment for all.
Because forms of covert racism involve denying black voices and remaining silent, and because our mandate is a better world through creativity, we're speaking up to highlight black designers - who were all Design Indaba or Antenna Speakers - whose work constitutes a positive contribution to transformation.
This week's Playlist gives an overview of black creativity in light of the #blacklivesmatter movement.
ACTIVE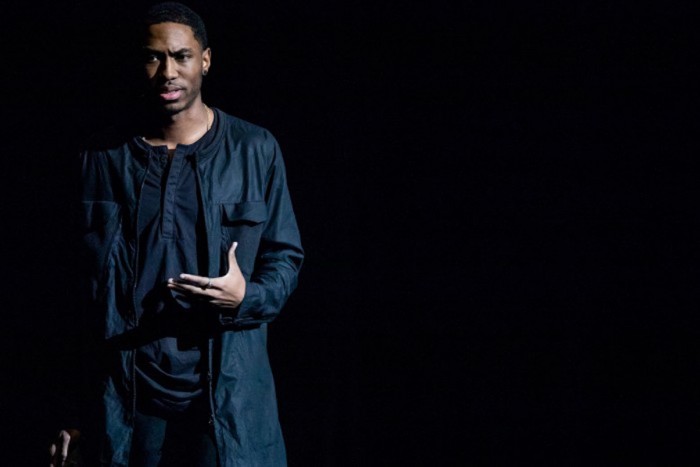 Steph Foster uses his art to shine a light on the United States criminal justice system.
Criminal justice reform
"We are at a point in time where black people are five times more likely to go to prison than white people, which is insane…" says US designer Steph Foster, who spoke at Design Indaba 2019. Explore his thesis on the imbalances in the American criminal justice system and the reforms needed.
Architectural advocacy
Rwandan architect Christian Benimana stresses the importance of architecture with a mission and aims to nurture creative leadership that will take on the massive challenges that the continent is facing. He encourages fellow architects to hire locally, source materials regionally, train and upskill wherever they can, and invest in dignity.
Senegalese fashion designer Selly Raby Kane's collections are a fantastical confluence of art and fashion. Image supplied.
Creativity to inspire diversity
A central figure in Dakar's new wave of creative practitioners, Senegalese fashion designer Selly Raby Kane has caught the world's eye with otherworldly apparel from her small Dakar-based atelier. "It was done in the spirit of liberating things, saying things and not being afraid of showing something fantastic in a city that is so caught in its reality," she explains. Her impulse is to transform the city through creativity and to build bridges with different populations in the city.
IMAGE-MAKING
As a creative, Ekene Ijeoma sees the world through photography and as a technologist, he sees the world through data.
Insightful data visualisation
Information designer and MIT Media Lab founder Ekene Ijeoma combines data and design to tackle pressing global issues. His interactive project The Ethnic Filter addresses the lack of diversity in the design industry – a sector that is 73% white according to a major census.
In Myles Loftin's multimedia project, HOODED, he juxtaposes imagery of happy, colourful, smiling black men against the audio of Trayvon Martin's shooter. Image supplied
Correcting misrepresentation
Turning back the stigma against the hooded black male, young US photographer Myles Loftin's multimedia project HOODED is a response to the killing of black American teenager Trayvon Martin. Martin was fatally shot by a man who described him as a suspicious, hooded, black figure he believed didn't belong in the neighbourhood. Loftin pushes back against racially-skewed views of black men and his work aids in identifying and addressing the social and systemic issues that generate short-sighted, stereotypical images of marginalised individuals in the media.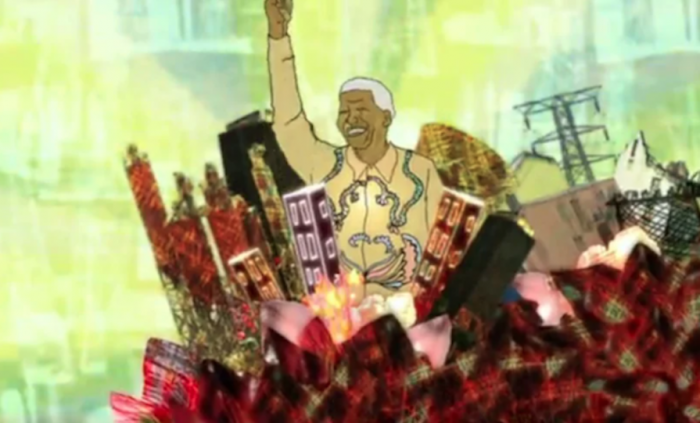 A still from 'untitled: dust'. Image credit: Ng'endo Mukii.
Redefining beauty
Steering clear of the stereotypes used to describe African issues, Kenyan Filmmaker and animator Ng'endo Mukii interrogates Nairobi's modern media, which is skewed to western ideals of beauty. Rejecting cosmetic trends like skin whitening, she challenges ethnographic practice and existing representations of indigenous people in order to generate a new narrative about Kenyan identity.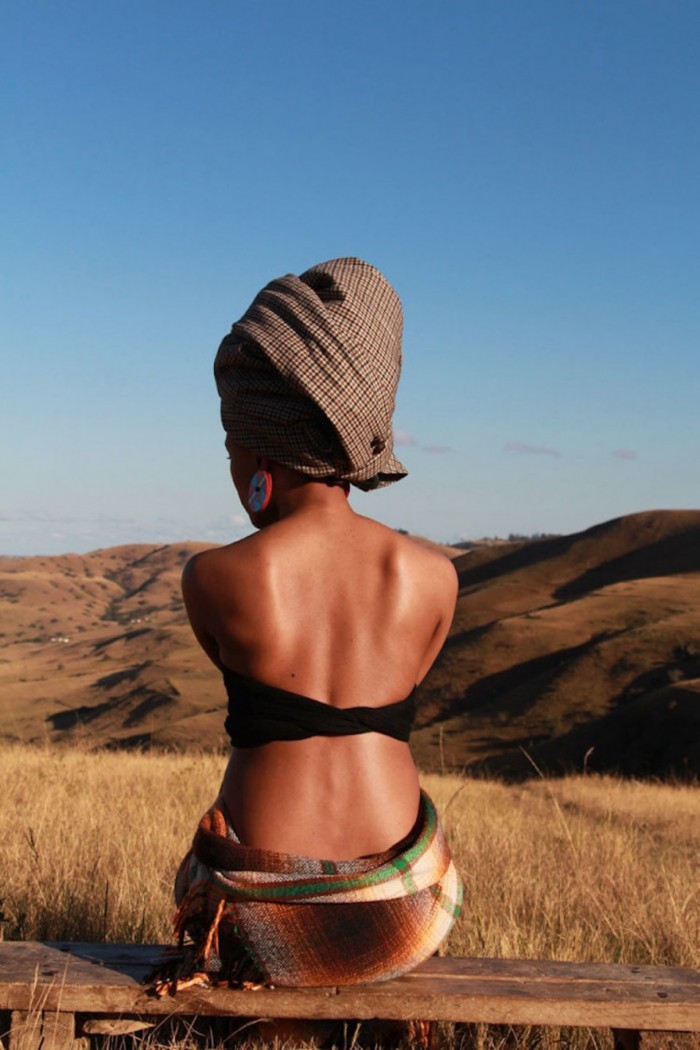 Thandiwe Msebenzi says rape culture and sexual harassment are important issues of discussion worldwide, which is why she chooses to address them in her work. Image supplied.
Ending harassment
Photographer Thandiwe Msebenzi addresses sexual harassment and rape culture in her Awundibone series. "We [young black artists] also want to make stories about cats and actually not care. But no, we are talking about sexual harassment because … that is our burden as women. We're talking about blackness because that is our burden…" she states. Learn more about her mission here.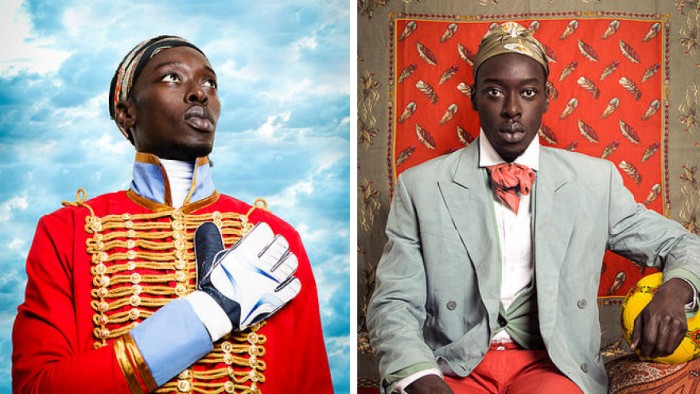 Omar Victor Diop is reviving the tradition of studio photography in Senegal. Image supplied.
Taking the lead
Contemporary Senegalese photographer Omar Victor Diop presents rich and ornate self-portraits that bring otherwise forgotten historical African figures - leaders who were influential in Europe from the 16th-19th century - to the fore. "I thought I would give my flesh and blood to them in an attempt to gift them and invite them into the current conversation about race relations and the contribution of Africa to the rest of the world," says Diop. Learn more.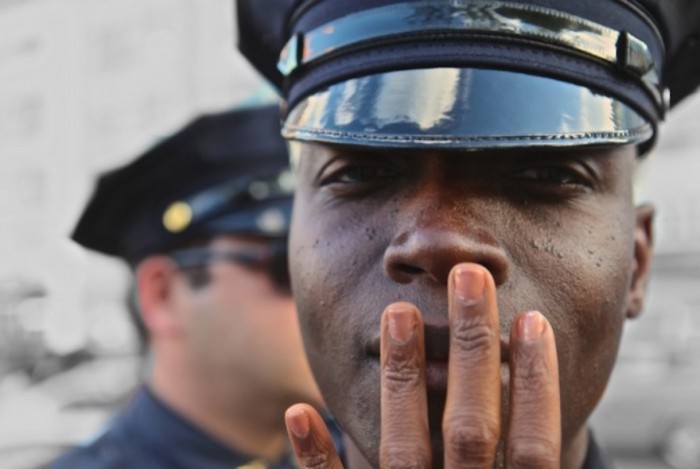 Joy McKinney's work "Armed Forces" looks at issues of race and injustice. Image supplied.
The race for justice
Moved by the 2014 outbreak of protests in the US following the deaths of Eric Garner (who was killed by a fatal chokehold at the hands of a policeman) and Michael Brown (who was shot by a policeman), New York-based artist and photographer Joy Mckinney produced a photographic series, entitled Armed Forces, which focuses on injustice as experienced by African American communities.
PERFORMANCE & POETRY
"You need to be honest when you're telling your story - it has to be a truth from inside." - Kagiso Lediga.
True colours
Nowadays a household name in South Africa, the comedian, writer and director Kagiso Lediga was a breakthrough act in a stand-up comedy when he started out 20 years ago in an industry then dominated by white males. He advocates authentic storytelling and being honest with yourself about who you are.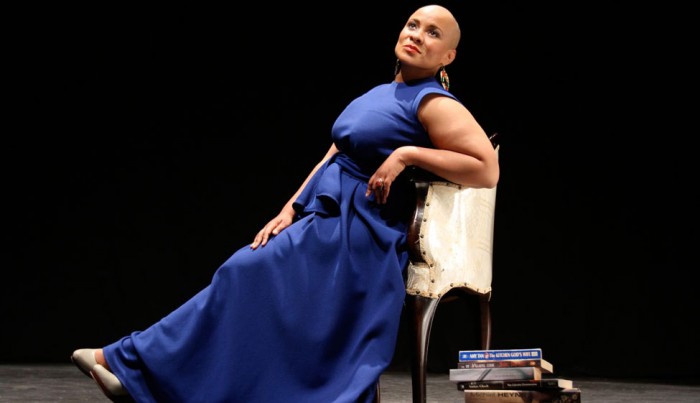 Lebo Mashile brought her infectious personality and sharp creative insight to the Design Indaba stage for the first time in 2018.
Discourse
Poet Lebo Mashile - our #DI2020 MC and past Design Indaba Conference Speaker – explores body politics, identity politics and black female representation in her politically charged performances.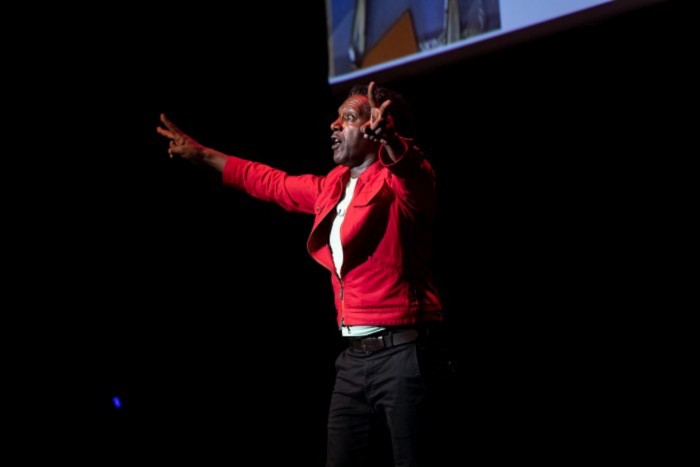 Lemn Sissay speaking about his inspiration on the morning of his Design Indaba talk.
Daily freedom to express
Poet, playwright, and documentarian Lemn Sissay writes a poem every morning and suggests that people take a creative risk each day. He believes that we should not be afraid to share our creativity: "We design for life, all the time. We're constantly trying to find a better way to be!"
Breaking barriers
South African storyteller, musician and videographer Kyla Philander hopes that her work will shift the consciousness of the audience and break down the violence, low self-esteem and hurt caused by structured racism. Read more.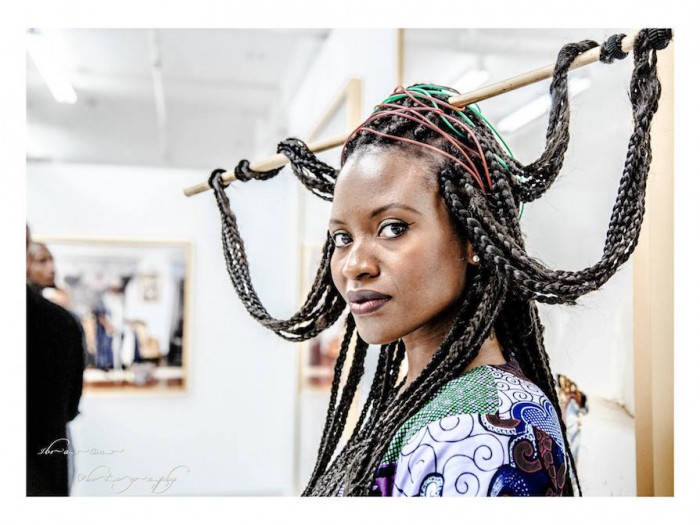 Helen Isibor-Epega, otherwise known as The Venus Bushfires, believes people are brought together by stories that help them bridge the gaps between their understanding of the world. Image supplied.
Building bridges
Musical storyteller Helen Isibor-Epega, who performs as The Venus Bushfires, is an optimist and dreamer who uses her art to build bridges across cultures.
Tia Blassingame uses the printed word to investigate racism in the US. Image supplied.
An account of slavery
US artist and poet Tia Blassingame explores slavery by using brown ink - the colour of slaves' skin - to screen-print receipts and accounts from slave ships onto surfaces like leaves and headscarves. Since 2015 she has been composing poetry that expresses her outrage and sadness over the deaths of black Americans at the hands of the US police.