The poet, playwright, and documentarian delivered a talk at Design Indaba Conference 2019 that garnered a standing ovation from the audience. His talk focused on the ways in which we use our creativity on a daily basis.
He mentions that creativity can be found in the day-to-day of parents trying to navigate and improvise the challenge of raising children or in the imagination of a taxi driver on the late shift.
For Sissay, his daily creative expressions take the form of morning poems in the form of tweets. They're borne out of whatever motivates or inspires him that morning, but most importantly, they have no specific agenda.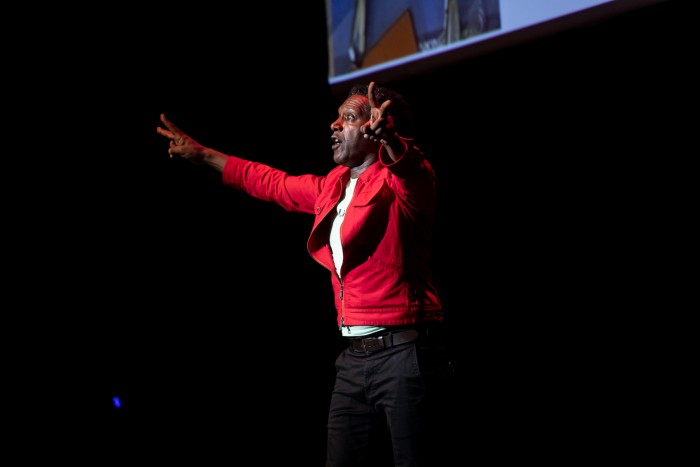 Speaking about his inspiration on the morning of his Design Indaba talk, "This morning I was inspired by the thought that every thing that is around us had to be imagined first. So, the imagination, the act of imagination and what it creates. Everything is an act of creativity, an act of imagination. Somebody had to imagine that it was possible before it became physical."
His morning poems have inspired works of art like that of Design Indaba alumna Morag Myerscough. Myerscough designed a London café with the words of one of Sissay's poems displayed above on large pieces of scaffolding.
Watch the whole interview below:
Sissay believes that people should take a creative risk every day. He says that people are often so afraid to share their creativity. They're afraid of making mistakes in the public eye. He believes that we should be allowed to make mistakes and that at least we're giving ourselves the freedom of expressing ourselves in a creative manner.
Speaking about the influence of design and creativity in daily life, Sissay mentions that "Design is everything. And if you don't believe it's true, go around a prison…We have Robben Island, the design of Robben Island reflected what was happening at that time. The colour has been taken away from the walls, the shape of everything is to hold you in. Out here design is alive with you in mind, with drawing you in, in mind. We design for life, all the time. We're constantly trying to find a better way to be. We are constantly curating."
Below is a shortened version of his 2019 Design Indaba talk:
Read more on the power of words:
Poetry's power with Lebo Mashile
A love letter to words with Naresh Ramchandani