New York-based artist and photographer Joy McKinney has released a new series entitled Armed Forces. The work is being exhibitied at the Sheila C. Johnson Design Center in New York. Here, McKinney tells Design Indaba about the motivation behind the series, which deals with issues of race and injustice within African American communities.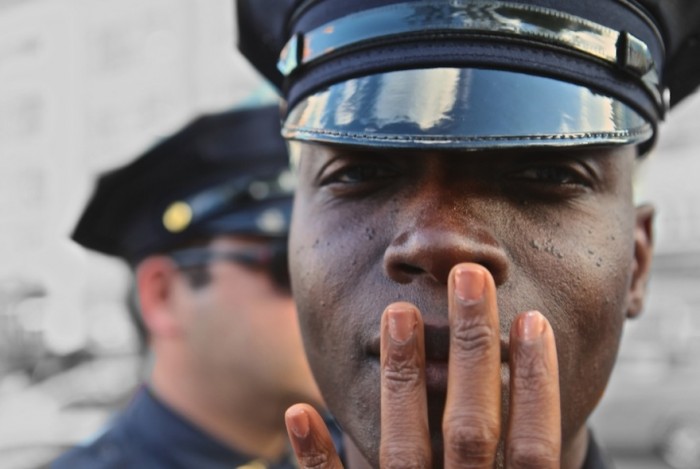 As an African American female, I've been moved by the outbreak and protests in the wake of the Eric Garner and Michael Brown shootings, but also troubled by the way in which these incidents are discussed and represented. Cops are panicking as well as the citizens who look to them for protection, and this confusion and fear deepens a moral complexity that is lost when one side is demonized by another — by the very notion that there are two and only two "sides."
In my new body of work Armed Forces, I am grappling with issues of race and injustice within the African American communities. In building the work, I've taken into consideration multiple points of view: of police who fear for their own lives, of African American citizens who fear the presence of police. I don't believe that all cops are racist, and I don't believe that all black men live in fear, but the crimes that have taken place do indeed come from a place of fear ingrained in cops and civilians, bystanders and activists alike.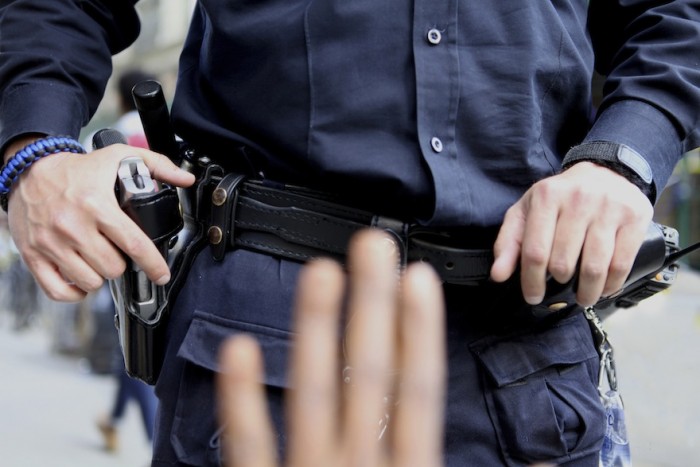 Armed Forces (time-based media and photographic series) serves as a way for me to deconstruct the fear and ask better questions. I start with myself, facing my own fears and questions, and using myself as a vessel/object by approaching police to test the validity of this ingrained fear. The photographs show me embracing/touching an armed officer, one who is willing to engage with me outside of any contexts of race and or gender. With the time-based media, I use compiled footage to show the anxiety, fear and candour of what it feels like to approach/touch/embrace an officer as an African American woman. Both bodies of work serve as a way for me to analyse and deconstruct my own fear and doubt about what society deems to be a reality.
Watch the Talk with Joy Mckinney