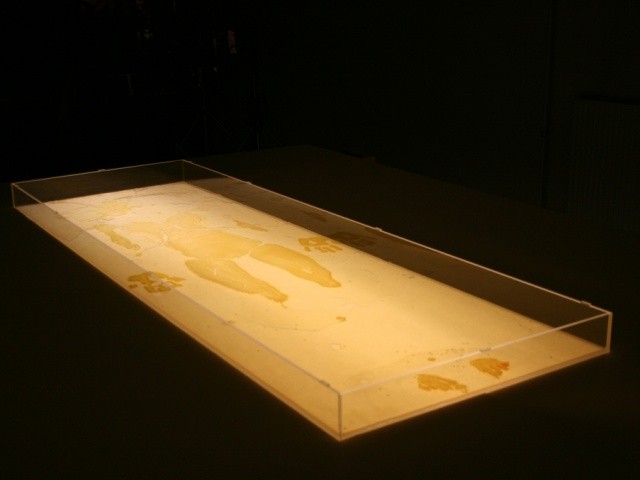 Eight months in the making, and still growing...
Sonja Bäumel has joined forces with two other thought-provoking designers to create the Dunbar's Number Mutationen exhibition, examining the "infrstructure" that exists around the human body.
Dunbar's Number Mutationen showcases the changes in thought, and the realisation of a product and the activity in an exhibition, through understanding and looking at the permanent change in human genetic material. Bäumel, mischer'traxler and Konstantin Schmölzer embark on a project of self-reflection for the exhibition.
Bäumel's contribution to the exhibition is her "Expanded Self" creation. It looks to a unique way of visualising the invisible surface of the human body. Bäumel, being interested in the human body and its ever-changing points of view, has collected, analysed and documented the life form (bacteria) found on her skin during one particular day in "Expanded Self". Bäumel imprinted her body onto a huge petri dish used as her canvas. The bacteria found on her skin, stamped to the canvas, will continue to grow and evolve.
"Expanded Self" highlights the existing infrastructure around humans, and encourages people to think about it in a more in-depth way.
Dunbar's Number Mutationen exhibition is on display at the Vienna Design Week in Austria from 28 September to 7 October 2012.

Watch the Talk with Sonja Bäumel