The Centro Nacional de Arte, Artesanato e Design (CNAD) is a cultural centre located on the island of São Vicente in Cape Verde. Its new building, designed by Eloisa Ramos and Moreno Castellano from local architecture firm Ramos Castellano Arquitectos, is a narrow, five-storey structure that sits on a space formerly occupied by a shed in the back yard of a historic house.
The centre, which was originally housed in the 19th-century colonial building, was the first cultural institution built for the country after its independence in 1975. In 2019 the director of the CNAD had a vision to transform the house into a new space for design and culture in Cape Verde. Together with Ramos and Castellano, he embarked on the creation of a new building and the restoration of the existing house to create a state-of-the-art combined space.
Comprising basement archives, two floors of galleries, a third-floor library, a workshop, artists' residences and offices, the 1 068-square-metre building is a mere seven metres wide. The space that links the old and new buildings has been repurposed as a public square that functions as the museum entry.
The architecture firm, known for its projects that incorporate recycled materials and handmade elements to support local artisans, chose to create a 'detached skin' that covers the entire museum, using 2 532 recycled, multicoloured barrel lids. The colourful addition pays homage to a simple object that is entrenched in the lives of the people: 'Almost every product came from abroad in containers, barrels…from oil to clothing to food… Thus, the barrels are used for everything, as containers and as materials with many uses.'
The double-ventilated facade covered with the barrel lids allows air flow through to control the internal temperature of the building. This is aided by photovoltaic panels that provide the energy for the lids to rotate, depending on weather conditions.
And the lids aren't randomly placed. Each colour represents a musical note – Cape Verde composer and multi-instrumentalist Vasco Martins wrote the piece of music that is encoded in the visual identity of the building.
Visit the CNAD website for more informationhttps://inda.ba/3ZD5AeM.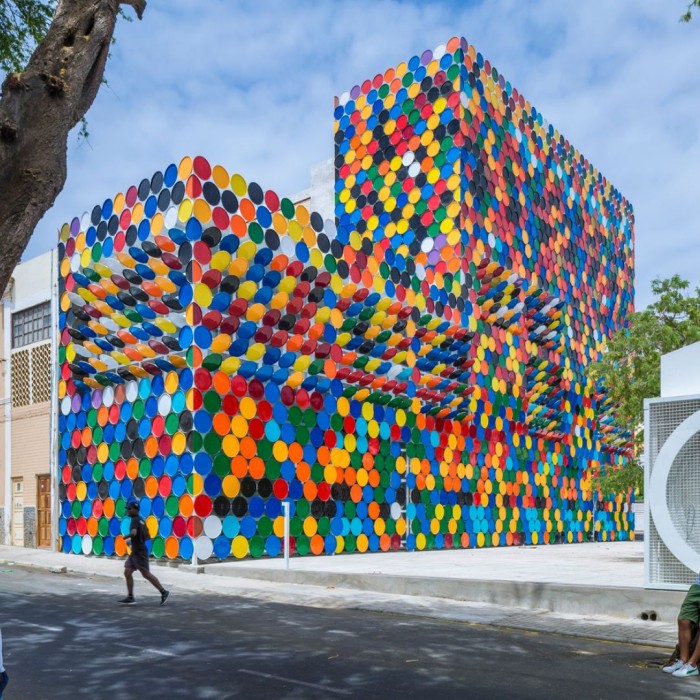 Read more
Photographs: CNAD and Sergio Pirrone.