Stolen DNA, hybrid organs, human cheese and self-diagnosing excrement all feature in a groundbreaking new exhibition exploring life after nature.
The Science Gallery at Trinity College, Dublin has launched an experimental exhibition entitled GROW YOUR OWN… that involves artists, scientists and designers provoking discussion around an emerging approach to genetic engineering known as "synthetic biology".
Curated by Alexandra Daisy Ginsberg, Anthony Dunne, Paul Freemont, Cathal Garvey and Michael John Gorman, the exhibition includes seven never-before-seen works that invite visitors to consider some of the potentially groundbreaking applications and uncertain implications of a synthetic life of the future.
The projects on display include:
Stranger Visions is a selection of 3D printed heads based on the stolen DNA of Dublin smokers.
Circumventive Organs sees speculative life-saving hybrid organs that combine human, leech, eel and snake tissue.
Selfmade is a "human cheese" made with bacteria taken from human armpits, toes and noses.
E.chromi is a yoghurt drink that results in disease-diagnosing excrement.
All That I Am is a "transgenic-cloned mouse" with Elvis Presley's DNA and behavioural traits.
I Wanna Deliver a Dolphin is a project proposing that future humans would give birth to dolphins.
The Great Work of the Metal Lover features an "alchemical" bacterium that manufactures a gold leaf.
Community BioLab is an open-access, do-it-yourself biology lab that invites the public to participate.
GROW YOUR OWN…will be on display until 19 January 2014 and has a dedicated events programme running alongside the exhibition, featuring experts in the fields of science, art and synthetic biology.
Watch Alexandra Daisy Ginsberg speak about the exhibition below.
Watch the Talk with Alexandra Daisy Ginsberg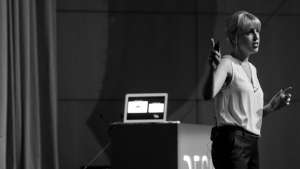 Talks
• Duration: 00:31:51
•
10 Mar 14