The first high-rise residential tower from David Adjaye, Design Indaba alum and the founder of Adjaye Studios, is a holistic project from the designer, who conceived both the architecture of the building and its interiors. The 66-storey luxury condominium, 130 William, which rises 240 metres in the Manhattan landscape, stands out thanks to its distinctive facade and silhouette.
Adjaye's design celebrates the building's lower-Manhattan context with a hand-cast concrete façade evocative of the masonry craftsmanship of the neighbourhood's historic high-rises, and large-scale arched windows that act as a reminder of the historic 19th- and 20th-century lofts of the area.
A far cry from the sleek, mirrored skyscrapers that fill the New York skyline, the tower's rich concrete finish was applied and spread by hand, with workers adding volcanic ash into the mixture to achieve the dark, textured look. These rough concrete finishes are offset by smooth bronze detailing.
While the exterior of 130 William is blackened, the interiors of the tower were curated by Adjaye and his team to be light and airy, thanks in part to the vast arched windows, and features such as wide-plank white-oak flooring.
The tower's 242 residences span spaces from studio apartments to four-bedroom homes. The 'vertical urban neighbourhood' is also host to two floors of retail, a health club, a fitness centre, a movie theatre, outdoor terraces and a rooftop observatory deck.
The building's ground-floor public plaza, 'conceived as an urban living room', according to Adjaye, is a 'piece of urban placemaking that offers a transitional condition between the bustle of urban life and the respite of the residences'. 'With its allée of trees, seating, and thematic continuation of the large-scaled arches, the plaza is really a gesture to the city and a critical facet of what makes this building unique,' he notes.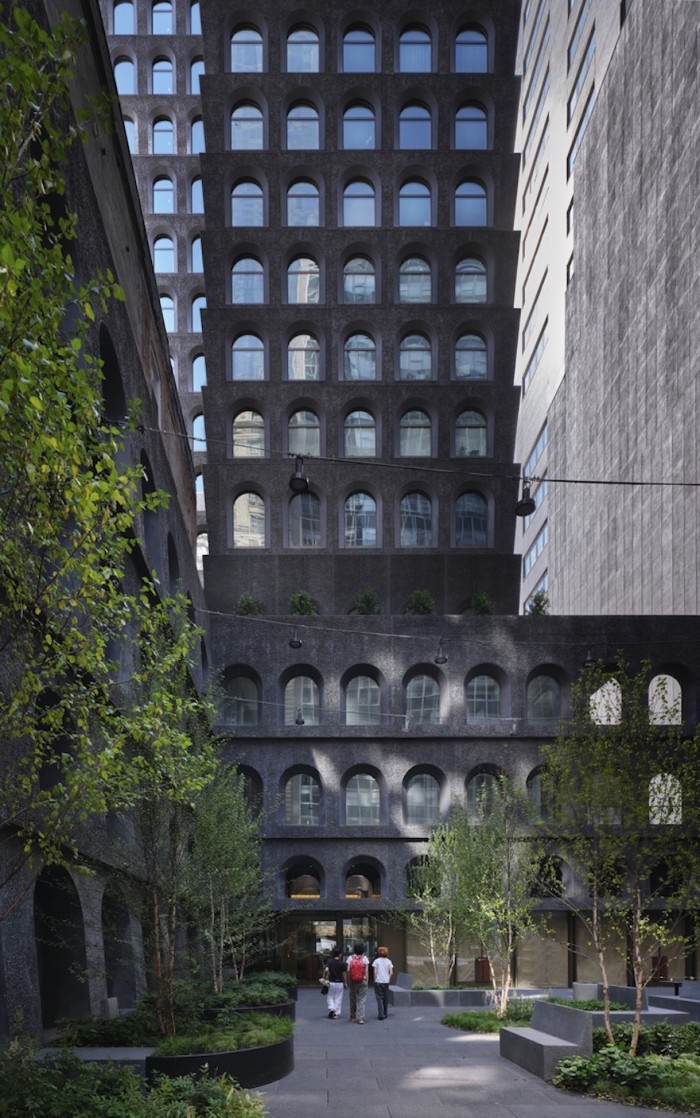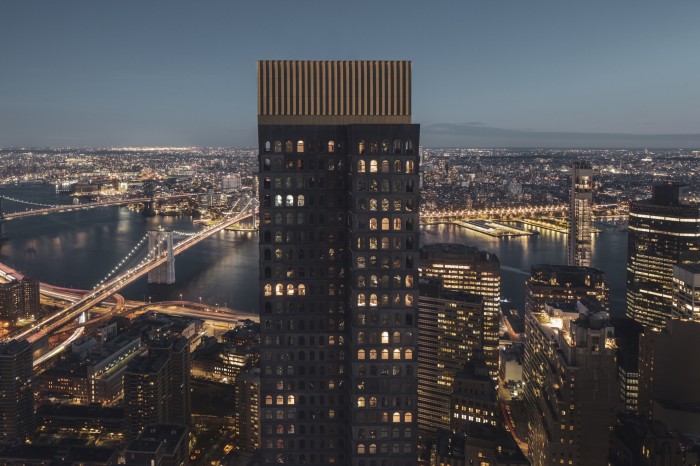 Read more
Photographs: Adjaye Associates, Ivane Katamashvili, Dror Baldinger.