Celebrated Ghanaian-British architect and Design Indaba alum David Adjaye, together with Russell Crader, who co-runs the Adjaye Associates New York office, repurposed a 120-year-old former ice factory that had been vacant for decades into a school.
Far from its former life as a home for a herd of goats that had moved into the vacant space, the building in the South Bronx is now a 18 580-square-metre 21st-century place of learning. 'We strove as much as possible to transform the existing industrial warehouse into a light-filled laboratory where the study of art, science, physics and ecology are manifested within the fabric of the building,' notes Adjaye Associates.
It is the latest New York City public charter school operated by Dream, a non-profit focused on educating underserved youth communities. Charter schools receive government funding but operate independently. Designed to accommodate 1 300 students, from preschool up to Grade 12, the new Harlem school gives priority to those living in public housing and students with special needs.
The design celebrates the building's industrial heritage while providing a dynamic new space for 21st-century education. An ode to the architectural beauty of the original structure, the new facility embraces fragments of its history in the exposed steelwork, red brick, barrel-vaulted ceilings and large arched windows.
A 20-metre-tall room, once the home of the ice factory's works, is now the triple-volume light-filled cathedral-like Hall of Dreams, which acts as a central gathering space. Across from the hall is an expansive barrel-vaulted art wing designed with built-in flexibility, enabling it to transform from more intimate art initiatives into larger-scale collaborations or community meetings. Rising above the original structure is a state-of-the-art gymnasium, science quad and outdoor rooftop surrounded by a landscaped rooftop garden.
Ensuring all disciplines are given equal value, the building allocates generous space for artistic production, performance, STEAM (science, technology, engineering, arts and mathematics) and play. Speciality classrooms, laboratories and maker-spaces fill the building's north and south sides, while mental-health counselling, special education, administration and support spaces are situated in the centre.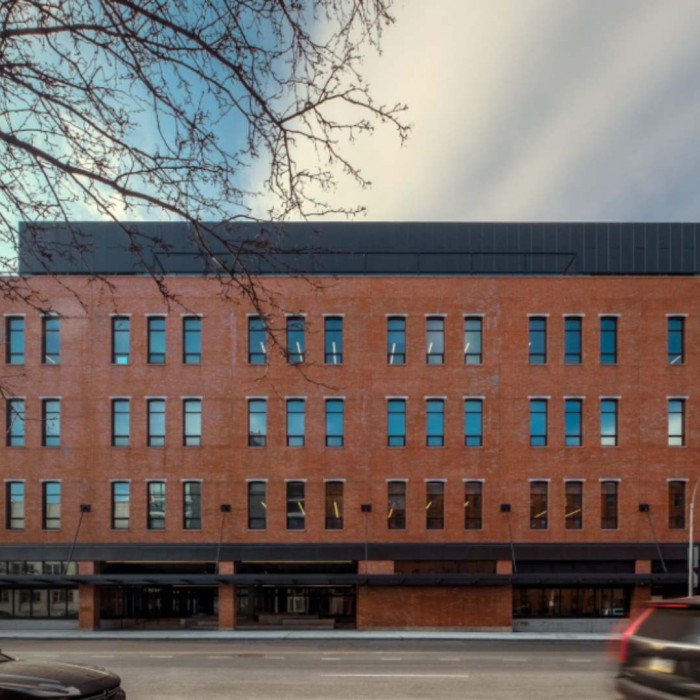 Read more
Photographs: James Wang Images, Adjaye Associates.