The Abrahamic Family House in Abu Dhabi, the capital of the United Arab Emirates, opened to worshippers for the first time on 16 February 2023. The visionary project comprises three distinct places of worship — a mosque, a synagogue and a church — all situated within the same complex, symbolic of unity and harmony in the Abrahamic faiths.
The complex, designed by Adjaye Associates, the award-winning architectural firm founded by Design Indaba alum Sir David Adjaye, aims to serve as a space for inter-religious dialogue and exchange, fostering the principles of harmony and inclusivity between diverse religions, ethnicities and traditions. 'As an architect, I [wanted] to create a building that starts to dissolve the notion of hierarchical difference — it should represent universality and totality, something higher, that enhances the richness of human life,' said Adjaye of the project.
Each of the houses of worship is equal in size, height and width, and they are unified by identical roofs. However, while the three geometric cube-like structures share the same shape and dimensions, they are set apart by unique features – each has its own distinct entrance, for example – and different orientations. The Eminence Ahmed El-Tayeb Mosque is oriented towards Makkah, the holiest city in Islam, while the Moses Ben Maimon Synagogue's bima (the platform used for Torah reading during services) is angled towards Jerusalem, and His Holiness Francis Church's altar faces the east and the rising sun.
Pathways and gardens connect the buildings to each other and provide space for public gatherings. The site has been intentionally designed with a sloping terrain that leads up to a central podium from which all three structures can be viewed simultaneously.
The establishment of the centre was inspired by 'Human Fraternity for World Peace and Living Together', a model for interfaith harmony and human solidarity co-authored by Pope Francis of the Catholic Church and Sheikh Ahmed el-Tayeb, the Grand Imam of al-Azhar, in February 2019. In September of that year, Adjaye Associates was selected as the winner of the Abrahamic Family House design competition, and they unveiled their winning idea at an event in New York City.
Visitors can take daily guided tours of the 6 500-square-metre complex to explore its unique features, with tour guides to highlight the specific design elements chosen to accommodate the distinct practices and traditions of each faith.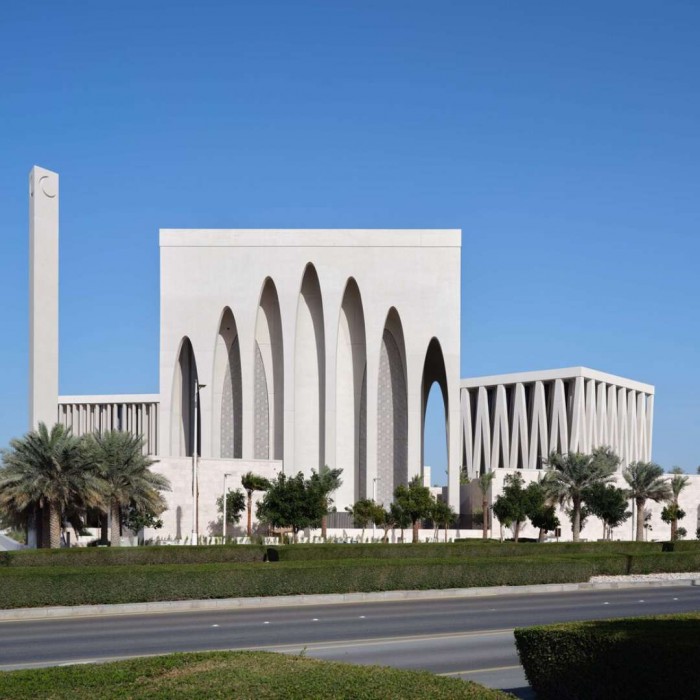 Read more
Sir David Adjaye honours police brutality victim with public memorial
How AI is taking over religious sermons
Photographs: Adjaye Associates, Dror Baldinger.