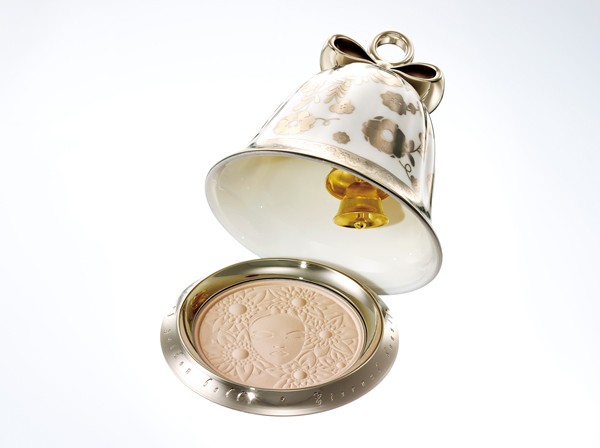 Awakening Beauty powder case by Marcel Wanders.
Dutch design superstar Marcel Wanders' limited edition 2013 face powder case for Japanese cosmetic brand, Cosme Decorte symbolises the awakening of beauty.
"Awakening Beauty" follows on from last year's successful limited edition face powder compact "Sleeping Beauty" and comes in the form of a flat compact topped by a bell-shaped lid.
The bell is made from porcelain and decorated with a platinum printed floral pattern. To complete the bell motif he designed a tiny bell tucked in the dome of the lid that rings when the powder case is opened. Inside the powder is imprinted with an artwork that draws on fairy tale motifs: an inner world of beauty, femininity and dreams.
The bell has become something of a signature in Wanders' designs as seen in the Bell pendant and floor lamp he designed for Moooi earlier this year. His fascination with bells can also be traced back to his 2007 personal editions' collection of eight large scale hand painted bells. For Wanders bells present an ancient form of communication that calls people together; a symbol of resonance, gathering and connecting people.
The 2013 Cosme Decorte limited-edition powder case is available in Japan and select Cosme Decorte stores in Asia.
Watch the Talk with Marcel Wanders