Michael Mapes' intricate portraits and still lifes are made using hundreds of collected items, like photographs, handwriting samples, scraps of fabric, hair strands, gelatin capsules, fingerprints, genealogy info, jewellery and dried flowers.
Kentucky-born and based in New York, Mapes studied a Bachelor's of Fine Arts at the University of Illinois in 1984, and later received a Master's of Fine Arts in 1992. Mapes has been working as a full-time artist since 2005, during which time he has exhibited throughout the United States, London, Hong Kong and the Netherlands.
Mapes references original artworks to create his compositions – deconstructing the source image and reconstructing it as a fragmented whole which tells the story of the subject matter through collected specimens. Part of his creative process involves intensive research into the subjects, which he then uses to source what he calls 'biological DNA'.
These pieces of 'biological DNA', which range from genealogy info, dental X-rays, fingerprints and hair samples to jewellery, fabric samples and dried flowers, are little individual pockets of information that come together to create a whole when observed from afar. Combined with prints and photographs of the original painting, Mapes then layers both the fictional and factual content he has collected to reconstruct the original.
Mapes' collections include 'Dutch Masters' – his take on famous portraits by 17th-century Dutch Masters, like Rembrandt, Vermeer, and Pickenoy. To construct each of these pieces, Mapes would learn as much about each aristocratic subject, collecting fragments of their lives, which he then arranged into specimen boxes that eventually formed the portrait that resembles the original.
Some of his more recent pieces, forming part of the 'Anatomy of the Muse' collection, interrogate historical figures who served as muses for other artists. Two of these pieces, 'Specimen: Jane' and 'Specimen: Em', feature a collection of archival prints, magnifying boxes, gelatin capsules, prints, insect pins and pinning foam that have been pinned by Mapes to form the fragmented portraits. 'Specimen: Jane' (2022) depicts Jane Burden Morris, an English embroiderer and art model who was muse to her husband William Morris and to Dante Gabriel Rossetti. 'Specimen: Em' (2022) depicts Emilie Louise Flöge, a fashion designer and lifelong companion and muse of Gustav Klimt.
Mapes' artworks are available for purchase via his Instagram profile https://inda.ba/3L0VPQE or on his website https://inda.ba/3qr3I8y.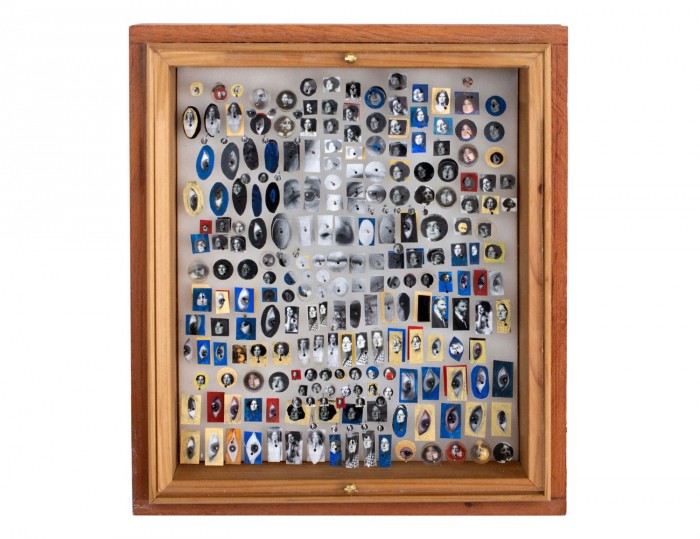 Read more:
Credits: Michael Mapes