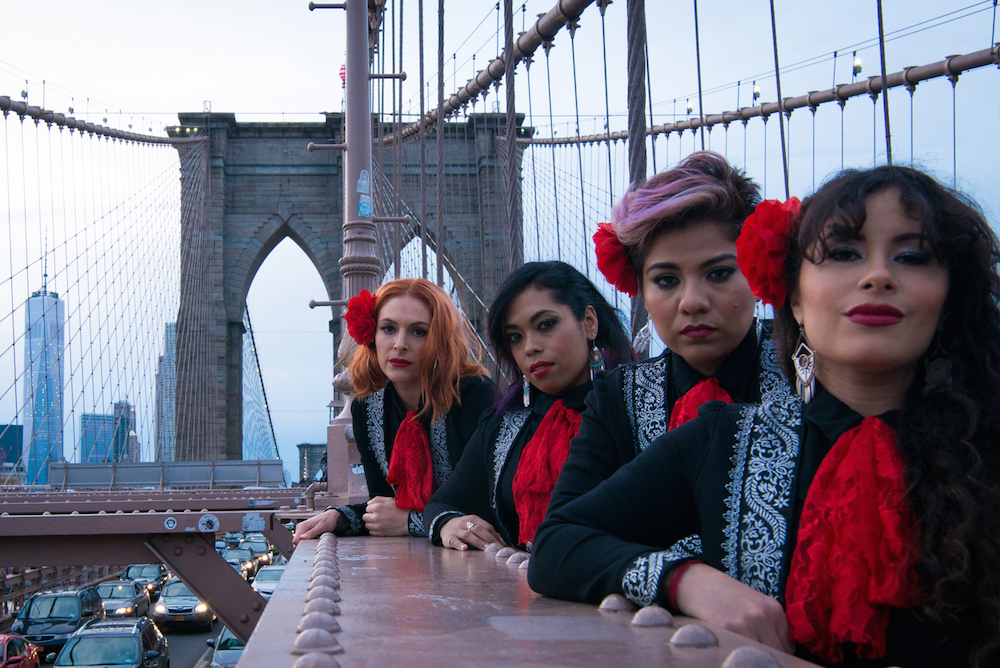 The main method of transportation for most of the city's inhabitants, the New York City subway is also a place of relative unfettered creativity.
As the carriages pull in and out of stations and the doors open, you never know what kind of artistic magic could step aboard. Sometimes breakdance crews clamber on, boomboxes in tow; on other occasions, buskers carrying nothing more than a single instrument appear ready to, literally, sing for their supper. All of these artists contribute to the unique sounds that flow from beneath the city's streets.
Often Mariachi groups dressed in full regalia and strumming their guitars enter the trains, bursting into song as soon as the doors shut behind them. They're almost always all male. That was until 2008, when musicians Mireya Ramos and Shae Fiol founded New York's first all-female Mariachi band, Flor de Toloache.
Dating back to 18th century Western Mexico, Mariachi is a musical expression that is traditionally passed down from generation to generation by ear.
Festive, proud and beautiful, it's a celebratory genre often played at weddings, birthdays, and quinceañeras. In 2011, this form of musical expression was declared an Intangible Cultural Heritage by the United Nations Educational, Scientific and Cultural Organization.
While women Mariachi artists do exist, the music is almost always performed by men.
Flor de Toloache are bucking this old school tradition, moving to their own beat and proving that women musicians are just as capable of being the bearers of this valuable musical torch. More importantly though, they're also innovators within a genre that, without passionate artists working to push it forward, is unlikely to ever reach new audiences.
Ramos (who plays the violin) and Fiol (who plays the Mexican vihuela) are boundary pushers but also straddle a fine line between respect and rebellion when it comes to their artistry.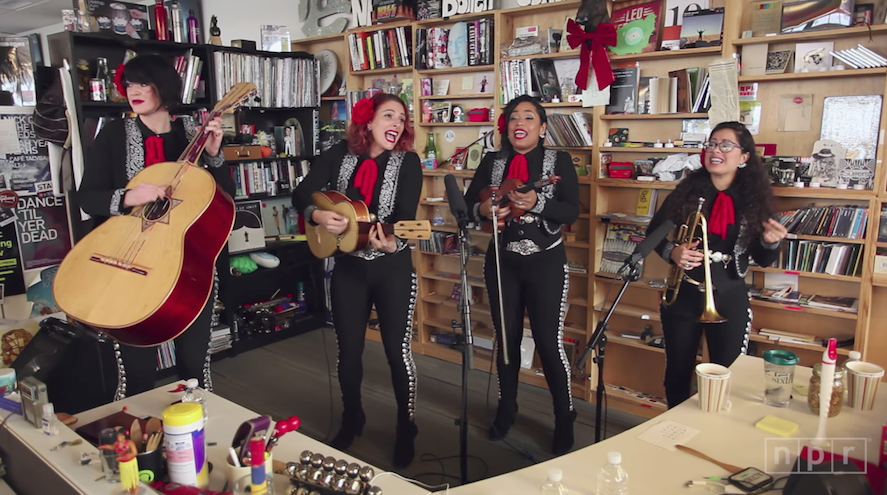 Ramos grew up with the Mariachi tradition, she tells me when I connect with the group over the phone. But because she is from Puerto Rico and not Mexico, her approach to the music was a little different.
"My dad – who is Mexican – was a Mariachi singer and I remember him taking me to his shows with him," she says. "Watching him sing was so powerful and so was watching the effect that he had on people, how he touched people with his voice and this beautiful music. So the music has always kind of brought that feeling back to me of home and it was an opportunity for me to learn a lot about the culture through the music."
Ramos had been playing with a male Mariachi band in New York when she decided it was time to form her own group. Her experience as a woman in the music industry had lead her to the realisation that safe spaces for women to come together and play music – but also where they could make money doing what they love – were very necessary.
By that time, she had already met and played beside Fiol and asked her to join her band. Fiol, who hadn't listened to very much Mariachi music, immediately began schooling herself on the tradition.
"The thing that struck me the most was the emotive quality," Fiol says of her introduction to Mariachi. "There's such a range of emotion expressed in the music. The vocal expression and the instrumentation is just so emotive. It can be some of the most tear jerking music you've ever heard and, in the next song, it can be some of the most exhilarating music you've ever heard. It's upbeat, it's fast tempo, it's complicated, and has beautiful rhythms – and then a very slow, lamenting ballad will just make you you want to cry."
As Flor de Toloache, Ramos, Fiol and their band mates fuse the classic Mariachi ranchero sound with bursts of hip-hop, soul, jazz, salsa, and more.
This, along with the fact that they're women, can sometimes be something of a hurdle. Some Mariachi purists see what the band is doing as a watering down of traditional culture but the women assert that, through the contribution of something different, their interpretation of the music is bridging a generational gap between musicians and fans of the style.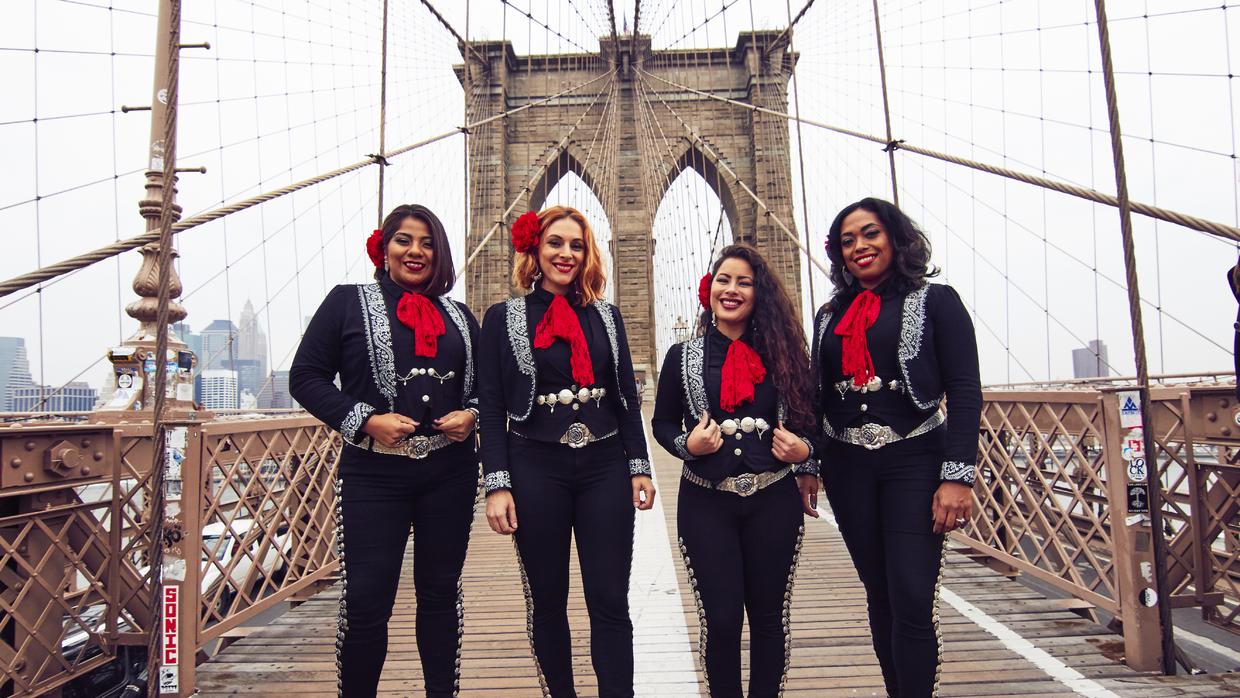 But it's not just through their music that Flor de Toloache are subverting expectations. While women in Mariachi traditionally wear high-waisted skirts, Fiol tells me they discarded that option in favour of the comfort and practicality of pants and jackets.
Though people's reactions were strong, Ramos and Fiol simply see their decision as an extension of their unique interpretation of the genre.
"I don't think any of us had an inkling of the scene it would cause for us to wear pants," Fiol says. "This was 2008, the 21st century, and it was a huge deal. To me it's very annoying. But another criticism, beyond the fact that we don't wear skirts, is that we don't have the mariachi 'look' to a lot of people. We don't wear boots which is part of the formal "charro" – it's a uniform."
Their music, though, is enough to win over any skeptic. Instead of the machismo that male mariachi acts exude, Flor de Toloache bring to the genre a degree of femininity, romance and imagination, altering lyrics so that they explore more of the feminine perspective. Their arrangements are distinctive, their instrumentation wholly original and their gorgeous harmonies mesmeric.
For the most part, Ramos and Fiol find that audiences are largely supportive, celebratory and joyous when they see them perform. "I've never heard a sound like ours before," Ramos tells me, "and I think it's because we all come from different countries – but as a band we came out of New York City. So I'm not sure how to best encapsulate it but it's definitely a very unique sound, very new, but still folky and it still has that Mariachi essence but with an edge to it."
Despite the hesitance some have to embrace them, Flor de Toloache have become increasingly popular, proving consumers' thirst for culturally significant art forms led by women. They've gone on a rock 'n roll tour with Dan Auerbach of the Black Keys, featured on tracks with Chicano Batman and No Te Va Gustar, appeared in designer Kate Spade's 2017 Summer ad campaign and, as of last week, are a two-time Latin Grammy nominated act, with their latest album, Las Caras Lindas, snagging a nomination in the same category as their first did, Best Ranchero/Mariachi Album.
"I think you need to love the music," Ramos says when I ask her what makes a great mariachi musician. "If you're a singer, you have to have that passion. What makes Mariachi special is when you hear the singing, you can really feel what they're singing about, even if you don't understand the words. You can hear it in the voice and how it's delivered so you kind of have to feel that when you're singing. You have to musically immerse yourself in the tradition because for many, Mariachi music is a lifestyle. Many of them literally sleep in their Mariachi suits! So you have to have that kind of passion."
Named for an unusual Mexican flower believed to possess immense mystical and romantic properties and said to be used in love potions – the Toloache – Flor de Toloache message, presence, and music is as hypnotic as the inspiring bloom. Though Mariachi has evolved over the almost 200 years that it has been in existence, the band's particular fusion of seemingly disparate sounds into unique harmonies is irresistible, their stage presence infectious, and their message of empowerment vital, making them a true rarity – just like their magical namesake.
"We're blending together cultures," says Fiol, "cultures that coexist in the US and in Mexico. There's a lot of cultural diversity here as well as a lot of tension so there's a lot of value in bringing this beautiful art form of Mariachi to a platform. It's exploring how we evolve, how we have our individual beautiful elements and bringing them together to create something new."