At this year's Cannes advertising festival, advertising maverick David Droga was tasked with opening the event: "Our job is to move people and do extraordinary things," he declared. The statement was not only a rallying call but it also encapsulated a storied, purpose-driven career, one that he'll unpack on the Design Indaba Conference stage at the annual Festival in February. Here's everything you need to know about 2019's first official speaker.
A living legend in the advertising industry, the very mention of Droga's name can leave people feeling awestruck. As one of the most awarded creatives in the history of the Cannes Lions International Festival of Creativity, the advertising executive and founder and chairman of Droga5 is a superstar in the industry, lauded as much for his craft, work ethic, and leadership as he is for his loyalty, sincerity, and willingness to take calculated risks.
While he's an industry superstar today, Droga's career actually had rather humble beginnings.
"My first job in advertising was actually in the mailroom of Grey Advertising in Sydney," he said in an interview with AdWeek. "I was always obsessed with being a writer of some sort. I just loved the idea of writing for different personalities all the time. When I was 16 or something like that, I learned that there's this thing called advertising where people pay you to come up with ideas, and it's fast turnaround and you make things—and I was like, that sounds amazing."
During his time at Grey Advertising, Droga would hand out letters and parcels, all the while soaking up nuggets of valuable information he'd overhear around the office. Eventually, after chatting to the younger creatives who occupied the office space, he learned of the Australian Writers and Art Directors School where he subsequently enrolled.
Then, not long after his graduation, Droga became a Partner and Executive Creative Director of OMON Sydney at the tender age of 22-years old. Over the next five years, the then-startup would go on to win Australian Agency of the Year twice and Ad of the Year four times. In 1996, he was named Executive Creative Director of Saatchi & Saatchi Singapore and Regional Creative Director of Saatchi Asia, positions he held until he was promoted to Executive Creative Director of the agency's London division.
In 2003, Droga moved to New York where he took on the challenge of serving as the first-ever Worldwide Creative Director for creative agency Publicis Worldwide. But by 2005 he had grown tired of developing other people's companies and decided to establish his own which he called Droga5. Named for the manner in which his mother would mark he and his four brothers' school uniforms as children - "For the sake of laundry, my mother sewed a tag on all my clothing that simply said 'Droga5.' And my brothers' tags were labeled accordingly: 1, 2, 3 and 4. It's that plain and simple." - the agency has been consistently named Agency of the Year by multiple major outlets since its founding.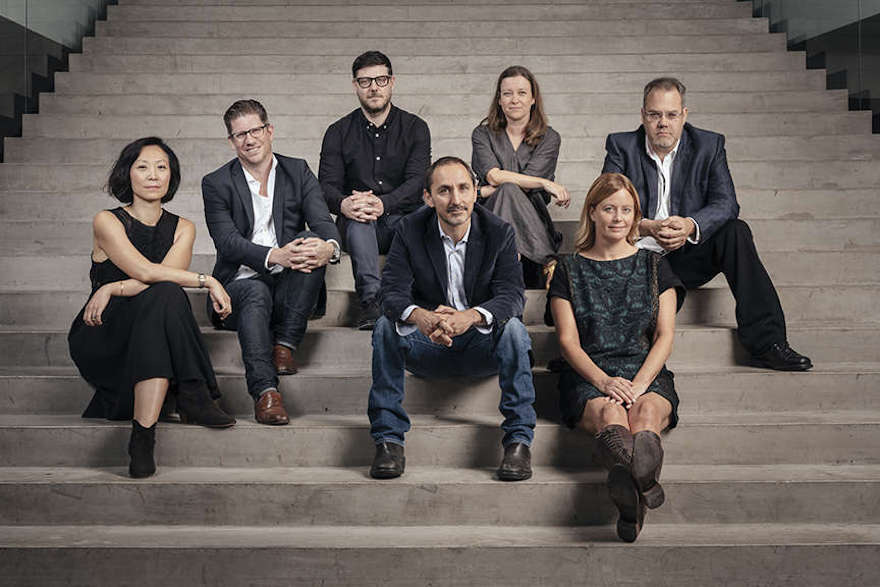 His goal with Droga5 was quite simple: to build the most influential creative agency in the world. Producing work that matters and contributes to something positive, he says, is important to him. One of the agency's earliest campaigns was for streetwear brand Ecko Unlimited, and the viral campaign they created together ended up helping reinforce the brand's graffiti heritage and street cred.
Ahead of the 2008 presidential election, Droga came up with a pro-Obama advertising campaign that aimed to influence elderly Jewish voters in the crucial swing state of Florida. Named 'The Great Schlep', the Droga5 produced, hilarious television spots starred comedian Sarah Silverman and spoke directly to the grandchildren of this elderly generation, encouraging them to talk to their grandparents about the importance of voting for the Democratic Party.
In the end, Obama won Florida by 170,000 votes (51% vs. 49%) and received the highest elderly Jewish vote in 30 years.
Last year, Droga was the recipient of the 2017 Cannes Lions Festival of Creativity's Lion of St. Mark, the festival's award for outstanding contribution to the creative industry. He was recognised for the crucial role he's played in elevating the stature of brands like Google, Clearasil, and Chase, through his advertising magic. According to Jose Papa, managing director of Cannes Lions, Droga's drive, passion and unbounded creative skill were all factors that contributed to his win. "He's set the global standard," Papa says.
Ultimately, Droga has reached this level and made his dreams come true by relentlessly chasing his goals and staying fiercely true to his ideals. Nearly three decades into a storied career, his contributions to the industry remain relevant and his love for the craft is as firm ever - and in 2019, he'll be sharing his vast experience and know-how with South African audiences as a Design Indaba speaker. "As a creative person," Droga states, "you can't bullshit yourself that you're happy, no matter the perks. If you're not having an impact on the work, it's not worth it."
Ticket sales for the Design Indaba Conference 2019 are officially open. Each year, the idea of a simple talkshop comes undone on the Conference stage. The Design Indaba Conference 2019 will take place from Wednesday 27 February to Friday 01 March 2019 and will be held in the Opera House of the Artscape Theatre Centre in Cape Town.
The Design Indaba Cape Town Simulcast will be screened as a live feed from the main conference and will take place in the Theatre Venue at the same location.
The 2019 event promises a stellar selection of international speakers whose compelling presentations combine career-changing insights and the most cutting-edge work on the global circuit.
Watch these Talks from the Design Indaba Conference 2018:
The Vula app is revolutionising the South African healthcare system
How GetSmarter's distance learning overhaul created a $100m company
Sunu Gonera on finding his voice, afrofuturism and making heroes out of ordinary people
Watch the Talk with David Droga