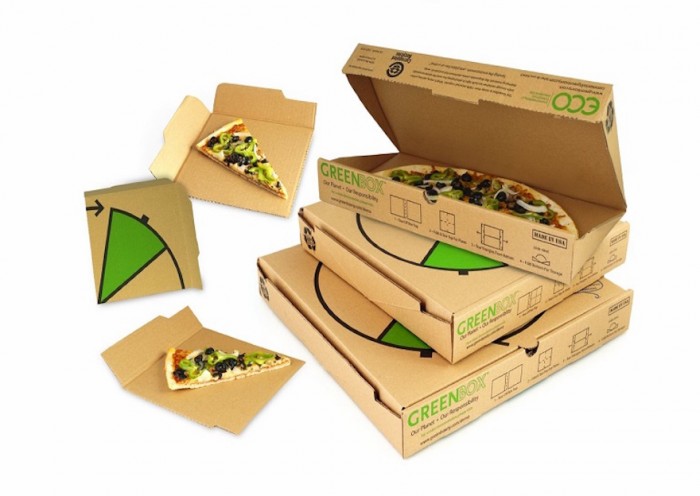 GreenBox pizza box
Every year three billion pizza boxes are thrown away in the US alone. The boxes serve only one purpose and go on to waste away in landfills. GreenBox addresses this problem with a recyclable pizza box designed to be used multiple times. Mechanical engineering student William Walsh came up with GreenBox to supply a packaging alternative for restaurants and takeaway franchises.
To vary the purpose of a traditional cardboard pizza box, Walsh created a box with a reconfigurable design. To eliminate the need for wasteful paper plates, the perforated lid can be torn away from the base and split up into four serving trays. To enhance its functionality, the box can also be folded into a compact storage container so that pizza leftovers can be kept in the fridge without having to make space for a whole pizza box.
GreenBox is made out of 100 per cent recycled material but like standard pizza boxes, it can not be recycled if it is stained with grease or food. This is the main setback of the design, however GreenBox does encourage its clients to line the boxes with greaseproof paper so that the boxes can be recycled after use.
Pizza establishments also have the option of customising the GreenBox with their own branding and identity.
Even though a pizza box may seem insignificant on the scale of environmentally-harmful products, green packaging is a growing sector that requires engineering and materials research to come up with eco-friendly alternatives to the approximately 80 million tonnes of packaging waste produced annually.