Where a person lived often has a lifelong impact on them. For sculptor Kwame "KABE" Akoto-Bamfo, growing up in Ghana made him aware of the country's slave heritage and this information quickly became the backbone to his historical work.
Between 1650 and 1860, approximately 10 to 15 million enslaved people were forcibly transported from the western African coast to the Americas. Most, packed like sardines into ships, endured a perilous journey to the West Indies, Central America and South America.
Today, Akoto-Bamfo sits as the co-founder of two brands based in Africa. The first, Osram-Ba is a start-up company that creates architectural structures and sculptures for clients. The second is called Ancestor project, which is see as a movement and not a company.
The Ancestor Project is an ongoing plan that uses art and performance to empower, educate and promote youth interest in African heritage across the diaspora.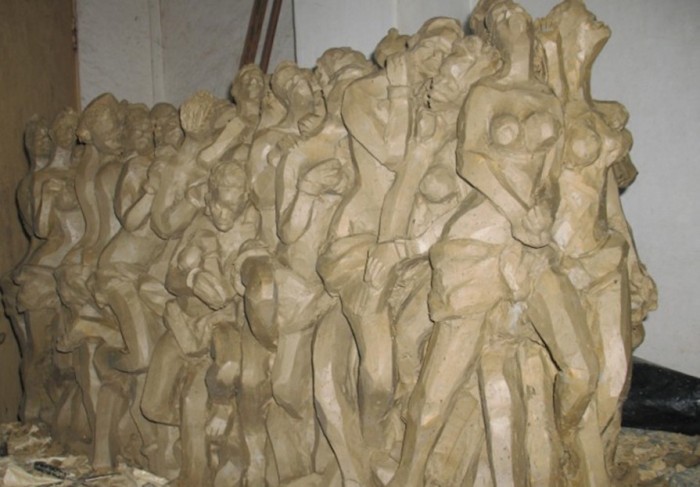 Akoto-Bamfo describes it as a conscious effort by creators (artists and volunteers) and participants (everybody else) to promote African heritage through the use of not only art but music and performance as well.
"As a Ghanaian who is interested and inspired by Ghanaian and African culture, I'm a living witness to the knowledge that is being lost to time. That is why I feel it is important to create a repository of our history and heritage in a 'language' using symbols that our people can relate to and understand," he explains.
The Ancestor Project is also seen as a pseudo-art movement that holds all projects done by his team and himself, including the highly intricate Nkyinkyim installation.
The installation, which is made up of various art and sculptures, was created as a way to tell the stories of Ghanaian or African ancestors.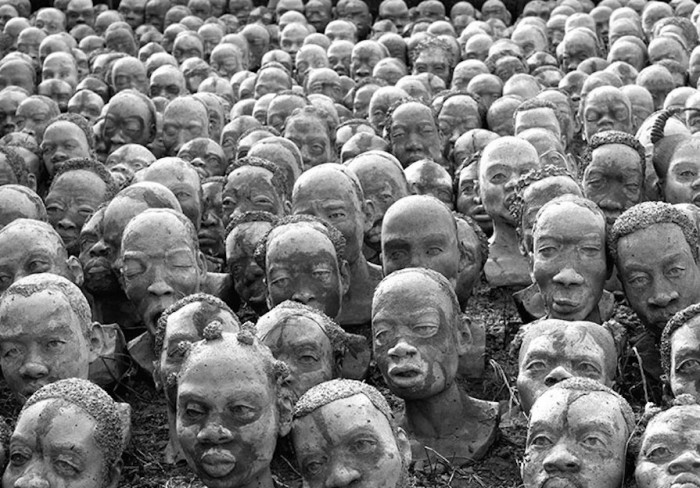 The Transatlantic Slave Trade is one of the themes Akoto-Bamfo explores in his work. With it, he pays tribute to the millions of African people who fell victim to the slave trade. It also acknowledges the role played by African leaders in the sale and trade of human life for goods and status.
In 2018, the sculpture found its place at the National Memorial for Peace and Justice in Montgomery, Alabama. The memorial is used as a way to acknowledge and pay tribute to past victims of racial injustices.
Another sculpture called Faux-Reedom was unveiled in 2017 and this piece was made up of 1200 concrete heads, representing Ghana's enslaved ancestors, who lived in the country's capital of Accra.
"Faux-Reedom exhibition is an intervention to Ghana's 60th Anniversary celebration and the title 'Faux-Reedom' is a play on the word 'Freedom' with the word 'free' replaced by the word 'Faux'," Bamfo explained.
He went on to ask: "Are we really free from the legacies of slavery and colonisation?"
While Akoto-Bamfo developed the concept, he later brought on architects Afua Asantewaa from Iconica Ghana Limited and Delali Dziedzoave, who previously worked with him at Osram-Ba.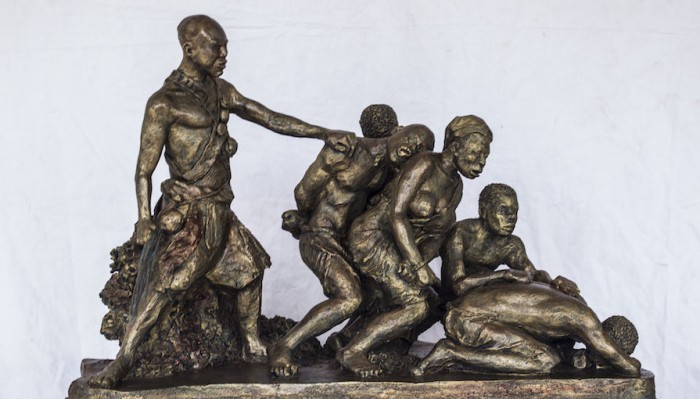 The architects came on as contributors but more specifically they looked into where the installation would sit. Nuhale-Hwakpo, in the Greater Accra Region of Ghana, became the proposed site, and from there Nkyinkyim became more than an installation.
The set-up of the installation will be made up of a wall-like monument where the sculptures will sit. The physical shape of the art installation is said to be represented in twists and turns, with storytelling on both sides of the wall, which will be featured in chronological order.
During my interview with him, Bamfo revealed that the Nkyinkyim Installation is on its way to becoming a museum, with it further being developed by partnership and support from the Ghana Museums and Monuments Board.
Akoto-Bamfo's work can also be supported on Patreon. For his next project, he will be looking into precolonial African narratives. "I will be inviting the public to come to join us in our biennial communal labour to help work on the installation soon."
Read more:
Accra's Arch Xenus is redefining what it means to be a successful architectural firm
Afrolitt founder Pamela Ohene-Nyako on the importance of having black literature voiced and heard