Design Indaba Festival 2017

The annual Design Indaba Festival includes the flagship conference on global creativity, and live performances and exhibitions including Emerging Creatives and Most Beautiful Object in South Africa.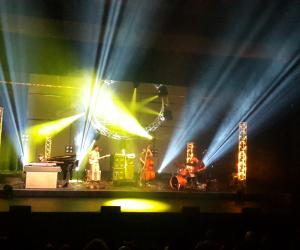 Design Indaba 2017 is set to be an extravagant festival of food, music, art, tech and visual feasting – and of course all the best of design and the creative sectors that our audience has come to expect from the world's favourite creative conference.
The 2017 event will be more of a festival than ever before – hosted from one central hub at the Artscape Theatre Centre in Cape Town, where all arenas of the festival will come together in one immersive, highly sensorial, creative experience. After the close of the conference each day, the Artscape will open to the public and continue its celebration of creativity late into the evening.
For the first time this year, Design Indaba has appointed a creative director to the festival. Esteemed Senegalese fashion giant Selly Raby Kane is applying her creative genius into conceiving and building an Afro-centric dreamscape at the Artscape filled with activations, installations, exhilirating performances and beyond.
Stay tuned to find out more!
Event Information

Event Information

Wednesday, 1 March, 2017 (All day)

Thursday, 2 March, 2017 (All day)

Friday, 3 March, 2017 (All day)

Saturday, 4 March, 2017 (All day)

Venue: + 7 other satellite venues for simulcasts in other cities

Ticket Information

Conference Tickets

Design Indaba Conference tickets include access to the 3-day conference as well as to Design Indaba Nightscape and all exhibitions at the Artscape Theatre Centre.

View Rates | Book Conference | Book Simulcast

Festival Tickets

Design Indaba Festival is open to the public each night from 1 to 3 March from 17:30. Tickets include access to all music events and exhibitions. Conference and FilmFest tickets are sold separately. Exhibitions are also open to the public for free on Saturday 4 March from 10:30 to 16:00.

Tickets R80 online (per night)
R200 for a 3-night pass
R100 per night at the door
R250 for a 3-day pass at the door
More About Design Indaba Festival 2017
Pages