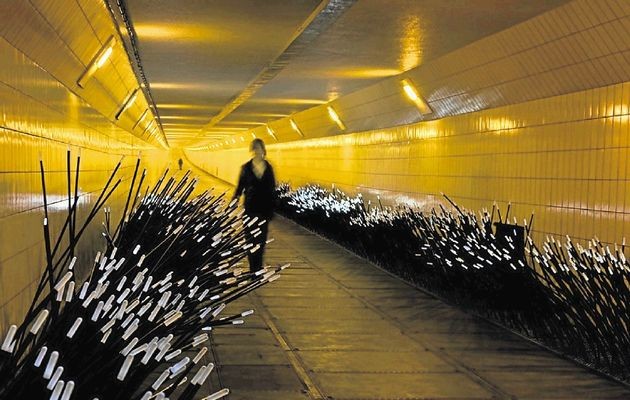 MICHELLE CONSTANT
There were so many wonderful ideas and inspirational moments, but it was the presentation of John Maeda, the president of Rhode Island School of Design, that really got me thinking.
I had read about his Stem to Steam movement, which argues for the arts to be included into science, technology, engineering and maths education. Listening to Maeda describe the value of the arts and design in society, and the function they play in business leadership - through innovation, iteration and agility - was extremely powerful. He spoke of how the arts and design "tell a story that matters, in a voice that matters". With that in mind, the arts and design could, and should, support South Africa's need to be more globally competitive, as well as address some of the major social issues that South Africa currently faces.
Constant is the CEO of Business and Arts South Africa
JONATHAN BEGGS
As usual, it really brought home to me the fact that design sits at the heart of so many disciplines - as an ethos, an approach and a layer. Like many, I was impressed by Brazilian chef Alex Atala, who creates culinary art out of indigenous flavours; John Maeda's musings on the parallels between design and technology; Alexander Chen, the Google [glass] guy; John Hegarty's ode to irreverence and architect David Adjaye's phenomenal body of work.
The biggest surprise for me was a Lebanese student, Wael Morcos, who modernised ancient Islamic typefaces and brought through themes of humanity, community and storytelling in his work. Modest, charming and articulate, he was one of many unexpected gems.
Beggs is the creative director of The Jupiter Drawing Room
MARIETTE THERON
It's hard to choose one person but I have to go with Daan Roosegaarde's simple but entertaining Dune project - lights that interact with passersby in an underground tunnel.
Theron is a designer and stylist
CHRISTOPHER TURNER
I loved Alexander Chen's minimalist, mesmerising visualisations of musical scores. A musician and computer coder - currently employed by Google creative lab - he spoke engagingly about the development of his idea, which was applied to the New York subway map to create a real-time harp (www.mta.me).
Turner is editor of Icon magazine
Watch the Talk with David Adjaye
Talks
• Duration: 00:43:07
•
9 May 19