One High Line twin residential and hospitality towers fill a city block and stand over the vibrant streets of New York City's West Chelsea neighbourhood. Formerly known as The XI, the paired-tower project is a collaborative development between Bjarke Ingels, lead architect of the Bjarke Ingels Group and Design Indaba alum, Alex Witkoff, co-CEO of the Witkoff Group, and acclaimed designer Dan Fink.
The 36-storey, 122-metre-tall west tower features 149 residences with interiors designed by Gabelli Sheppard, while the 91-metre-tall east tower is host to the brand-new Faena Hotel and 87 residential apartments with interiors designed by Gilles et Boisser.
The unusual twisted shape of the two towers, with each harmoniously positioned like one of a dancing pair, was meticulously engineered by the architects to provide the residents with an enhanced view from each and every room. 'The geometry of the two towers is a direct response to the site's context and each other,' Ingels told the Robb Report. 'The reason these buildings have this striking form is so they do not stand in each other's way.' The twisting geometry at the corners of the towers reduces the overall bulk of the buildings and creates additional separation between them.
The design has allowed for a series of incredibly framed views of the skyline of Manhattan: 'The movement of the buildings gives each residence these unique panoramas all their own,' says Ingels. 'The two towers transform and adapt to their surroundings and each other as they rise from the ground, reorienting themselves to respond to the High Line, the Hudson River and the surrounding arts district.'
The facade of the angled towers comprises a sleek glass and travertine-stone design that pays homage to many of the buildings found in New York's Meatpacking and Chelsea neighbourhoods. Inside the residences, oak floors and sleek marble kitchens offer a seamless blend of classic and modern elements in the versatile apartments that range in size from one to five bedrooms.
A spacious double-height bridge-slash-lounge links together the two buildings and offers a variety of amenities, including a 23-metre swimming pool, a spa, a fitness area, a golf simulator, a games room and a playroom.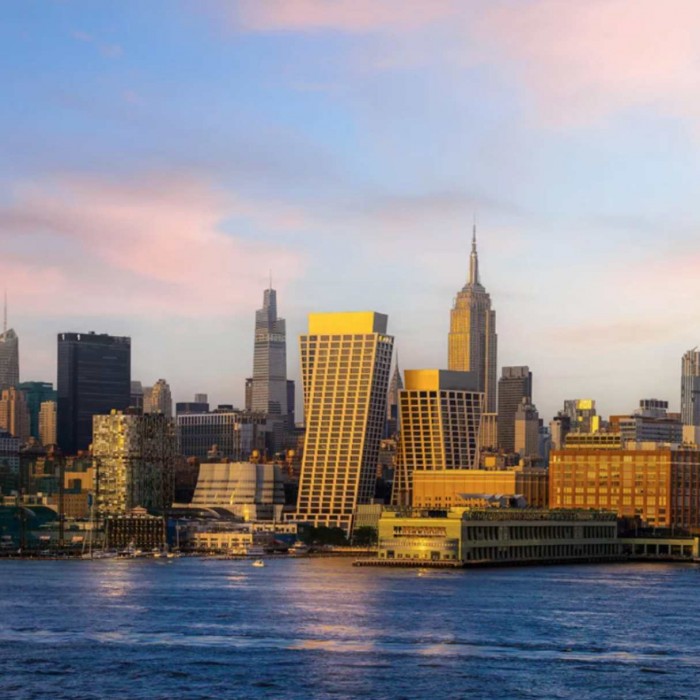 Read more
Photographs: One High Line.