The recently completed Chengdu Natural History Museum's dramatic structure echoes the dynamic and striking landscape in which it is located, with the elements of mountain, water and road taking centre stage. The museum's design offers a celebration of Chengdu's historical legacy and modern ethos, synthesising the historical culture and current transformative context of the city while delving into the environment of the area.
Standing in the centre of the city of Chengdu, the capital of southwestern China's Sichuan province, the vast 4 600-square-metre museum building was inspired by the surrounding mountain forms that were created by the shifting of ancient tectonic plates, reflecting how rocks break apart and shift. It encompasses expansive exhibits, public spaces, shops, a café, a cinema, state-of-the-art educational facilities, and a verdant landscape that invites gathering and connection. Distinct exhibition spaces are separated like cracks in the earth, while held together by shared, light-filled public spaces. Some forms are anchored to the earth, while others are lifted above ground to reveal public spaces.
The narrative of tectonic plates also influenced the selection of building materials, particularly the local granite for the facade. The organically shaped and composed perforations in the stone were devised to create the impression of snow-covered mountains during the day, with LED backlighting reflecting the stars at night.
A second significant inspiration was the Shu Road, a system of mountain wood-plank roads supported from the sides of cliffs, linking the province of Shaanxi with Sichuan, built and maintained since the 4th century BC. The museum's corresponding Dino Box, a suspended path peeping from the sides of the stone volumes, was designed to be experienced as an adventure – a sloping, interactive space where visitors can walk among dinosaurs positioned along the path and suspended from the ceiling.
The water element was informed by the Dongfeng Canal on the eastern edge of the site. A network of waterways and reflective pools mirrors traditional irrigation systems, while plants are 'woven' together to create terraced gradients that graphically recall historical agricultural landscapes: wetland gardens, bamboo gardens, water-lily gardens and a seasonal plant garden.
'We looked deeply into the natural beauty of the area's distinctive geography and geological features,' said Kristin Hawkins, principal architect at Pelli Clarke & Partners, which was responsible for the design, together with the China Southwest Architectural Design and Research Institute. 'Through an inspiring collaborative process with our partners in Chengdu, we were able to realise our vision for the building to be an expression of this dynamic and striking landscape.'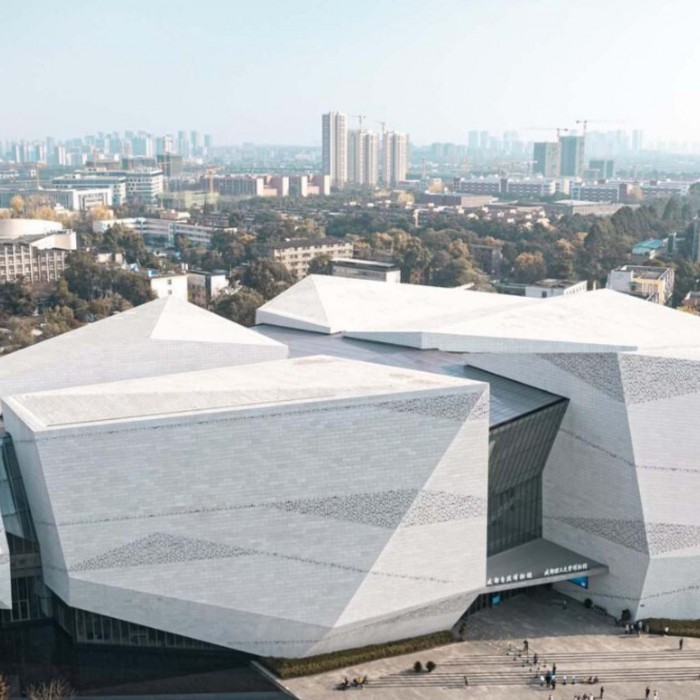 Read more
Photographs: Pelli Clarke & Partners, Zhen Xin, Xiaobin Lv.