Ghana's flag provides an excellent starting point from which to understand the country's complex history. Designed in 1957, its red, gold and green segments represent the blood of those who died in the struggle for independence, the country's mineral wealth, and its rich forests. The striking black star at its centre is an anticolonial symbol described as the Lodestar of African Freedom.
It is this freedom that features prominently in Ghana's national pavilion at the 59th International Venice Biennale, under the patronage of President Nana Addo Dankwa Akufo-Addo.
'Black Star – The Museum as Freedom' examines how it plays out across time, technology and borders, including its relevance in diaspora. Designed by architect DK Osseo-Asare, co-founding principal of trans-Atlantic architecture and integrated design studio Low Design Office (LOWDO), the striking pavilion consists of large-scale installations by Na Chainkua Reindorf, Afroscope and Diego Araúja.
Reindorf's 'Mawu Nyonu' explores masquerade traditions, which were historically largely male, through the lens of seven female members of a fictional secret society. The women are at one with the natural elements around them. In a similar vein, Afroscope's work 'Ashe' explores the spirit that runs through all the elements, with water exemplifying the flow of life as it is translated by technology. Oneness also serves as the theme in Diego Araúja's work 'A Congress of Salt'. The artist's positive revelation is that the Atlantic Ocean, which transported West Africans into diaspora, should now be embraced as the unifier – or birthplace – of a new, revitalised creole nation.
The Venice exhibition has been framed by curator Nana Oforiatta Ayim's concept of the Mobile Museum, which travels into communities across Ghana in co-curation and exchange, with the aim of creating accessible, contextual, inclusive spaces. In Venice, the Mobile Museum programme will be presented during the Biennale Arte season with events and workshops created in collaboration with diverse communities across the city.
Ayim says that, 65 years after independence, Ghana is still grappling with "political, economic, cultural, social and knowledge systems" that are ill-fitting for Ghanaian contexts. "As we outgrow and move beyond [these] systems; new ones, not yet defined – that draw on rich histories, not with nostalgia but with discernment of hindsight and experience – are happily forming," she says. "Each of these artists' works [make them a] future builder, creating new possibilities and worlds … which is especially valuable in this time of increasing chaos," Ayim enthuses.

The inaugural Ghana pavilion at the Venice Biennale was designed by Sir David Adjaye in 2019. It featured artists Felicia Abban, John Akomfrah, El Anatsui, Lynette Yiadom-Boakye, Ibrahim Mahama and Selasi Awusi Sosu. 'Black Star – The Museum as Freedom' will be open to the public until 27 November 2022.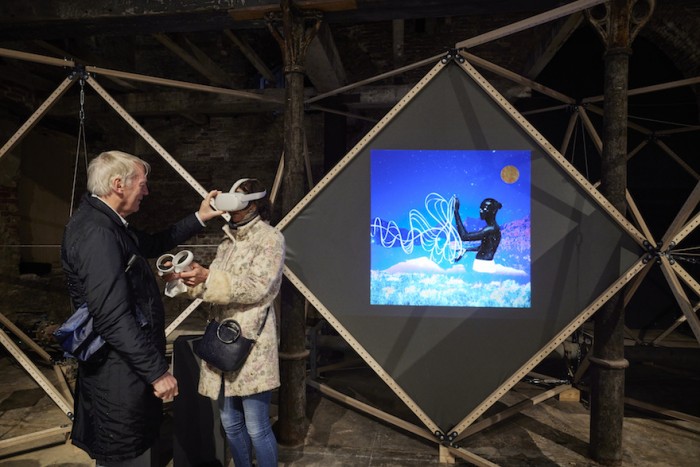 Read more:
Credits: Diego Araúja, Na Chainkua Reindorf