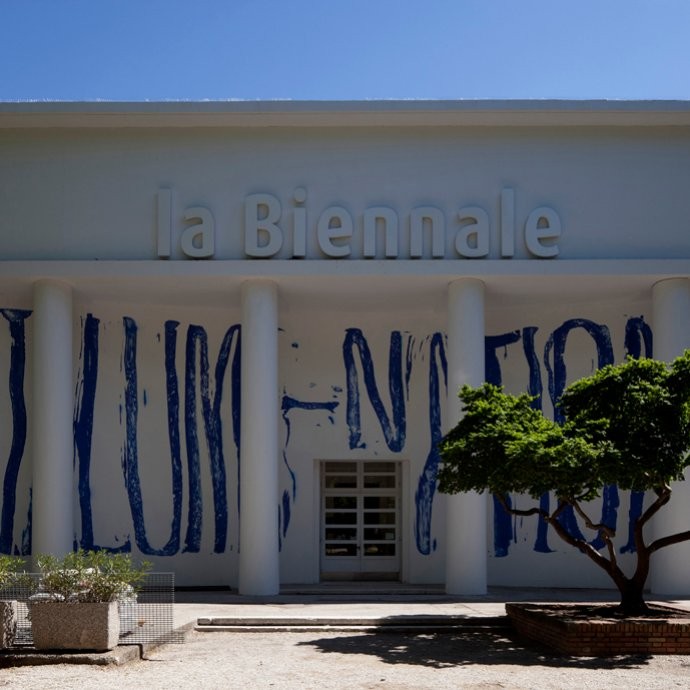 ILLUMI-NATIONS, façade of the Central Pavilion at Giardini. Photo: Josh Smith.
Late one night at the local Bauer Hotel in Venice (the slightly more upscale version of the Kimberley Hotel in Cape Town), my arm got twisted into writing this blog post for Design Indaba. As a rule, I don't blog but Design Indaba is worth the exception.
Instead of listing the celebrities I have spotted, or gossiping about art world in-crowd stuff, let me focus on how, in small but recognisable ways, Africa has really come into its own in Venice, four years after the African Pavilion and the surrounding fuss.
For those of you not familiar with the Venice Biennale, it consists of a major international group show (arguably the most important exhibition of contemporary art in the world), in addition to official national presentations by countries. Bice Curiger of Parkett is the curator of this year's biennale, and has delivered a solid exhibition with few weak points and some real highlights.
This year, South Africa finally has its own pavilion, which is a small miracle, and suggests that we finally have a minister of arts and culture who cares.
There has been a lot written in the blogosphere about the conflict of interest of having a gallerist (Monna Mokoena) run this project (it is meant to be impartial and representative of the country), but frankly Venice is held together by the glue of commerce in any event, and has a long history of art dealers vying for influence.
While it is inelegant, the fact that we have a show trumps, to my mind, the messy process that led to its establishment.  If anything, we are just not as good as covering up our dirt as other people - if Monna had asked a friend of his, perhaps a writer or composer, to be the commissioner, we could have ended up with the same curator and list of artists, and nobody would have noticed the dealer's involvement (except, perhaps, from its uneven selection, but that is another conversation).
Zimbabwe, too, has its own pavillion this year.  The activist in me finds this slightly gross (and I had hoped someone would have used this opportunity to stage a protest), but curator Raphael Chikukwa is doing good work on behalf of the continent most of the time, so I suppose we have to forgive him. One does wonder how this pricey endeavour is funded, given the state of the country. One can't just take over a pavilion in Venice the way one can a farm.
Nicholas Hlobo and David Goldblatt are South Africa's contribution to Curiger's exhibition, and both impress (disclaimer: I make a living off Nic's career so I am completely biased). The late Gedewon of Ethiopia is an unusual choice and poetic presence in the same show.
Elsewhere, Keren Cytter's film The Hottest Day, partly filmed in Johannesburg, is on view in the Future Generation show at Palazzo Papadopoli, alongside more works by Hlobo. Also, El Anatsui, Frédéric Bruly Bouabré, and Hlobo (yes, again) can be seen at luxury goods mogul Francois Pinault's Palazzo Grassi. One of the world's foremost curators, Okwui Enwezor, is present through a presentation of his forthcoming Paris Triennale, and can be seen wandering about town writing art history.
More than anything, the real victory is how little fuss all of the above has generated about our continent. Unlike four years ago, we are now a natural presence in Venice, alongside other parts of the new world making inroads to what was once a totally European affair. And that is very, very refreshing.
Joost Bosland is a director at Stevenson.