"Design can be a lonely thing," says Michael Bierut in the second part of this exclusive Design Indaba interview. "As you acquire that skill [in design] you are actually making yourself less normal than regular people."
Designers are sensitised to things other people don't even notice, he says – the way the curves of a typeface echo each other, for example, or the subtle changes in a logo.
Though the work of the designer is social because it requires the user to make sense of it, there is an element of solitude to the design process. "Because you are always in your head," says Bierut, "and you don't know what effect it's going to have until you do it."
We tend to fixate on the power of logos in today's hyper-aware consumer culture, which Bierut is quick to disarm. "I don't want to overemphasise logos in the world. I think that if you act with intelligence and integrity and consistency you'll develop a brand. Whether you are a person or a non-profit, a small organisation or a giant corporation."
What he does think of as particularly interesting about logos however, is the meaning that gets instilled in them over the course of their usage.
"What's fun about logo design, what makes it so interesting, why it holds so much power for all of us is that there is something very primitive about it," he says. "Many of them are such simple marks. They are not much further evolved than hieroglyphics, or marks on cave walls from millions of years ago."
What happens with a logo, explains Bierut, takes place only partly in the symbol; the rest we do with our minds as we connect the symbol to all the associations we have with what it means.
"What's interesting, particularly about that kind of telegraphic communication is that it it is inherently participatory."
It is this interactive and social quality of design work that lends the profession what Bierut can only describe as "a kind of magic".
In Part 1 of this interview Michael Bierut talks about the process of writing his new book, How to: Use graphic design to sell things, explain things, make things look better, and (every once in a while) change the world, in which he looks back on his life and career in a series of amusing and interesting How to's.
Watch the Talk with Michael Bierut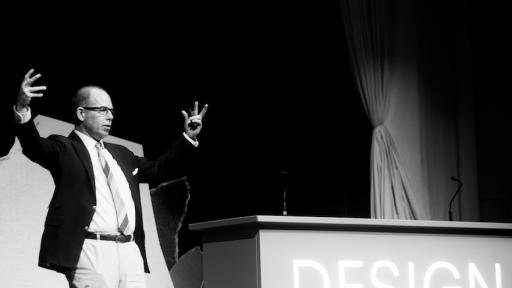 Talks
• Duration: 00:39:15
•
6 Oct 15