After presenting their moving Design Indaba Conference talk, which was complete with a song as well as images of people who have copied their work, we sat down with the Dutch duo, Lernert and Sander. The artists who work across film and conceptual work say that unlike most artists, they tend to be very strict and purist in their approach to creativity.
"Because in a way we are very idea driven but also very pluralistic and very strict. Most of the time people associate creativity with things that are a bit more random and a bit more in style and always out there. We are not interested in style we are interested in a good idea. So in a sense I'd say if you have normal 'original people' it's always very colourful and a little bit more random," says Lernert.
Weirdly enough, after a decade of working together on numerous creative projects, they describe themselves as "boring" artists. They say that they're not concerned with the things that people typically associate with creativity such as playfulness, colour and randomness.
"We are not interested in style, we are interested in good ideas. And we don't really show off because (if) we think the idea is already incredible, we work from there," says Lernert.
Very critical of their work and their own creativity, Lernert and Sander say that their time in the studio is sometimes literally about questioning themselves and asking the question "is this even creative?".
However much they may question their own creativity, the international community has always embraced their work and this is evident in the recognition and numerous design awards they've received over the years. The Dutch duo are the recipients of numerous prestigious awards including the Dutch Design Award, Red Dot Award, ASVOFF award and the most recent Milano Salone del Mobile Design Award for their 2016 "Boring Collection".
What's remarkable about Lernert and Sander is that even with all their success in the creative industry, their analytical outlook and nature of self-critique hasn't changed. In fact, after a decade working in the creative industry, they still maintain that they are not a creative agency.
"I think the clients come directly to us because we are not a creative agency. But people do grasp that we are capable of coming up with good ideas for them directly and we're starting to have more direct relationships and that's a very pleasurable process," adds Lernert.
As artists and filmmakers, they don't want to remain complacent. The artists are planning to branch out into longer form films and also into industrial design.
We make film sets and after the set we throw everything away and it's like whoops, we put so much time in something, and then it's just gone after the shoot. So it's a bit nicer to create something that people can actually wear or put in the store longer and look at longer than the usual blink," explains Sander.
In line with their goal of expansion, they're currently working on their first light fixture, glasses and handbags.
In the coming weeks, we'll be sharing our knowledge exchange journey. Watch this space.
Created by you. Inspired by Design Indaba. These interviews are brought to you by Liberty.
Create. Share. Inspire.
Watch the Talk with Lernert & Sander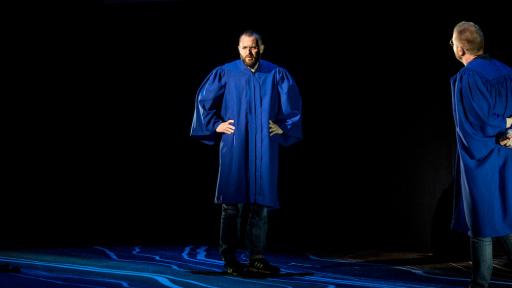 Talks
• Duration: 00:35:03
•
21 Jul 17