Signs of the Times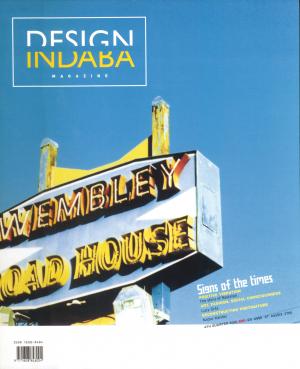 The human brain has the inbuilt capacity to organise concepts, processes, news and even people into manageable chunks of information – a fortunate condition few would quibble. Indeed, it is this aptitude that separates us from the baser species. Happily for us, for the most part this processing machinery is highly reliable. However, every now and then, once certain data has been inputted, it can be difficult to erase and replace with newer information. And so we begin to operate on assumptions which, with enough repeating, become 'truths'.
In the spirit of the Design Indaba®, in this issue we challenge some assumptions in society, not to mention our industry. In the process, we take a virtual trip to Kingston (Jamaica), Paris, London, Cape Town and Durban… all constituent elements of a complex cultural universe.
Check out Genesis where we examine the phenomenology of internal standards of self worth / self image as externally presented in Rastafarianism – an often misunderstood philosophy that governs the lives of millions across the globe. 'What?' I hear you ask. 'Can it be about more than big fat doobies to make you feel I-rie?' Find out on p6.
Lucy Orta will be speaking at the 5th International Design Indaba® early next year. In Portfolio, we give you a preview of some of her work. Trained as a designer, Orta creates artworks, mainly in fabric, that are a passionate commentary on relational aesthetics. Her work, an acknowledged attempt at 'social engineering,' pushes the creative / conceptual boundaries, yet maintains a firm hold on reality, articulating a good understanding of the simultaneous connectivity and separateness of all humanity. You'll never look at a bergie the same way again.
In Virtual Indaba, Andries Odendaal of Wireframe faces off with Jacques Venter of Redshift. In Aperture, Nadav Kander deconstructs the genre of portraiture and gives us some food for thought in the process. In Brand New Thoughts, as always, Lewis Blackwell rounds the issue off with fresh insights into the industry we work in.
People are always asking what exactly the International Design Indaba is and what it is trying to achieve. In Context, we outline the structure of the event, our mission and our intentions. Should you have more questions, don't hesitate to drop us a line – e-mail addresses are below.
One love! – Taweni Gondwe