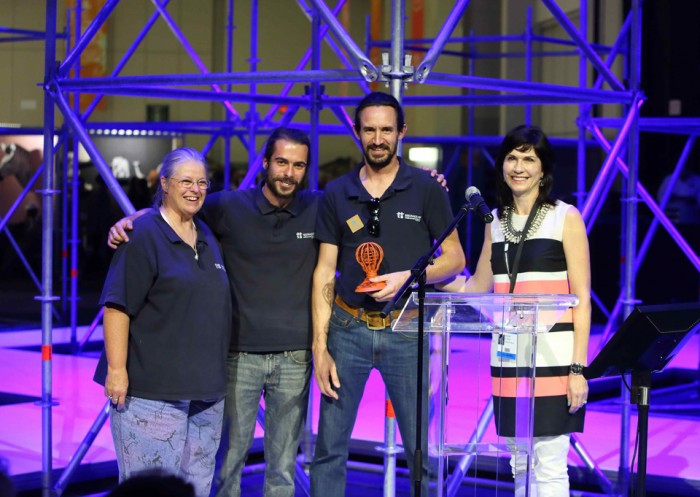 The award celebrates and recognises imagination, experimentation and creativity within the design sector in South Africa and now, for the first time, the rest of Africa. An independent judging panel selects one winner who receives a cash prize of R50 000, sponsored by Adams&Adams, which is presented at the Design Indaba Expo Events Arena.
Award Details
The Design Indaba Innovation Award carries a cash prize of R50 000 (ZAR)
The Design Indaba Innovation Award is only open to exhibitors that are registered for Design Indaba Expo and is not an open award
Design Indaba Expo is an annual design exhibition held in Cape Town and managed by Interactive Africa (Pty) Ltd
A shortlist of finalists is chosen from the entries by the organisers
The winner is decided on by an independent panel of judges
Judges receive the right to also award special commendations, which carry no prize money
Entry Criteria
There is no cost for entering the Design Indaba Innovation Award
All entries must be registered exhibitors at Design Indaba Expo 2015
Entries are welcomed from exhibitors based in South Africa, as well as countries within Africa that are registered exhibitors at Design Indaba Expo 2015
To qualify the product/service must have been launched in the year following Design Indaba Expo 2014
The submission must be the original work of the applicant/or a significant improvement on an existing technology/product or service
Product innovation covers innovations in both goods and services, which can new or improved products. A new product has different characteristics to existing products and may use original technologies, knowledge and components or a combination of these. An improved product is one which is existing but that is reimagined and redesigned to improve its function/form or whose performance/use is increased via innovative changes
Process innovation refers to the creation of original ways to deliver a product or service
Entries must include a 150-word minimum to 250-word maximum description of the submission
Entries must include at least two relevant, high-resolution images in .jpg format
All entries must be submitted via the official application form – either online or via manual form submitted to kim@interactiveafrica.com by midnight on 7 February 2015.
Each company/brand is allowed up to three entries for different products/designs
In the event that an entry is incomplete, inaccurate, does not comply with the entry criteria or is deemed ineligible for any reason, the organisers reserve the right to disqualify the entry
Judging process
The organisers will consider each entry on its merits and solely on the basis of the information provided in the entry form
The organisers will shortlist a maximum of 10 entries that will go through to the final judging phase
Shortlisted entries may be required to submit further images
Shortlisted entries authorise the organisers to publish information and images of their submission in local and possibly international media
Judging will be done by an independent panel of judges as appointed by the organisers of the award
Judges will assess entries for overall design, quality, originality, functionality and use of materials
Judging will take place on Thursday 26 February 2015 at 12:00 when judges will visit the shortlisted exhibitors to find out more about their submission. Designers will need to be present at this time at their stand
The winner will be announced at Design Indaba Expo's Events Arena on Friday 27 February at 16:00. The winner will need to be present to accept the award
The organisers' decision for shortlisted entries and granting of the award in the course of judging is final, and no further correspondence will be entered into
Judging criteria
1. Originality
Is it a new concept or a variation of an existing idea?
Was it developed independently or in cooperation with others?
Is the production process new?
Is the end product/service new?
Does the innovation contribute new knowledge to the field of design?
2. Impact
Will it make a fundamental change in design world?
Will the product/service be of potential benefit to the country in which it is developed/manufactured?
Does the product or process address a need?
Will its impact be widespread or contained to a specific sector/user?
Will it lead to more potential innovation?
Does the product/process have any negative impacts, socially, environmentally or economically?
3. Practicality
Is it a prototype or in production?
Can the product/process/service be upscaled?
Is the product or process cost-effective/financially viable/affordable to users?
4. Measurability
Is there a measurable economic benefit? (Job creation?)
Is there a measurable social benefit? (Social inclusive, culturally relevant)
Is there a measurable environmental benefit? (Sustainably sourced materials, environmentally conscious processes)
5. Applicability
Is it specific to one region or country, or could it be applied internationally?
Could it lead to changes in how industry processes are carried out?
Publicity
Shortlisted entries authorise Design Indaba to use information and images provided in both print and online media for exposure for the Design Indaba Innovation Award.
Terms and Conditions
Please see Terms and Conditions here
Terms and Conditions must be accepted when submitting entries for the award
How to Apply