The first day of the third annual What Design Can Do (WDCD) conference in Amsterdam kicked off to an energetic start and managed to maintain momentum throughout the day.
Started by Dutch designer Richard van der Laken in 2011, this two-day conference invites designers and thinkers in a variety of disciplines and from as far as Venezuela and as wide as India to share their thoughts and experiences of exactly what it is that design can do.
The WDCD gospel choir introduced the formal plenary session with an interesting vocal rendition of Milton Glaser's famous "Ten Things I have Learned". This performance served as one of the event manifestos.
David Kester was the first speaker of the day and an excellent choice for setting the tone around design and its myriad possibilities. Kester considered what it means to be in a constant state of design and what the benefits are of injecting design into (all) aspects of business and life.
Food (glorious food) was a topic deliciously addressed from two very different sides in the morning session. Architect and food urbanist Carolyn Steel explained the complexities of feeding cities and how we have evolved to the point in human civilization where we are almost completely removed and disassociated with the source and origin of our food. Steel gave an interesting "history lesson" about the development of cities (away from the source of food) and made some suggestions to ways that this disconnection can be managed and remedied to create more sustainable cities.
Marije Vogelzang continued on the topic of food, approaching it from an entirely different angle. As an eating designer Vogelzang is interested in the eating process and the social and cultural practices associated with it.
Nicolas Roope, creator of (among other things) the world's first designer light bulb, spoke about the importance of storytelling in all aspects of design – from products to digital marketing. Roope's creative works span a variety of disciplines (he's founded Poke, Hulger and co-chairs Internet Week Europe), with each initiative questioning and improving our technology-driven society.
From technology to nano technology, the Dutch research lab Next Nature explores and questions our changing relationship with nature and its implications, inviting the audience to participate in their nano research project, The Nano Supermarket.
We also heard from trend forecaster Li Edelkoort and the designer that thinks wrong to do right, John Bielenberg. Australian interaction designer Ben Landau spoke about the museum of the future past while Italian publisher Carlo Antonelli seemed to encourage mixed reactions from the audience.
Designer turned education reformer Kiran Bir Sethi highlighted the importance of teaching children to be both proactive and empathetic, and to "feel, do, imagine and share", promoting a results-driven citizenships in children through schools. Sethi's work employs the process of design thinking to shift the mentality of school children from a "can I?" attitude to an "I can!" one.
The main plenary session was complemented by some 16 "breakouts", or side sessions, taking place in and around the historic Stadsschouwberg that hosts the main conference. These "breakouts" are organised around topical themes – in this instance food, publishing, the screen, education and research – with conference speakers heading up a session. Informal and interactive, the session invites delegates to join a discussion on a particular topic.
With day one setting the standard for the conference – with talks by the likes of Hellicar & Lewis, Alfredo Brillembourg and Anthony Dunne – day two will no doubt be another inspiring example of what design can do.
Watch the Talk with Alfredo Brillembourg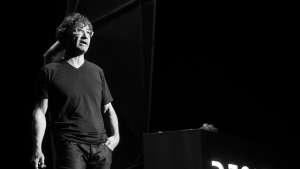 Talks
• Duration: 00:43:27
•
11 Nov 16