Download
options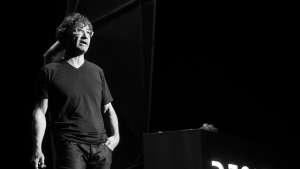 Download: Informal is the new normal with activist architect Alfredo Brillembourg
Click on a link to download the video file
Venezuelan architect Alfredo Brillembourg demands that architects start to rethink the way that they deal with cities. The world's population is growing rapidly, and most of this growth will happen in informal urban spaces.
Brillembourg has been very influenced by South Africa in the last few years. After working in Caracas, Venezuela and in India, his most recent project has been the Empowerment Shack – an innovative, urban design solution to the housing crisis that has been left as a legacy of the Apartheid regime. The idea for the Empowerment Shack was triggered by a visit to Cape Town in 2012, when Brillembourg spoke at the Design Indaba Conference as half of Urban-Think Tank.
The Empowerment Shack is a two-storey metal-clad modular wood frame structure that is economical for the residents and can be self-built. It can be extended upwards as the residents need.
Brillemboug strongly believes that we need to quickly change the way cities are being organised. Urban planning for the modern acropolis should take into consideration cities that have sprawled in the last decades, built incrementally by the people themselves as they arrived and needed shelter. Old laws and city policies don't often work in these new spaces. Refugee camps and slums can teach architects a lot of lessons about the needs of modern settlements.
He asks that architects think about why they design, who they identify as benefiting from that design and where do they really need to act.
The urban toolbox that Brillembourg presents includes instructions to make networks, go vertical, grow local and capture unused spaces. Using the example of London, Brillembourg suggests that we start thinking about cities as a network of tiny villages.
His previous work also includes a vertical gymnasium for children in Caracas, Venezuela and a school for autistic children that was also designed to be vertical to conserve space and features a ramp that wraps the building so the children don't have to use lifts and stairways that make them feel claustrophobic.