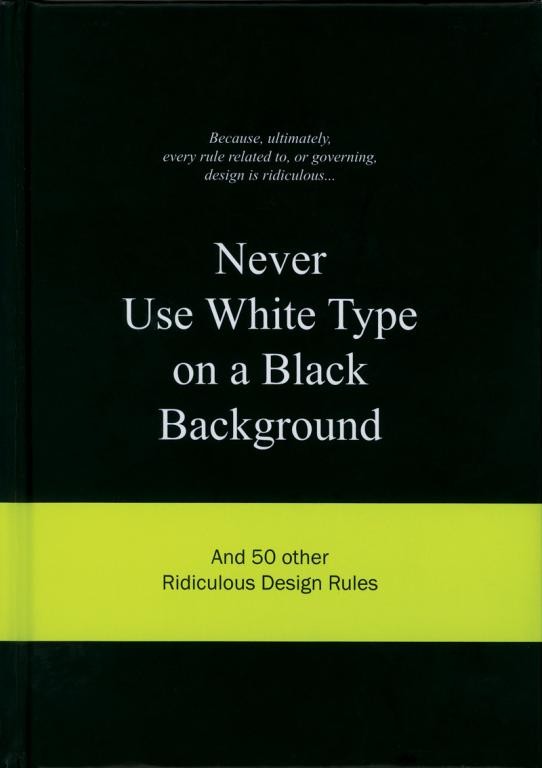 Never Use White Type on a Black Background (Bispublishers) must be one of the most fun and quirky books one can read about rules in the world of fashion and design.
Form follows function, keep it simple stupid, a picture is worth a thousand words, less is more etc… we know a lot of them. Most can be applied to any field or career, even to life in general, never mind fashion and design. On the verge of being clichés, these rules have been applied in the world of design for a few decades.
Subtitled "And 50 Other Ridiculous Design Rules", the book does emphasise that these are people's opinions and that there is no right or wrong in the world of design. Many of the rules are contradictory, others have an interesting twist with some truth in them and some are impossible to agree with even though they've been with us from a young age.
On the other hand, I found some personal gems in the book too: fashion can be bought, style one must possess; it is better to be good than to be original; cleavage or legs, never both; good designers copy, great designers steal; don't let bad design hurt great content; and kill your darlings. Of course, some of these are meant to create debate as we all have different opinions about design in general. For myself, I believe that if all design rules were obeyed, it would restrict one's creativity. So enjoy them as a guide and a personal challenge, but not as principles in solving problems.
The book is also beautifully laid out with an interesting and quirky visual language interpreting some of the design rules in the book. The size is nifty and small, like a little black book. Great for a laugh and to challenge your thinking and pre-conceptions as a designer.