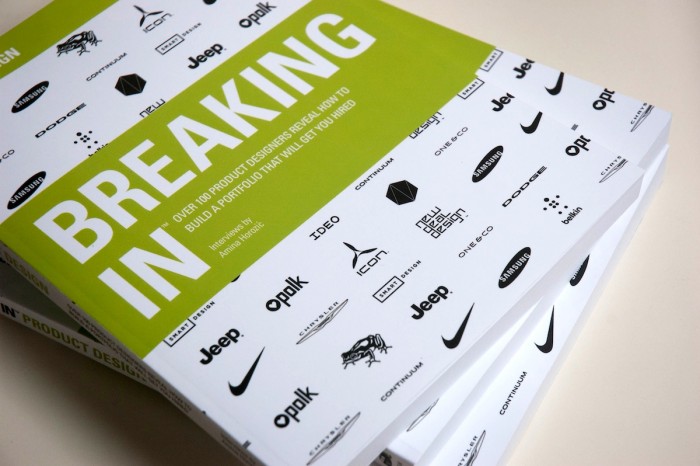 Lucky breaks might play a role in landing your dream design job but a tight portfolio that demonstrates your skills and talents will help create that luck. In her new book Breaking In, industrial designer Amina Horozic interviews more than 100 product designers for their advice on how to create a winning portfolio. In this Inside View she breaks down the steps to creating an attention-grabbing showcase of your work.
There's a lot of advice out there for creating a product design portfolio that will lead to an interview, but it can be difficult to decipher at times. Make it beautiful, sure – but what does that really mean? What are the things you should look out for? And is this the time to blend in or show your personality?
Show that you can sketch
The sketches featured in your portfolio need to be first and foremost, beautiful – meaning, they need to show your mastery of drawing objects in perspective and the ability to spin the concepts around to show different views and sections. Sketches are your signature and your portfolio's best friend – do not make them sloppy.
There are many different sketch styles that can convey your mastery. There are a huge variety of online resources that provide insight into what the industry considers "basic sketching skills". Tools such as IDRAW and Design Studio Press will help you gauge what passes as basic entry-level skillset, so you can check if your sketches are on par. If your drawings don't look competitive, that should be a sign to you that you need to continue practising until they do.
How to know you've reached a basic level of competency? When your own sketches start giving you goose bumps. At the end of the day, you are your own worst critic and if the sketches pass your own scrutiny, then you're onto something.
Show process. How did you get to this design solution?
Projects showcased in a portfolio need to show the entire arc of development from an idea, or a sketch, to a finished product proposal. Take your audience on a journey. Design process is fun – sometimes even more so than the final outcome. Show your work, your prototypes and your creative thinking. If you're showing photographs of your process (for example studio shots, brainstorming sessions etc.), make sure they're high-quality photographs with proper white balance, without vignettes and in focus. Plenty of design agencies show process images on their websites – study how they do it. It will help you in archiving your own creative journey.
Think of your portfolio as a story
So how does showing the process differ from telling the story? Technically, the two are intertwined. One way to grasp the difference is to think of the process as ingredients that make up the story. Sketches, models and CAD are designers' equivalent to writers' letters and syntax. By showing your process, you're telling a story.
Every story has the basic narrative arc of a hero (your idea) going setting out on a journey (research/ideation), encountering challenges along the way (refinement) and culminating in a triumphant end (finished model/renderings). The more engaging and compelling you manage to craft this, the better. It helps to keep the story in mind at the very onset of your project, so at the end you'll have all the pieces necessary to weave into a narrative. Ask yourself: What story do I want to tell with this design solution? And take it from there. The same applies for the overall story of your portfolio and how placement of each individual project ties into telling the story of you, as a designer.
Make it beautiful
It may sound obvious but make sure your portfolio is beautifully put together. Beauty is subjective, I know, but all this really means is that all of the elements of the portfolio – the sketches, photographs, page layouts, fonts, renderings and models – are unified in a harmonious way. This is hard to do, which is why the portfolios that do it well – just like any good piece of design – make it look easy and simple. This is your ultimate design project and how you present it will speak volumes about the quality of your vision. You will never be an expert at everything, but showing respect to the elements that help you craft a story (i.e. graphic design, photography, proper spelling etc) will show that you pay attention to details and have high standards of craftsmanship.
Show your personality

Having an original portfolio does not necessarily mean reinventing the wheel. An original portfolio means that there is an aspect of your personality that comes through in the projects, the details and the story of the collection of your work. This personal signature is what will help set you apart from the rest. Do not be afraid to show your voice, it may be just the icing on your portfolio cake that lands you that interview.
Amina Horozic started off her career as an automotive designer at Chrysler, after which she moved to San Francisco to design for global product strategy and design firm frog and product design company Aether Things. She is currently a lead industrial designer at Yves Béhar's fuseproject. Horozic holds degrees from College for Creative Studies and California College of the Arts.
Follow Amina on Twitter @aminahorozic and the book @breakingin