It started here
On 15 May 2004 at 12:21 history was made. It was the time for Africa and South Africa to stage the world's greatest sporting festival.
"South Africans should treat this decision with humility and without arrogance." – Nelson Mandela
We started here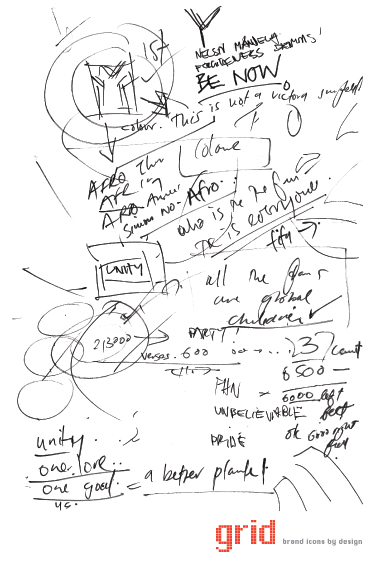 I stand here today because of you.
The hero exists only because of his admirers – his supporters define him. Therefore without the fan the star is nothing. The World Cup is because of the fan.
Coke is because of the fan. Hyundai is because of the fan. David Beckham is because of the fan. Manchester United is because of the fan. A team is nothing without its players. A striker needs the left and right wings.
Did Gutenberg create InDesign? Did Alexander Graham Bell really create the cellphone? Did Mozart really create hip-hop? Did the Egyptians really create email?
We owe so much to the people that have contributed to our world. 234 Countries. 6 Billion people. 12 Billion eyes. We are because of everyone. Humanity will continue to grow due to other people. All this brings me to one sentiment. I am because of you.
South Africa is a country of many nations: Afro-Indian, Afro-Chinese, Afro-English, Afro-Japanese, Afro-Brazilian, Afro-American Afro-Iranian, Afro-Israeli, Afro-Italian... Our Flag represents this multiculturalism. Our Flags' colours are the colours of all the Worlds Flags.
"If there is one thing on this planet that has the power to bind people together it is football" – Danny Jordaan.
If the world were to play a match on Mars what colours would we be wearing?
Take the flags from around the world. Now represent all these flags using the geometric shapes from our South African Flag. Take these new geometric flag shapes and combine and unify them to create a new world flag. A flag that represents everyone.
Watch the Talk with Nathan Reddy