Shortlisted for the prestigious Turner Prize in 2007, British artist Nathan Coley is most interested in how meaning is created around public spaces and architecture, and his sculptural work explores how 'found writing' – fragments of words and phrases – can illuminate both urban and rural landscapes. Because words have political and ideological heft, Coley likes to experiment with both text and context, investigating how meaning is made, unmade or remade in different landscapes.
In his latest exhibition, 'Tentative Words Change Everything', Coley brings six large-scale, text-based sculptures into some of Sussex's most unforgettable sights and locations, in collaboration with Sussex Modern and in partnership with Lewes District Council, South Downs National Park Authority, and Plumpton College.
Sculptures face out over the Channel towards France at West Beach, Newhaven, and peer over the historic town of Lewes from an ancient Norman motte. Others sit in a churchyard, a vineyard and atop a derelict modernist car park. These are on view alongside a major new commission at Charleston, the former home of artists Vanessa Bell and Duncan Grant. The new work will encourage audiences to think afresh about the history and contemporary relevance of the rural home of the Bloomsbury group.
Design Indaba asked Nathan Coley about his latest exhibition, which runs until 29 August 2022, and what it means to design (or redesign) public spaces for consumption in specific ways.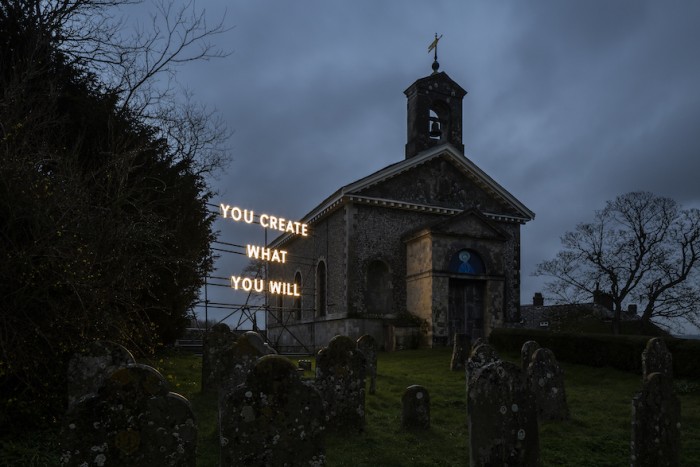 1. Why did you select Sussex, and what is the significance of referencing the Bloomsbury group?
Sussex selected me! It's the end of the British mainland, facing Europe. Living in Scotland, I have an absolute love of France and beyond. The South coast of England, however, has a long history of being suspicious of Europe; being fearful of 'them'. The alternative lifestyle of the Bloomsbury group is of course fascinating, but I bet they would have voted in favour of Brexit today.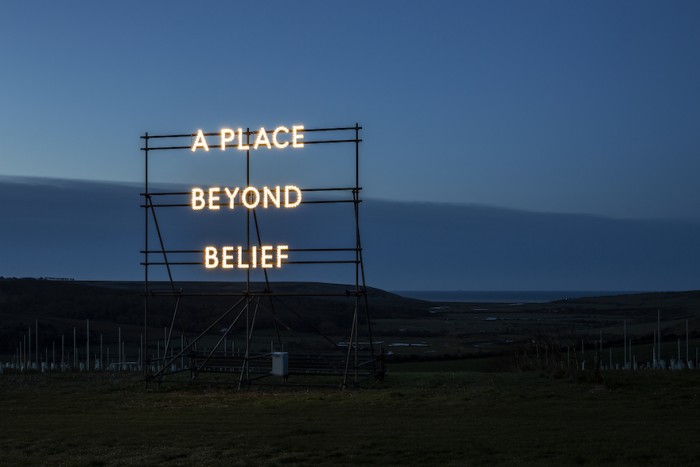 2. What do you hope your 'tentative' words will offer visitors (and why 'tentative'?)? How do you select words or phrases for your artworks?
I hope that the exhibition will change people's day and refresh their ideas about landscape, politics, place and identity. All the phrases used in my text works are found – I am never the author. They come from existing literature, popular songs, conversations with taxi drivers late at night, and so on. I literally give the words power in an attempt to have them illuminate the context in which they sit. Like history, meaning is never stable, and I see these sculptures as being like glitches in the landscape. The strength of the works is that when you think you know what the phrase means, and you have it comfortably in your hand, it slips through your fingers and you are forced to look again.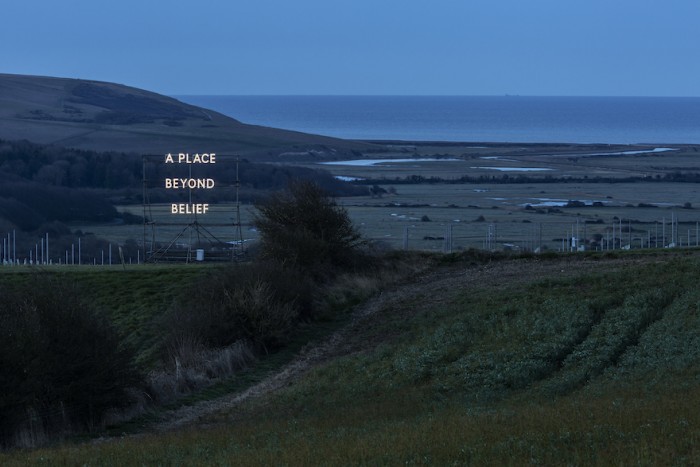 3. How has our relationship to public spaces and architecture changed over the past decade or so, and what socio-political conditions have enabled this, do you think?
My work has become more political, and more poetic, over the past ten years. I think the reading of the sculptures changes due to the context in which they find themselves, and of course the context is forever changed by these propositions being introduced into the landscape. 'You Imagine What You Desire', which faces the body of water where 600 migrants in small boats were found recently, in its own way sheds light on a situation we cannot ignore.
Exhibition locations:
Brack Mount, Lewes – in partnership with Sussex Archaeological Society
Junction Road Car Park, Eastbourne – in partnership with Towner, Eastbourne
St Mary's Church, Glynde
Rathfinny Wine Estate, Alfriston
West Beach Promenade, Newhaven
Charleston, Firle
Read more:
Eleanor Lakelin's raw wooden sculptures.
Underwater sculptures speak to our collective responsibility.
Credits: Nathan Coley